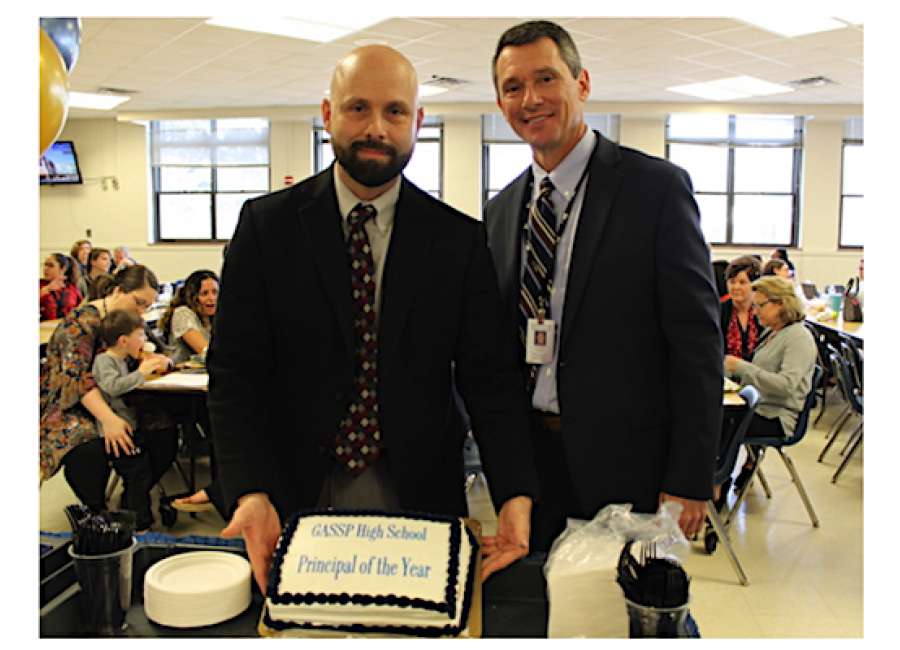 A Wednesday staff meeting turned into a surprise celebration as Dr. Chase Puckett of Newnan High School learned he has been named Georgia Principal of the Year.

Puckett was selected from a large pool of candidates by the Georgia Association of Secondary School Principals (GASSP), which annually honors a high school principal who excels in educational leadership, resolving complex problems, developing self and others, and community service.
Current and former Coweta County School System officials and members of the Coweta County Board of Education accompanied Art Wheaton of GASSP into the NHS cafeteria, where Wheaton interrupted the meeting to notify Puckett of the honor.
"Folks, we're here for a very, very special announcement," Wheaton told the crowd. "We're proud to announce that this young man right here is your state High School Principal of the Year."
A stunned and teary-eyed Puckett addressed Newnan High staff members, giving them credit for the honor.
"When I got to share with GASSP, I got to talk about you," he said. "I got to talk about how hard y'all work. The job's tough but you love kids and you show up every day. This isn't about me, it's about you. Thank you. Thank you."
Under Puckett's leadership, the Newnan High School staff has worked to improve the school's graduation rate from from a percentage in the low 70s eight years ago to a current rate of 87.3 percent. Content mastery has steadily risen as well, and sweeping academic gains earned NHS a 2019 Breakout High School designation from GASSP last fall.
Puckett has been principal at NHS since 2013 and is in his 14th year in the Coweta County School System, where he started out as an assistant principal at Madras Middle School. His career began in Screven County Schools, where Puckett taught on the middle and high school levels.
In 2005, Puckett was named Georgia Teacher of the Year, and he says he's still a teacher at heart.
"I hope to never forget how hard the teaching profession is and how important every student walking through the door is," he told The Newnan Times-Herald in a January interview .
As Georgia Principal of the Year, Puckett will travel to Washington, D.C. as the state's candidate for National High School Principal of the Year. The Principal of the Year recognition program is sponsored by the National Association of Secondary School Principals.