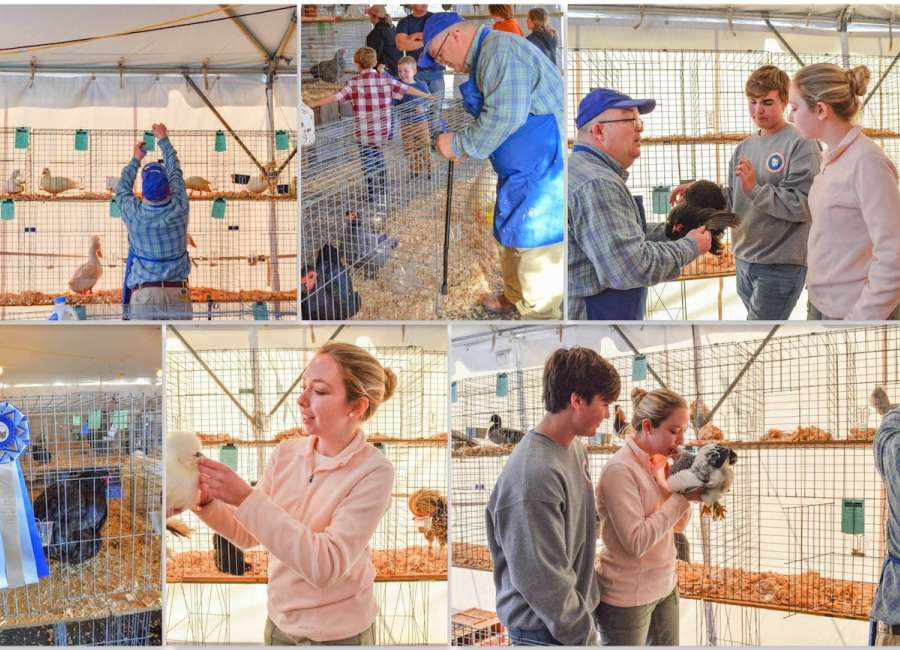 Competitors from over 20 states – and hundreds of Coweta spectators – turned out last weekend for the annual Chattahoochee Valley Poultry Association winter show, held at the Coweta County Fairgrounds.

While the competition is the big draw for breeders and enthusiasts, the swap meet has grown in recent years to be almost as big of a draw.
The CVPA swap meet is "the place" to go if you want to swap chickens, said Teri Frye of Tennessee. When it comes to buying and selling fowl, it's second only to the Ohio Nationals, she said.
Frye's daughter, Jodi, was clerking for the junior show and is training to be a poultry judge, and Teri Frye helps out with the junior showmanship competition, said Bryan Massengale, president of CVPA.
The Ohio National Poultry Show has been held for over 50 years, so to be compared to it is high praise indeed.
Massengale said some people came all the way from Massachusetts just to sell birds, and there were also people coming to the swap meet from Mississippi, Arkansas and Louisiana.
One first-time competitor was at the show from Illinois. When asked why travel all the way to Georgia, the answer was simple: "the competition."
"Everybody just loves coming here. They love the stuff we do different that nobody else does," Massengale said.
That includes the swap meet, but also the large number of local spectators who come out to visit. That's not common at most shows, he said.
"Most of the time you put your bird in the cage, talk to other breeders, get your stuff and go home," he said. New this year was a band playing live music throughout the day.
Massengale has always wanted the show to become a popular event for locals to come out and visit. "And it's getting there," he said.
It's the 17th year for the CVPA show, and the swap meet was started several years ago "just to give local people something to do while we finished up the show," Massengale said.
It also gives breeders an opportunity to sell their extra birds, and gives locals a chance to choose from a wide variety of poultry.
There's a lot more than just chickens at the show and at the swap meet. The show includes large fowl such as turkeys and geese, as well as plenty of ducks. At the swap meet, in addition to chickens and ducks, there were black swans, peacocks, exotic ducks, baby chicks and ducklings, rabbits and even a few goats.
Even Massengale's family ended up with some new additions. "We came home with two rabbits and ducks and pigeons. My kids were walking around there too," he said.
Paul Gilroy of Maryland was the judge for the junior show. "He is known for his work with kids," said Massengale, and will talk with young competitors about their birds.
CVPA allows the young competitors – but not their parents – to be present when their birds are being judged. And that's something most shows don't do, Massengale said.
"The judge can explain this is what is good about the bird, and they are honest with them – this is what is bad about the bird," Massengale said. "It gives the kids an opportunity to learn without the pressure of their parents asking too many questions of the judge."
There were 1,725 birds entered into the show this year. Next year promises to be even bigger.
For 2021, CVPA's winter show will also be an American Poultry Association semiannual show. It's the first time an APA semiannual has been held in District 12, which includes Georgia, in 16 years, Massengale said.
For more information about CVPA, visit www.cvpa-newnan.org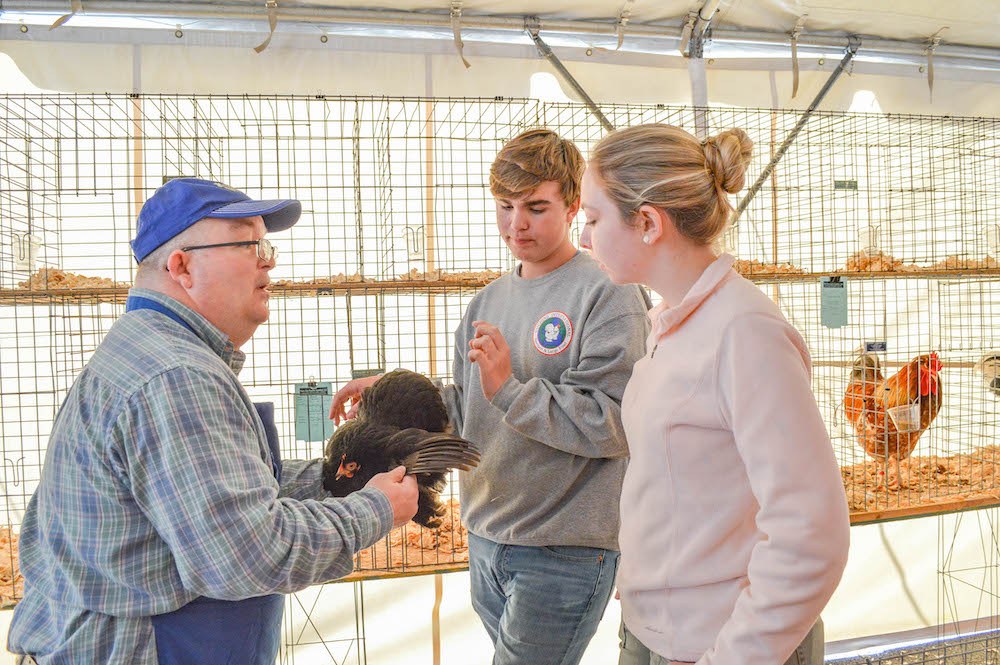 Poultry Judge Paul Gilroy talks to Jake Henderson of Tifton and Jodi Frye of Tennessee, who are training to be poultry judges, at the CVPA junior show.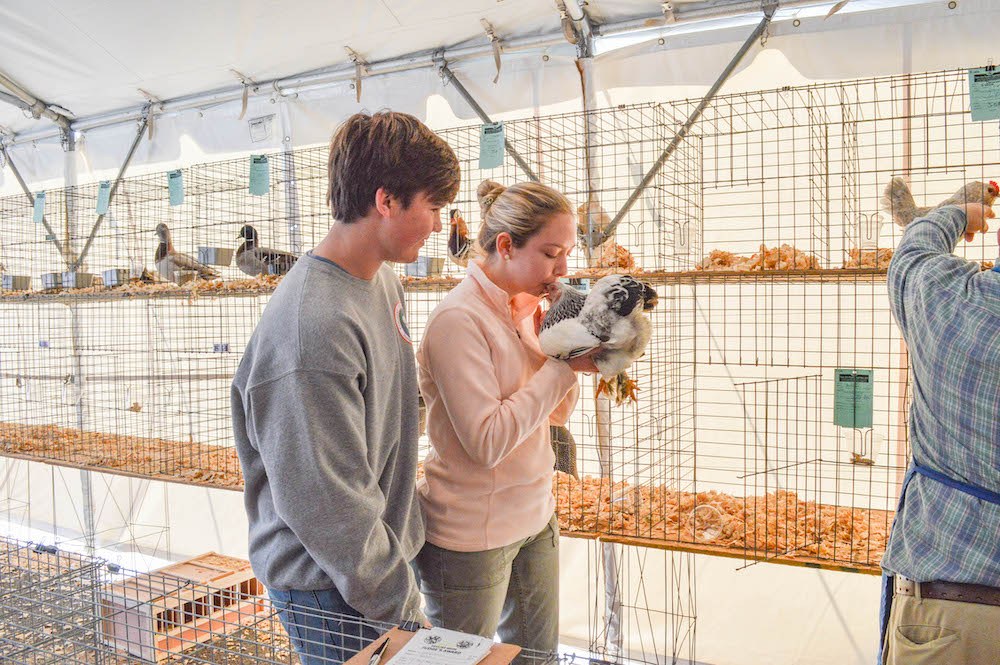 Jodi Frye snuggles a chicken while Jake Henderson looks on.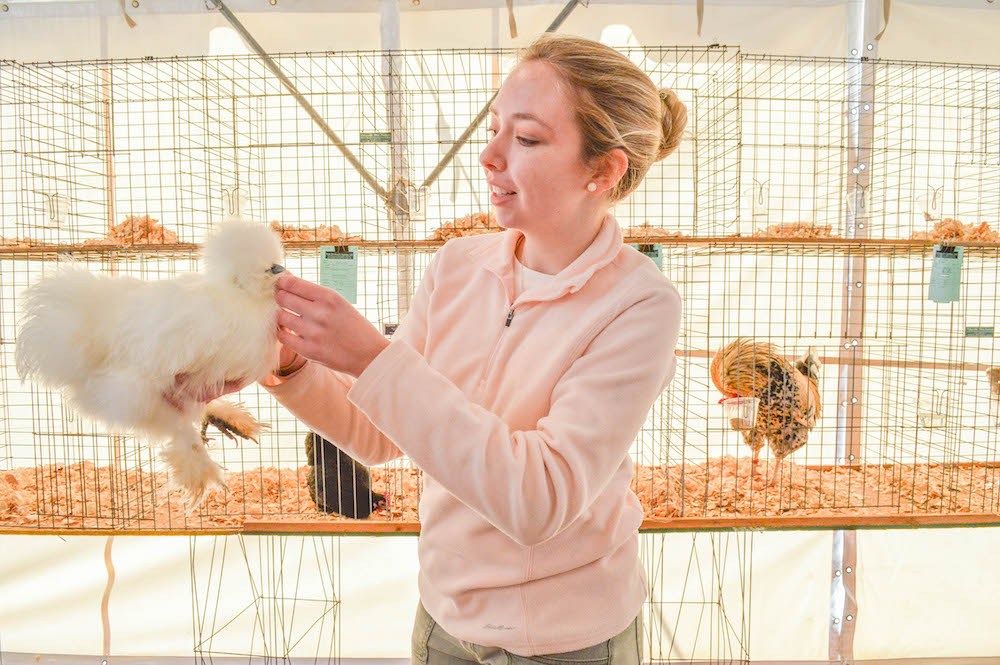 CVPA Junior Show Clerk Jodi Frye, who is training to be a poultry judge, explains the different characteristics of a silkie at last week's Chattahoochee Valley Poultry Association Winter Show.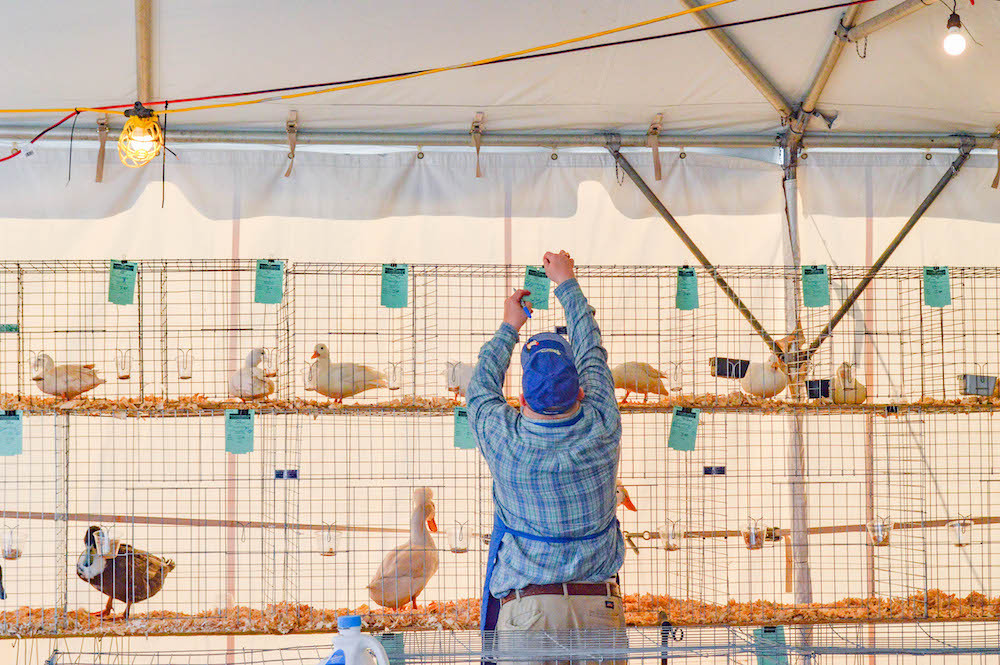 Judge Paul Gilroy marks scores on call ducks at the CVPA junior show.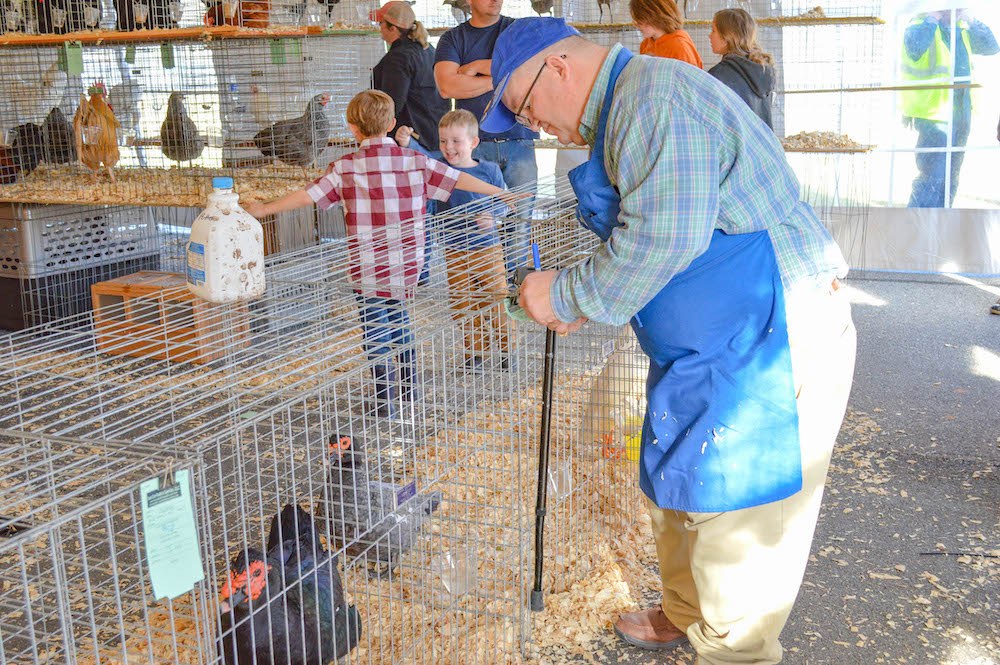 Judge Paul Gilroy examines Muscovy ducks at the CVPA junior show.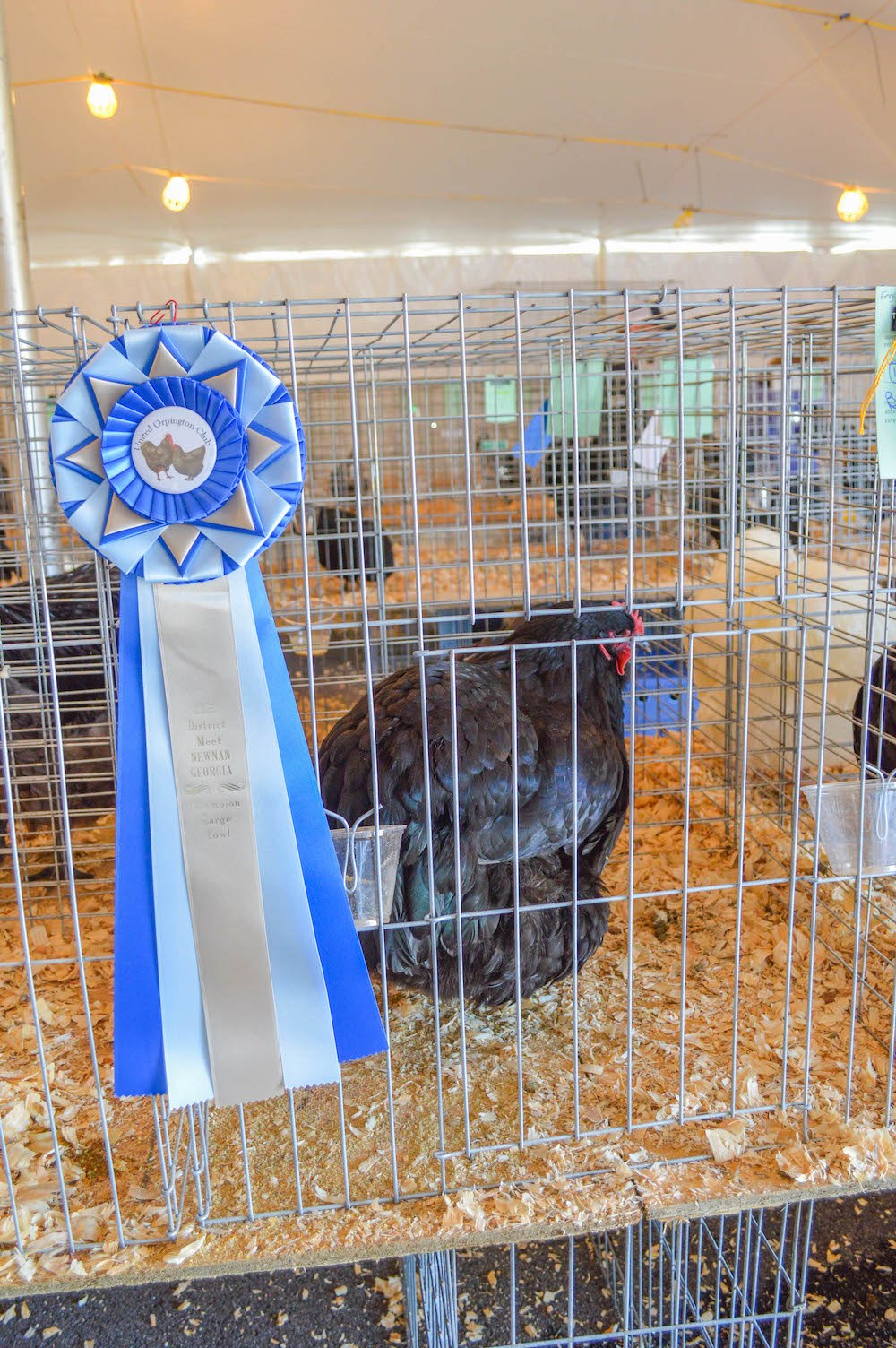 The United Orpington Club held a district meet in conjunction with the CVPA winter show.