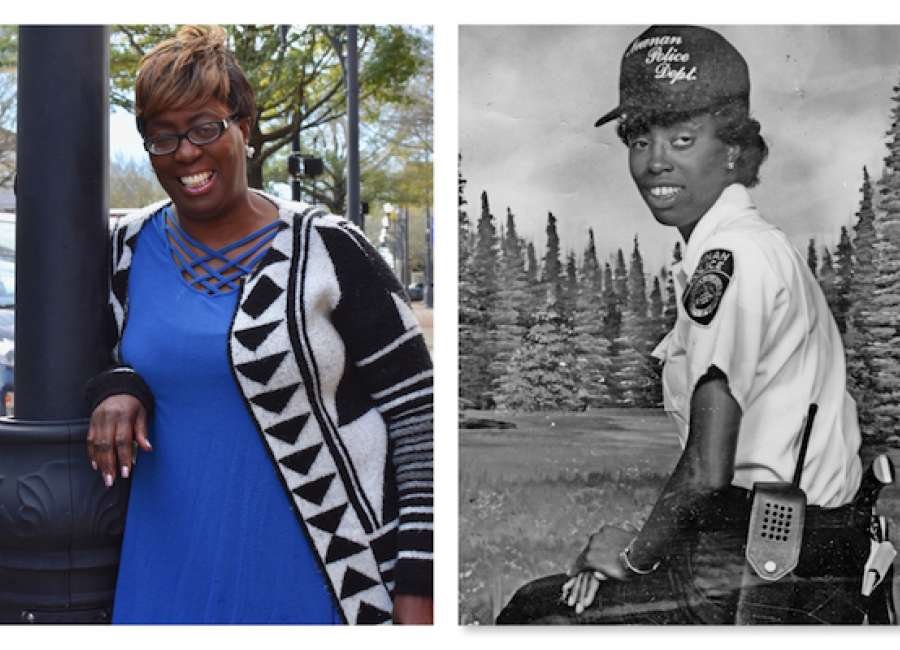 Sharron Parks was the 23-year-old mother of a young son when she first donned the uniform of the Newnan Police Department in March of 1986 as a traffic enforcement officer.

After graduating from police academy in February of 1987, Parks became the first black woman to serve as a sworn officer in the NPD.
"I always wanted to do something in law enforcement," said Parks. "I always wanted to help, protect and serve people. So when I heard there was an opening, I applied for it."
She patrolled the sidewalks in downtown Newnan with a Smith & Wesson .357 Magnum strapped to her side. But as a woman and an African American, Parks quickly learned some of her biggest challenges weren't the kind that could be solved with a gun.
"In 1986 to be a woman and to be a police officer, people kind of looked at you as if you were out of place, or like they wondered if you could do the job," she said.
And it wasn't just people on the street. Parks was still undergoing her training at the Clayton County Regional Law Enforcement Academy when she caught wind of a certain "secret" wager.
"(Other officers) were actually betting on whether I would complete the course," she said. "But I did, and that just let me know that you have the ability to be able to do anything you desire based on how determined you are to do it."
When she was a new officer, Parks was stung by a particularly careless comment.
"I had an individual say to me that I was hired because I was a black woman," she said. "I said, 'No, it was because I am a black woman – and certified.' You can't let you being the first person of color in a job allow you to be intimidated by other people, regardless of the job."
Parks left the force in February of 1991, almost exactly five years after hiring on with NPD. In those days, most of the major stores in town were still operating on Court Square, so she worked a lot of shoplifting cases.
"I spent a lot of time getting to know the people downtown and building relationships with the people in the stores," Parks said. "I would try to be nice and kind when I caught someone shoplifting and give them a chance, especially teenagers. I would say, 'You might want to put that back.'"
A few situations turned tense. Parks said her first real physical challenge occurred when she confronted an intoxicated young man at a pool hall.
"He was having an altercation with someone inside, going in and out of the place, cussing and cussing," she said. "I approached him and asked, 'Sir, are you ok?' and he started cursing at me."
Parks held her ground and evaluated the best options she had for protecting herself, and for protecting the young man.
"I had to defend myself but also make sure he was ok," she said.
After facing off with Parks for a moment, the man slowly turned and went back inside. She stayed for a few more minutes, but he did not come back outside.
"It was my first time encountering a situation like that with a man who I guess wanted to challenge me because I was female," Parks said. "But as far as being fearful, or afraid of discharging a firearm? No, I was not afraid."
The way an officer communicates sets the tone for that type of exchange, she said.
"The way you deal with people is the response you're going to get back," Parks said. "Even if they're intoxicated, you let them know it's going to be ok. You have to be firm, but always remember your job is to protect yourself, protect him and protect other people from him."
Her encounters weren't always contentious. An elderly black man who used to sit in front of the courthouse and play checkers once badly upset some white, female drugstore employees when they saw him duck into a corner to urinate.
"They were having a fit, so I went over to talk to him," Parks said. "He was trying to get to the bathroom but he was very old and he wasn't going to make it, so he turned his back and started tinkling."
She said the sympathetic woman in her wanted to tell the man to just go on home, but as an officer she followed protocol and called a male colleague.
"What he did was not right but he wasn't trying to show himself," she said. "I suggested they just take him home, but my lieutenant said 'If you want to be a blankety-blank social worker, you go be a blankety-blank social worker.'"
Parks said she couldn't help but wonder at the time if the employees would have reacted so harshly had the elderly man been white.
"People were so upset because I said to just take him home," she said. "Some of those same people probably would have been the ones who would have said that he was just an old, old man who couldn't help it, if he had been a white gentleman."
It reinforced the biggest lesson Parks said she was taught during her years at the NPD.
"I learned through my job that when you deal with people as an officer, all you should see is people and justice for everybody, no matter what," she said.
Parks said she worked with good, highly respected officers – black and white. But every system has its prejudices, she said.
"My grandmother used to say that right follows right and wrong follows wrong, no matter what color," Parks said. "You've got it on both sides. There are those who honestly go out of their way, above and beyond. And then you have some who have got a mentality and a mindset about black or white people as a whole."
The greatest challenge to all law enforcement officers comes from within, Parks said.
"Whether you're walking the beat or patrolling the road, you take the oath that no matter what color you are or where you live, you are going to do what's right across the board with everybody," she said. "I met some officers in my day who didn't really see color, and some that didn't see anything but what color you were."
The streets and sidewalks of Newnan have changed since Parks joined the NPD, but those aren't the only differences between 1986 and 2020. For instance, job opportunities for black women now seem endless, she said.
"You find black women in just about every type of career," Parks said. "The other day I saw a black girl driving a cement truck. She got out of the truck, and I had to really look at her – she couldn't have been more than five feet tall. Back in 1986, that sure would have blown people's minds."
Now a mother of two and grandmother of eight, Parks continued working with the public – with a focus on seniors – after she left law enforcement. She served as a coordinator for Meals on Wheels for seven years, and she now works in leadership at her church in Carrollton.
Parks is one of Newnan's black history-makers, but she said she likes to remind people that history is being made every day.
"We will never see this day again," she said. "It's important to let our children know about black history. The things our foreparents had to go through, we are still walking it out. Once we didn't have that opportunity but now we do, and we have to take full advantage of it. But as long as God lets us wake up and see a brand new day, we're going to be making history."