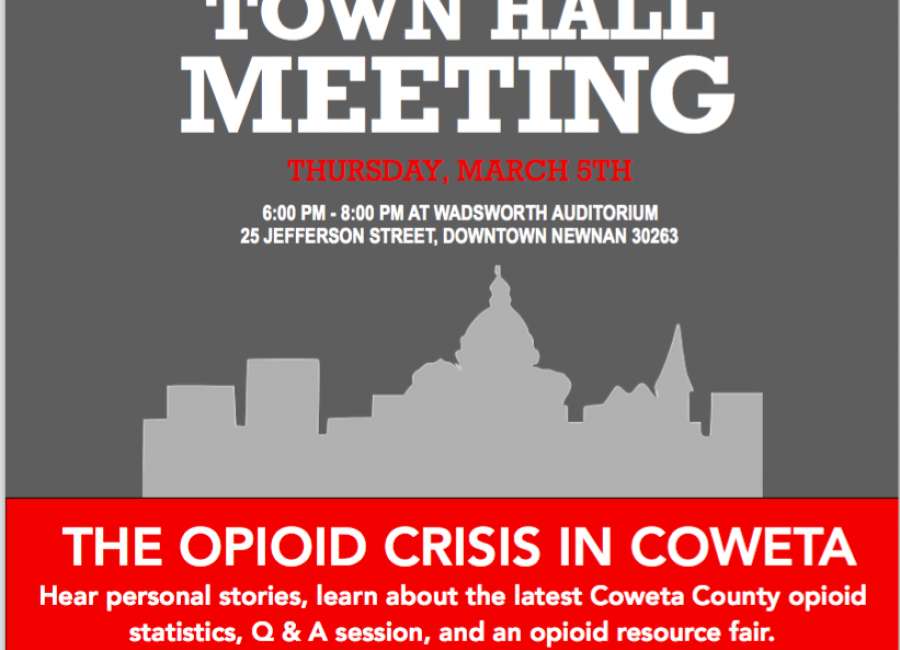 A town hall meeting on the opioid problem in Coweta County will be held March 5.
The meeting, hosted by the Drug Free Coweta coalition, will be at the Wadsworth Auditorium, from 6-8 p.m. A resource fair will be held after the presentation.
The Drug Free Coweta coalition, formerly the Coweta Substance Abuse Prevention Coalition, was begun two years ago with grant funding. The grant was awarded because Coweta ranked as one of the worst counties in the state for opioid overdoses and deaths.
"The coalition has been working diligently to address the opioid crisis in Coweta County," said Tami Morris, interim CEO of AV Pride, the organization that is administering the grant and overseeing the coalition.
"We have lots of survey data to share, lots of updates about the strategies being implemented within the community and personal stories to share," Morris said.
Several local people affected by the opioid epidemic, including those who have overdosed and been brought back from the brink of death, and loved ones of those who have died from overdose, were interviewed for a documentary, and excerpts from those videos will be played at the town hall. There will also be a panel discussion and members of the audience will be able to ask questions.
Several organizations providing services related to substance abuse will be set up for the resource fair, and there will be training on how to use naloxone, which can reverse overdoses.
Attendees are encouraged to pre-reigster at https://www.eventbrite.com/e/drug-free-coweta-town-hall-meeting-tickets-95267506677 though pre-registration isn't required. For more information, email drugfreecoweta@gmail.com, call 770-716-2797 or visit www.drugfreecoweta.org