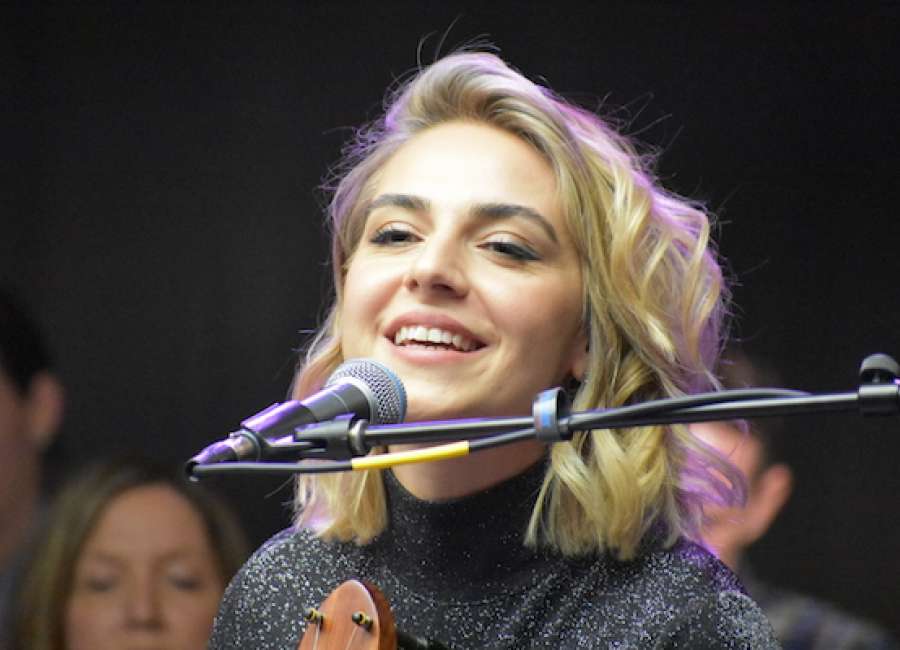 Bahar Bingol Gjuka, Doug Kees, Jack Jones and David Puett recently held a public performance at the Central Educational Center to wrap up the Musiki Flow music project, which introduced traditional Turkish music to Western-trained musicians.

Gjuka sang and played kemenche with signature performances by Kees on electric guitar, Puett on acoustic guitar and Jones on drums.
Gjuka also brought her unique background and training into two songs from Kees's 2019 solo acoustic album, "Roots and Boughs." Kees performed "Sarasota" and "Boom Daing" to open the concert, with Gjuka adding vocals and lyrics she wrote to accompany the instrumentals.
The concert included pieces selected by Gjuka to challenge her fellow professional musicians to incorporate more of the improvisation and interpretation that is at the heart of Turkish musical training.
"While choosing these pieces, I tried to find songs from different scales and rhythmic structures," Gjuka said. "I (also) chose pieces either about women, composed or performed by a woman, to empower women in music. By performing American, Turkish and Albanian pieces, I tried to demonstrate that we can communicate and create through music, and enhance cultural appreciation."
The traditional concert pieces, as selected and described by Gjuka, included:
"Çeçen Kızı (Chechen Girl)"
Gjuka: "This is an instrumental 2/4 piece from the 19th century, composed by great musician Tanburi Cemil Bey, in makam 'Huseyni.' It was a huge success in the Balkan area, especially among Turks, Armenians and Greeks."
"Anan Var Midur"
Gjuka: "This is a 5/8 Turkish folk tune from the Black Sea Region. It is written in makam 'Nikriz.' It is about love and asking for a hand in marriage."
"E dehun Jam"
Gjuka: "This is an Albanian piece from Kosovo with 4/4 rhythmic structure. It is from a well-known 20th century piece and it is about love, and then getting drunk. Unfortunately, the famous Albanian musician Necmije Pagarusha, who originally sang this song, passed away recently at the age of 86. She was a role model and had an irreplaceable voice."
"Nihavend Longa"
Gjuka: "The piece is from the 19th century, written by a woman composer, Kevser Hanim. She was a well-educated woman who believed that Turkish music needed cheerful and happy melodies, so she wrote Nihavend longa, in makam 'Nihavend,' with a 4/4 rhythmic structure."
The Musiki Flow project is the subject of an upcoming documentary filmed and produced by student filmmakers at CEC.