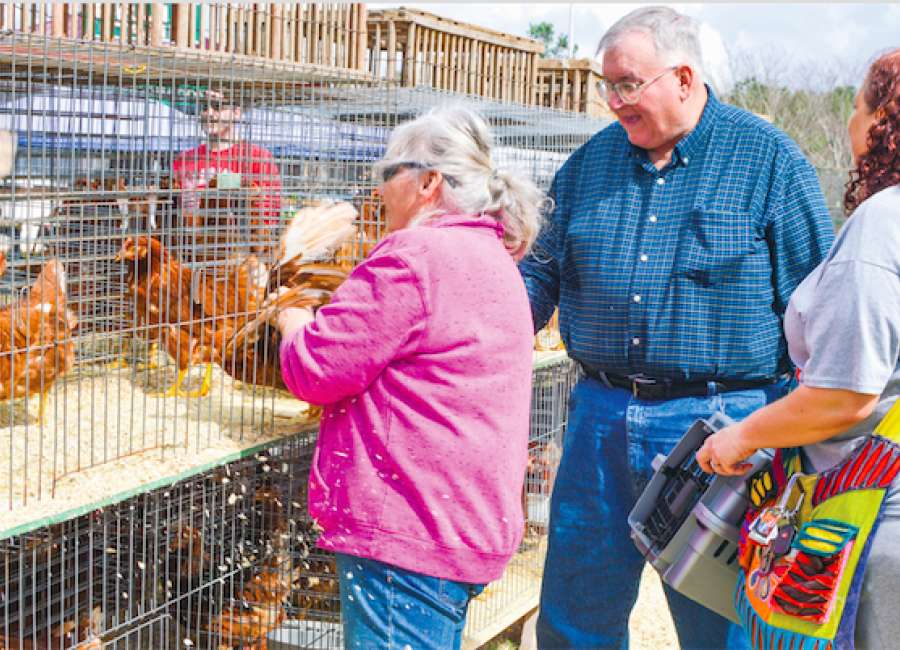 For the past 17 years, the Chattahoochee Valley Poultry Association has brought together poultry breeders and enthusiasts for its annual poultry show.
From its start in the parking lot of a LaGrange feed store with about 80 birds, it has grown into one of the largest poultry shows in the Southeast. In addition to the show itself, there is also the swap meet, which features lots of birds and other animals, as well as poultry-related supplies and items – and plenty of other things.
"It is crazy what this has turned into," said Bryan Massengale, president of the CVPA. "I've been raising chickens since before I could crawl. I never dreamed that Newnan, Georgia would be known as a place to buy and sell show chickens."
The main day for the show, which is held at the Coweta County Fairgrounds, and the biggest day for the public to come out is Saturday, when the show grounds will be open from 6 a.m. to 6 p.m.
Friday is set up day for exhibitors, but it's a full day for the swap meet, which is from 9 a.m. to 6 p.m. Admission is free and concessions are available.
The show averages 1,800 to 1,900 exhibited birds, Massengale said. "The average size show in the South is 700 birds," he said.
The swap meet started a few years ago and has really grown in the past three years, Massengale said. It's a way for breeders to sell birds of all ages, as well as viable eggs.
And as exhibitors and sellers are very knowledgeable about what they do, it can be a great learning opportunity for someone looking to get into raising chickens.
"The swap meet has turned into a bigger extravaganza than the show itself," Massengale said.
People are coming from as far away as Mississippi and Ohio, he said. In addition to chickens, there will likely be peacocks, pheasants, ducks and turkeys, and likely even goats and pigs.
Breeders of fancy poultry, like Massengale, work year-round to perfect bloodlines and raise their best show birds. The swap meet is an opportunity to sell the extra birds, and a way for those new to the hobby to buy show-quality birds.
New this year will be live entertainment, with a band playing off and on all day Saturday, starting at 11.
Massengale said his goal is to make the poultry show a big event for Coweta County and a place where everyone can come out and enjoy the day.
Crowds are growing as keeping backyard chickens is becoming more and more popular.
As Coweta and surrounding counties grow, there is less room for large animals like cattle and horses, and many people live in places where they can't raise large animals, but poultry can be done on a small scale.
"Not many people can have cows and horses and that kind of stuff anymore, but poultry is something that they still can," Massengale said.
"I'm glad that people still can," Massengale said. "Lots of people raise chickens for eggs, and there's definitely a therapeutic aspect. People enjoying sitting in their backyards, watching the chickens, letting the kids go get the eggs."
The show draws backyard chicken fans from farther away than Coweta – Massengale said people from all over the metro-Atlanta area come to the swap meet to get birds and talk to the people who bred them.
CVPA Vice President Ricky Frost was raised on a chicken farm, but after the farm was sold, he got away from raising poultry.
Until one day, about 17 years ago, he and his grandson Rick were at a feed store and there were baby chicks for sale. Rick was 3 and "he just pitched a fit over some baby chickens," Frost said.
So they bought a few and built Rick a pen for the chicks.
Before long, Frost heard about CVPA, which was then meeting in LaGrange. There he met Paul Hardy of Fairburn, who raised silver spangled Hamburg chickens.
"He was a well-known master breeder, with some of the best bloodlines in the country," Frost said, and Hardy gave a pair to Rick to get him started with show-quality birds.
Rick showed at the first show and did well, and before long was showing all over the state and making a name for himself.
Hardy passed away several years ago, but Frost is still breeding birds from that same bloodline.
The CVPA works with Coweta County 4-H to run the poultry shows at the Coweta County Fair, and the 4-H Poultry Chain club.
For more information visit cvpa-newnan.org