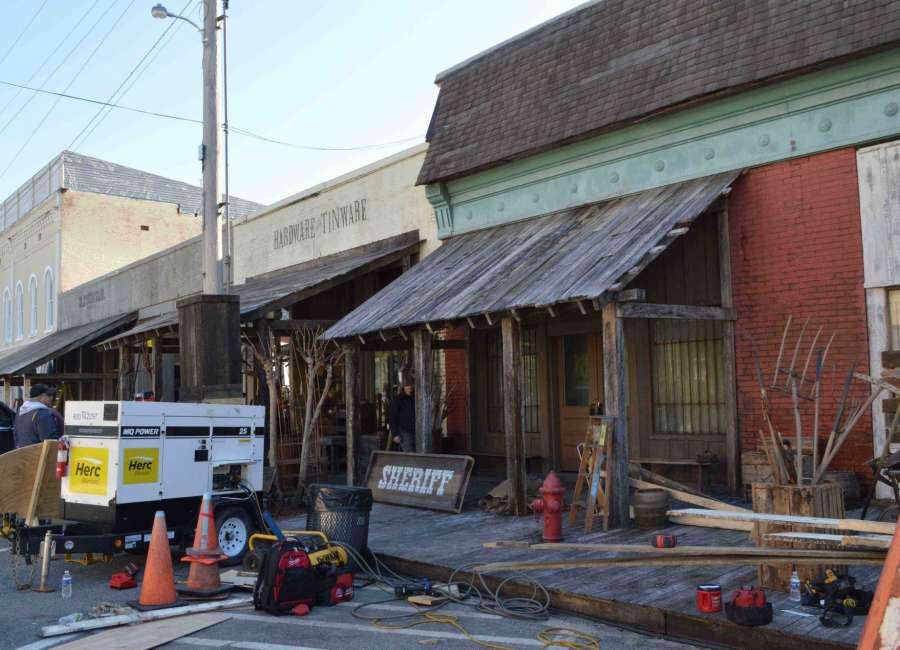 Downtown Grantville is being transformed into an 1850s town – complete with dirt streets and wooden sidewalks – for filming of "The Underground Railroad."
Crews from Indigo Underground Inc. have been in Grantville for three weeks working on the transformation of Main Street shops into 1850s Tennessee for the Amazon Prime Video series, which is based on the 2016 historical science fiction novel by Coalson Whitehead. The novel won the 2017 Pulitzer Prize for Fiction and the 2016 National Book Award for Fiction.
The dirt that will transform Main Street will arrive early next week, and filming is planned for March 2 and 3, weather permitting.
Road closures will be in place for the filming, and will start Monday at 9 a.m., according to a notice sent Saturday. Closures will be Main Street from the railroad tracks to Post Street, Grant Street from Main Street to Industrial Way, Post Street from LaGrange Street for 1,000 feet heading north, Moreland Street from Main Street to 1,000 feet south, and Colley Street from Post Street for 400 feet heading west. According to the notice, the closures will be from Monday at 9 a.m. to Wednesday at 3 p.m.
Businesses were open last week as crews bustled around them. "I think it's great for the town," said Denice of Niko's Restaurant. "I love the way it looks. They've been working hard and doing a great job," she said of the set crews.
Scenes for "The Underground Railroad," have been filmed all over the state, and filming began over the summer.
According to www.deadline.com , the 11-episode series will be directed by Barry Jenkins, director of "Moonlight," which won the 2017 Oscar for Best Picture. Jenkins was nominated for the Best Director Oscar and won the Oscar for Best Adapted Screenplay for "Moonlight."
In the novel, the underground railroad is an actual railroad – with trains running through underground tunnels. The novel follows Cora, a runaway slave from Georgia, as she escapes and ends up in South Carolina, where the government owns and takes care of former slaves, and then to North Carolina, where slavery has been abolished but captured runaway slaves are executed. She's then captured by the slave hunter Ridgeway until she manages to escape again.