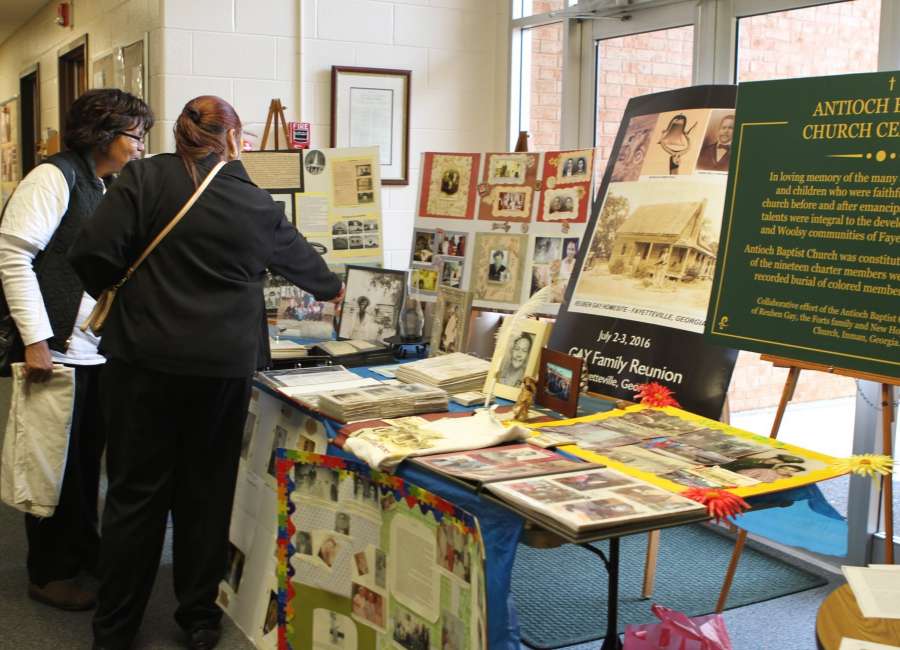 When it comes to researching family history, those who have ancestors who were enslaved can have a more difficult time because records can often be inadequate.
The upcoming Discover Your Roots event will help anyone wishing to trace their family genealogy – from those just getting started to people who have already done extensive research – with a focus on the challenges of African American genealogy. A specialist in Italian genealogy will also be on hand.
The event is a joint effort of several groups – including several metro-area Church of Jesus Christ of Latter Day Saints congregations, the Fayette County NAACP, the Afro-American Historical and Genealogical Society, The Coweta County African American Heritage Museum, Newnan Coweta Historical Society, DNA Detectives, Sicilian Family Tree, and the Reuben Gay and Thomas Dorsey families.
Jan Bryant — a co-founder of Discover Your Roots, a genealogist, family historian and member of the African American Historical and Genealogical Society — will speak Tuesday at the Historic Train Depot as part of a joint lecture with the Coweta African American Alliance and the Newnan Coweta Historical Society.
Bryant recently found ancestors who arrived in Jamestown in 1619 from Africa. The lecture begins at 6:30 p.m.
The Discover Your Roots event will be held Saturday, Feb. 29 at the Latter Day Saints Church at 157 Bob Smith Road in Sharpsburg.
The event will include a series of classes, one-on-one genealogy help and lunch.
"Maybe you've taken a DNA test for genealogy and you're thinking – now what? Come to Discover Your Roots. We'll show you what to do next," said Marilee Gardner, one of the cofounders of Discover Your Roots.
If you've taken a DNA test for genealogy purposes, bring your results. But if you haven't, don't worry.
"If you don't have your DNA yet – or anything yet – we don't want that to deter you from coning," said Eve Graybeal Olsen, genealogist and board member at the Coweta County African American Heritage Museum.
Pre-registration encouraged
Those interested in coming to the event are encouraged to register, so they can submit information about where they are in their research and sign up for one-on-one help – and to give a head count for lunch.
All attendees are encouraged to fill out, in advance, a pedigree chart and a family group sheet, both of which can be downloaded at discoveryourrootsga.org .
Prospective attendees should also register for a free account on FamilySearch.org and download the Family Tree app on their mobile devices. Bring a tablet or laptop if you have one. There will be a limited number of computers at the event available for use.
The pedigree chart and family group sheet are for the information you already know about your relatives.
"It's just that you've done a little preliminary digging," Olsen said. "Once you come, we're going to have people on site that can help you start your family tree if you are starting from scratch. Or if you already have some branches already filled out, we want to be able to help you progress – maybe where you have hit a stumbling block or you're just not sure where to go.
"I think we've pretty much tried to cover all of those bases," she said.
DNA can help when records don't
There will be three class blocks, from 10 a.m. to 1 p.m., with a choice of three classes, or personal genealogy help, in each block. Classes include: DNA and genetic genealogy for beginners, taught by Bryant and Gardner; Advanced DNA Research with chromosome mapping; family search including Freedman Bank records; Georgia Archives and slave ship manifests; overcoming research obstacles; Coweta County history; recording family stories; and using Family History Centers.
Olsen is a strong advocate for DNA testing for genealogy, particularly for African Americans. Before the 1870 Census, information about enslaved people could often only be found in tax records, wills or business records, or on slave ship manifests.
Often, the information in tax records is minimal, just listing numbers and ages, Olsen said.
And the "sad hard truth" is someone can dig through those records – and go through the range of emotions that something like that can entail – and still not find what they are looking for.
"It makes it tough and sometimes people don't even want to go that route," Olsen said. "It can deter and discourage people from really finding out, from feeling like they belong."
Olsen said she specializes in helping people hunt down their family tree using DNA results.
"Because DNA doesn't lie," she said. "It's not as easy, because not everybody has done their DNA and it's not always going to show through as clear," she said. But, "the DNA results are true even though you don't know how someone is related to you. If your DNA results say you are, then you are," she said.
Half of your DNA comes from one parent and half from the other. But in the case of siblings, it's not always the same half from each parent. "Some people will say I don't need to do my DNA because my sibling did it," Olsen said. And that's not the case.
"All five of my siblings, we vary a lot – my brother has dark eyes and dark hair and I have light eyes and lighter hair, and our DNA is stronger in different areas," she said.
Olsen recalled helping one woman who moved to Georgia from New York and found that she had a grandmother from Georgia. "When I did some digging and searching and used DNA results to help, I wound up finding over 40 people to add to her family tree," Olsen said.
Olsen said she really enjoys helping people research their genealogy because we find that we are all a blend. "You really do get the sense that we are all American, we just have different heritage," Olsen said.
Olsen's grandmother was from Ukraine, so she has a lot of Ukrainian DNA. "I'm an American with Ukrainian heritage," she said. A friend who is black is "an American with African heritage," she said.
It's a different way of thinking of things. "It's no longer divisive, but it's descriptive," she said.
To register for Discover Your Roots or for more information visit DiscoverYourRootsga.org or call 770-580-3228.