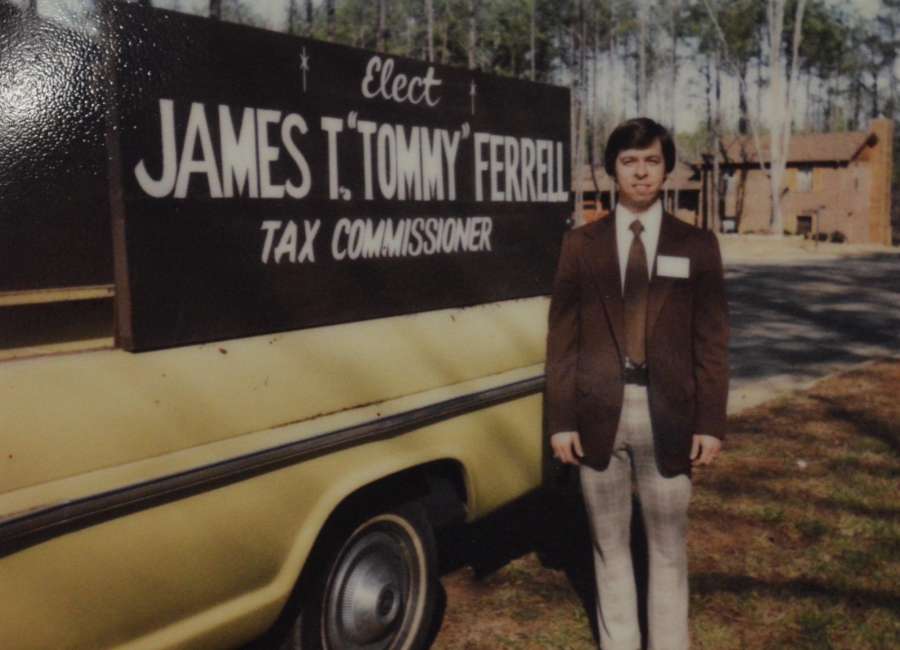 James T. "Tommy" Ferrell didn't have any plans of becoming Coweta's tax commissioner when he applied for a job with the Coweta County Tax Assessor's Office.
Ferrell was not long out of West Georgia College, where he'd majored in business, and he had gotten a job with his uncle working at a freight line in Atlanta. He knew one of the employees at the tax assessor's office from going to high school at Western School with his daughter.
Ferrell spent five years working in the assessor's office, measuring new construction and logging in property cards. After a few years, he began helping the tax commissioner's office with the property digest.
Then on Dec. 1, 1978, long-time Tax Commissioner Bill Camp died in a fishing accident. A special election to fill his term was quickly called.
Ferrell thought that a good friend of his from the assessor's office was going to run for the commissioner's seat. When that friend decided against it, Ferrell decided to throw his hat in the ring.
He was just 29, and was 1 of 10 candidates. He was the only one with any local experience, and came out ahead in a runoff. He won the runoff and has been Coweta's tax commissioner ever since.
Ferrell enlisted several of his high school classmates to pass out campaign cards, and borrowed two pickup trucks to put his campaign signs on.
His brother's truck was in such bad shape "we put a quart of oil in it every day before we took off," Ferrell recalled. Friends would drive the trucks around the county, and when there was nobody to drive them they'd park them in prominent places.
"It was fun at the time," Ferrell said. "I was just having a good time running."
His original election was the only time he ever faced any opposition, Ferrell said.
After 41 years, Ferrell has decided it is time to retire, and he'll step down Feb. 29. Ferrell's deputy, Robi Brook, will take over as interim commissioner until the end of Ferrell's term in December. She plans to run for election to the seat.
Having a long-serving tax commissioner in Coweta County isn't unusual – Camp was originally elected in a special election in 1942.
Tag office lines used to wrap around the courthouse
There have been some dramatic changes in the tax commissioner's office since 1979, and not all of them have been related to technology.
In the 70s and 80s, motor vehicle tags had to be renewed in the first three – and later, four – months of the year. That led to long lines for those who needed to renew their tags. The system lasted until the late 90s, though the lines had gotten a lot shorter by then.
In those days, the tax commissioner's office was in the Courthouse, and lines would wrap around the Court Square as people waited to renew their tags.
Even then, tags could be renewed by mail, but most people stood in the line.
For some, it was a social event.
"We'd have people bring sack lunches," said Brook, who got her start working as a temporary employee during tag season in 1981 and was hired on permanently the next year. She served as tax office manager for about 30 years before being named deputy commissioner.
Ferrell remembered how much his father would spend the day catching up with people he knew. The long line "was all right with him," he said.
Both Brook and Ferrell recalled one time when an elderly woman got to the front of the line. When they asked her about her tag information, she didn't have any.
"She said she was just in line, because she thought they were giving away something," Ferrell said. So she'd decided to stand in line for whatever the other people were getting.
During those busiest days, they'd stay after hours finishing up paperwork. Brook remembers opening the huge windows at the courthouse during those hot evenings. And every now and then, someone would walk up and ask if they could renew their tag, then and there. They thought it was a walk-up window.
Ferrell served as president of the Georgia Association of Tax Officials in 1997 and 1998, and remembered the big issue was going from the four-month system to a staggered 12-month system.
There was resistance to the change from small counties, which liked being able to take care of all their motor vehicle registration in a few months, so they could then turn their attention to property tax, he said.
For the first few years after the switch to 12-month renewals based on birthdays, small counties had an exemption, he said. But now all counties in the state are on the same system.
When Brook came on board, all the tag renewals were done on paper – a four-part carbon-copy form. Now everything is computerized and tag stickers are printed out complete with your tag number printed right on them.
Brook recalled a woman calling because her decal was lost in the mail and was worried somebody else would use it.
But these days, not only are tag numbers printed directly on the sticker, law enforcement knows whether or not your tag is current based on computerized records – not whether or not there is a sticker on the back of your car.
From computers that filled a basement to PCs
When Ferrell became tax commissioner, the office was already using a very rudimentary computer system.
The office worked with a family-owned company that had a computer in the basement of their house. The company would print out the county's tax bills and when people came to pay them, that would be on paper, too.
County staff would then find a "computer card" that matched each bill, and it would be mailed to the computer company who ensured the tax funds ended up in the right place – the county, the cities, the school system and the state.
In 1989, the tax commissioner's office moved from the courthouse to the county administration building, where it is located today. What is now the conference room in Ferrell's office used to be the computer room, before everything went to PCs.
Everything is computerized now and Cowetans can view their bills and pay online, without ever coming into the office.
When Ferrell first joined the office, there were three full-time people in the property tax division, and one full-time and one part-time employee in the tag office. There were about 25,000 tax bills.
Now, there are 16 full-time and five part-time employees, and about 60,000 property tax bills.
Soon after Ferrell announced his retirement, his wife, Carol, turned in a retirement notice to her company. They have children and grandchildren in several states, so they're looking forward to more trips to see family, Ferrell said.
And they want to go on a retirement trip, but they're still figuring out where to go. The county is hosting a retirement celebration for Ferrell later this month.
Qualifying for local, state and federal races, including the tax commissioner's race, is in early March for the November general election.
Ferrell is stepping down now, instead of serving out his full term, so that Brook can run for office without having to resign her position or take a leave of absence from the time of qualifying until November.
"She knows the office in and out and I think I am leaving it in really good hands," he said.
A swearing-in ceremony for Brook will be held March 2.