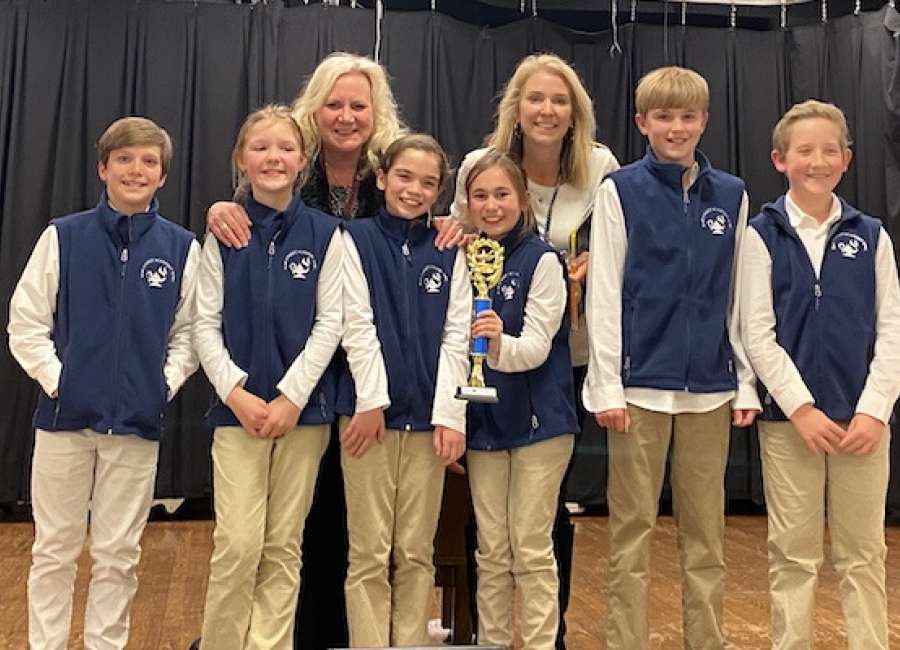 Elm Street Elementary School took first place at the West Georgia RESA Academic Bowl Finals held at Elm Street Thursday.
Elm Street won with 680 points, Bremen came in second with 673 points and Central Carrollton came in third with 671 points.
"We are so proud of this team's hard work, dedication and perseverance. (We are) so thankful to Mrs. (Laura) Bass and Mrs. (Elizabeth) Rance for putting in so much hard work to make this season such a huge success," said Sara Dewberry.
The event included 16 elementary schools from Coweta, Carroll, Harris, Meriwether and Troup counties as well as Carrollton City Schools, all of which participate in academic bowl competitions in the West Georgia RESA-sponsored Academic Team Program.
The competition included three rounds that were 20 minutes long.
Elm Street, Willis Road, Welch, Poplar Road, Canongate, Coweta Charter Academy and Northside's academic bowl teams competed from Coweta.
Students Ellie Behm, Caroline Dean, Nathan Dewberry, Andrew Preston, Gordon Sambdman and Annie Glenn Winstead competed for Elm Street, and are coached by Rance and Bass.
Judah Dukes, Carter Hoty, Ben Lear, Pedro Perea, Miles Ramsay, Carter Smith and Walker Yates competed for Willis Road, led by LeAnne Cheatham, Michelle Gardiner and Lorri Hammond.
Students Madison-Rae Harris, Adam Abke, Colton Gasaway, Brett Daniel, Michael Reed, Sir Anthony McCaskill, Emme Purugulla, Declan Bisard, Seongbeen Lee and Jackson Rendleman competed for Welch, and are coached by Kristie Stewart and Sarah Leach.
Luke Gray, Lyla Ballard, Maxwell Ramsey, Jack Ballard, Kimberly Banks, Brody Johnson, Morgan Moore, Holden Hjemvick and Gavin Thompkins represented Poplar Road, and are coached by Robin Dement, Karen Enos and Stephen Simon.
Connor Griffin, Nick Nuno, Eli Brooks, Lewis Hammond, Alyssa Hundley and Maddy Schmidt represented Canongate, and are coached by Diana Sanders and Susan Nelson.
Coweta Charter Academy was represented by students John Ellis, Logan Doyle, Drake Strickland, Ryan Alligood, Will Ratliff, Marley Johnston, Hunter Zysk, Logan Parker, Nikhil Anand and Shashish Jaidi, and are coached by Meghann Yosten and Kasey Sewell.
The Northside Academic Bowl Team includes Emma Cunningham, Wryson Davis, Shayna Henderson, Luka Hernandez, Betsy Hoffman, Christina Jiang, Andrew McWhorter, Anna Stefan and Addy Welden, led by Laura Crymes, Lisa Diebboll and Beverly Knowles.