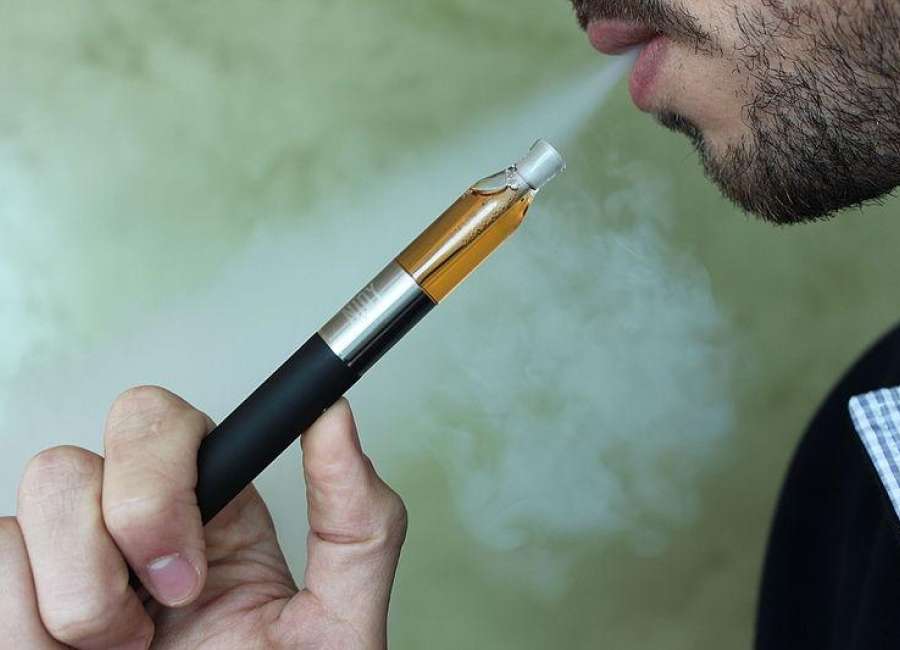 The faculty at Newnan High School were recently presented with information to help them combat vaping in the classroom.
Dr. Jeffrey Metts, chief of medicine at the Cancer Treatment Centers of America, presented information about vaping, including risks and statistics, to the NHS faculty earlier this month. Metts has been traveling across the county speaking to schools and different civic organizations about vaping and the risks associated with it.
Statistics
The first electronic cigarette was introduced in 2003 and made it to the U.S. by 2008, according to Metts. He said the very first vaping deathdeathing was reported Aug.August 23, 2019 in Illinois.
"This is the death that got everyone talking," Metts said.
As of early February, nearly 2,700 people in all 50 states had been hospitalized due to vaping, with nearly 60 deaths reported in the U.S.
Metts said 78 percent of vape users are under 35, and 15 percent of vape users are under 18.
Dangers of vaping
According to the Centers for Disease Control and Prevention, the use of e-cigarettes is unsafe for children, teens and young adults.
Electronic cigarettes heat liquids to produce an aerosol, which can contain high levels of nicotine and other harmful substances, according to the CDC. Known as e-cigs, e-hookahs, mods, vape pens, vapes, tank systems or electronic nicotine delivery systems (ENDS), the devices are available in many forms – some resembling pens or USB drives.
Using an e-cigarette is referred to as vaping or "JUULing."
The CDC says e-cigarettes are the most commonly used form of tobacco among youth in the U.S.
Georgia law prohibits minors from purchasing or possessing vaping products, and school officials warn that use or possession of e-cigarettes in Coweta schools is "a serious violation of the Coweta County School System code of conduct."
Metts said vaping can cause an irreversible respiratory disease, known as popcorn lung, happening in only days or weeks.
The amount of nicotine in one standard JUUL cartridge is roughly equal to the amount of nicotine in a pack of cigarettes, or about 200 puffs, according to the JUUL website.

Metts said vaping in schools can be difficult to detect, because an odor may not be present.
"Vapes can also be hidden or disguised as sharpies, lipstick, a hoodie straw string, phones, pens or even flash drives," Metts said.
Metts said tobacco is among the top three most addictive substances, in addition to heroin and cocaine.
He said one of the main concerns is a form of vitamin E acetate, which resembles THC oil. The vitamin E is used to dilute THC in vapes and has been linked to lung issues while vaping.
Metts said purchasing vapes on the black market is also risky.
Education is key
Metts said educators and those who work in schools, spend a good amount of time with the children, and can help inform them about the dangers of vaping.
"Parents, students and medical professionals must be receptive to putting programs in place to reach youth earlier," Metts said. "Drugs, alcohol, smoking — talk about them at an early age. We need to talk about the consequences and provide more education. Arm them with knowledge and the language they need to say no – how to face peer pressure. We all want our children to make the right decision. This is a community approach."
NHS Principal Dr. Chase Puckett said faculty has seen "a dramatic uptick of students being found with cigarettes, vapes and drug paraphernalia."
Puckett said the faculty at NHS has been clear to students about the repercussions of being caught with vapes, which is typically suspension, and can last up to five days.
"Before we started taking more firmer action, it was an issue all the time," Puckett said "Because of the harsher consequences, more students are realizing it's not worth it."
Puckett said the faculty has had to catch up with mobile technology.
"There's a learning curve," Puckett said. "A lot of our students are finding ways to access vapes and parents may not be aware. Our generation has seen the devastating medical problems with tobacco. Our concern is to make sure our students are aware of the dangers of vaping."
NHS teachers said the presentation was helpful in identifying the dangers of vaping.
"The companies are disguising the vapes as school supplies like pens, smartwatches and flash drives. It's disturbing; teens are the obvious marketing target, and parents and educators are at a huge disadvantage when trying to identify and help students who are vaping," Kristen Johnstone, ninth grade teacher said. "The health ramifications are starting to become clear, but many people still think vaping isn't that dangerous. As teachers, we can do our part to educate students on the risks. Hopefully the growing scientific research will help in that fight."
Daphne Keene, an 11th and 12th grade teacher, said she is more confident in recognizing a disguised vape.
"Dr. Metts talked about the different ways that vapes can be disguised, and for a classroom teacher, that's so important," Keene said. "I was quite shocked to learn of vapes built into hooded sweatshirts, smart watches, pens and USB drives. Another topic in the presentation focused on symptoms of a user: a decline in academic performance, unusual mood swings, persistent cough, nose bleeds, mouth sores and sweet, fruity smells. This information is extremely helpful for teachers and other school employees as we work together to fight this epidemic and communicate the health risks to our students."
Puckett said NHS has 13 buildings and high volume areas and restrooms are closely supervised for vaping.