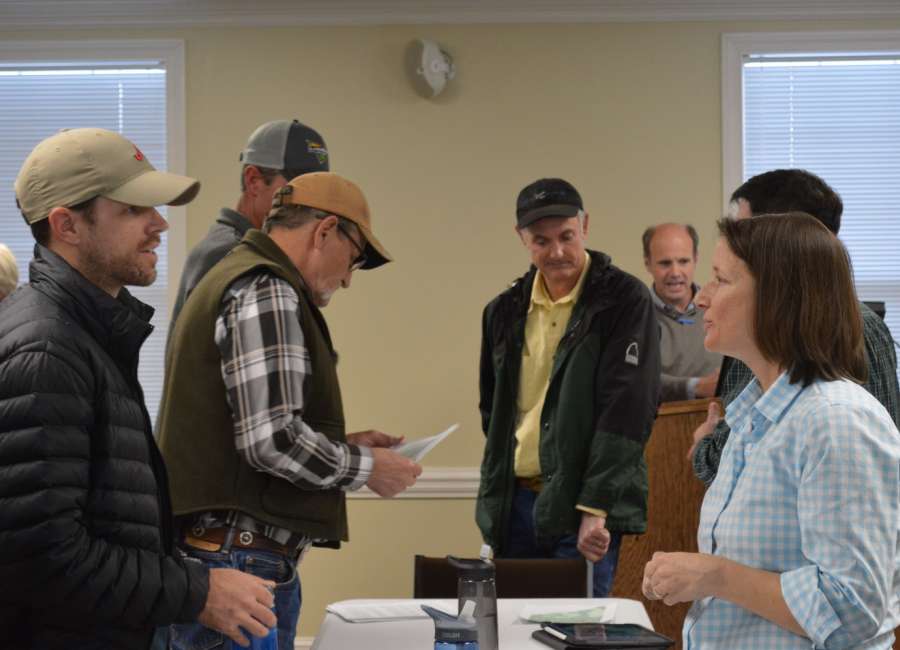 A mix of development industry personnel and property owners nearly filled the Coweta commission chambers for Thursday's open house meeting on Coweta's proposed new ordinances for residential development.
And attendees had a lot of questions.
The ordinances, which dramatically change the type of development allowed in Coweta, are part of implementing the county's "land development guidance system," and will go before the Coweta County Board of Commissioners March 3 for a public hearing and vote.
A residential development moratorium, which was put in place in November so that county staff could craft ordinances to implement the system, expires March 4.
The meeting started with a short presentation, followed by questions from the floor. Afterward, attendees were free to look at maps and talk one-on-one with county staff.
From one size fits all to three different sizes
Currently, nearly all residential property in Coweta County is zoned RC – rural conservation. There are several residential development types, and any can be built on any RC-zoned property, regardless if it is a mile from the city of Newnan or in the farthest reaches of the county.
The new system would change that, and create different density zones based on a point system.
The point system divides the county into three zones, based on proximity to cities, retail, major roads, employment centers and older subdivisions with lots of one acre or smaller.
The standard subdivisions common today, with overall densities equivalent to 1.6 acres per house, would only be allowed in the medium-density and higher areas.
In the lower-point areas, which cover the most land mass, only large lot developments would be allowed.
Higher densities, perhaps with sewer, would be allowed in the highest point-value areas, which are typically closest to cities.
The Coweta Community Development staff hasn't yet written the ordinances to provide for the more dense development. Instead, staff concentrated on the lower-point values because of the moratorium.
Since the higher-density development isn't allowed now, it's not really affected by the moratorium.
The county's Cedar Creek zoning district, which includes land that feeds into the B.T. Brown Reservoir, isn't affected by the new ordinances or the moratorium. Cedar Creek lot sizes are based on soil type, and development requires additional approval.
Once these ordinances are complete and voted on, county staff can begin working on the ordinances for the higher-density areas.
But first, they'll need a lot more guidance.
In November, the commissioners voted on some approximate densities for the three areas, and settled on half-acre lots with the potential for sewer service, in the higher-density areas. At the same meeting, they voted to put the moratorium in place.
"We're going to need to receive a little bit more direction from the commissioners," said Ben Sewell, assistant community development director.
Do the commissioners want to see infill subdivisions on half-acre lots, or just link the higher-density to mixed-use developments? Sewell said he expects those ordinances to be ready toward the end of 2020.
In the lowest-point areas, there could be developments on 5-acre tracts, or a a development that has an average lot size of 7.5 acres, with some lots as small as 3 acres.
In the medium areas, there could be the conservation subdivisions with an overall density equating to 1.6 acres per house, but actual lot sizes would be 1 acre, and there would be greenspace.
A change is that density bonuses, a current practice that allows developers to go from 2 acres per house to 1.6 by providing certain things, would be done away with.
A basic 2-acre lot subdivision would also be allowed in the medium-density areas.
Everything will be under subdivision, stormwater regulation
Under the new rules, all of these developments would come under subdivision regulations — something 5-acre developments have been exempt from. They can still use easements, but would have more platting requirements and would have to comply with stormwater guidelines.
Engineer Neal Spradlin asked if that means detention ponds on 5-acre lots. Previously, those developments were exempt from all stormwater regulations.
Not necessarily, according to Ben Sewell, assistant community development director.
The 5-acre developments are becoming common, and this is a tweak to development practices.
"Our intent is not to make stormwater ponds go on the five acres," he said. But there are some lots where there is a need for some type of stormwater management. And when it's needed, the county would have the ability to require it.
Historically, the county has allowed two 30-foot easements to be placed side-by-side, with one driveway, to serve up to six homes. That was changed back in the summer to only allow three homes on one 60-foot easement.
The proposal would go back to 30-foot easements, said Sewell, though new rules on easement design and construction would remain. And on the 7.5-acre "estate lot with averaging" (ELA) developments, one 30-foot easement could serve six lots.
The current draft ordinance requires significant front setbacks from the public road for the new developments. On lots 5 acre and larger, the homes must be set back by 30 percent of the lot's depth. On the 3-acre, the ordinance requires a 300-foot setback.
But a 3-acre lot might only be 400 feet deep, said Spradlin.
There are provisions to allow staff to approve variances to allow setbacks as low as 135 feet on major roads or 100 feet on other roads. However, the 300-foot provision will likely be changed based on the feedback at the meeting, said Teresa Crow, development review manager.
Rural character, or something more?
Though the land development guidance system grew out of meetings on preserving rural character, the new system is about more than that.
"It's balancing the residential development patterns in light of what the citizens have asked for," Sewell said. "We're never going to make everybody happy. Not everybody cares about rural character, but that is part of it."
Another big component is service delivery, Sewell said. It costs the county money to maintain roads and other infrastructure, and if the population is concentrated in a smaller area, "that will, over time — hopefully — keep the county from having to spend so much money on infrastructure," Sewell said.
One man asked how much consideration was given to the additional cost of a house with the increased requirements.
The requirements will add costs without really adding value, he said.
"If we have this need for affordable housing – does it have a place here?" he asked.
Sewell said that obviously having a longer driveway is going to cost more, but other than that there shouldn't be a lot more costs.
Will property values change?
There was also discussion of property values – how the new restrictions would affect the value of large tracts – and whether that would mean lower taxes.
That's something staff has spent a lot of time looking into, according to Sewell.
The 5-acre development has become quite viable in the past few years, and the per-acre cost of land that is sold for various types of residential development in the county is pretty equivalent, Sewell said.
He showed an example of two tracts, quite near each other. One was developed into a traditional subdivision and one into 5-acre tracts. The 5-acre tract property was sold a year after the traditional subdivision property, and at a higher cost per acre, Sewell said.
And over the next few years, with less sprawl, property values could change, as well.
"I don't think you can prove that this will devalue property because there is still an opportunity to develop the property and have a marketable product," Sewell said.
The county has a new map application that shows the point values of any particular tract and how many points are awarded for each criteria. The map isn't available online yet, but county staff can look up an individual's property. Just come by, call, or email with a parcel number, she said.
For more information visit https://www.coweta.ga.us/government/code-of-ordinances and scroll down to "proposed ordinance changes," or contact the Coweta Community Development Department at 770-254-2635.