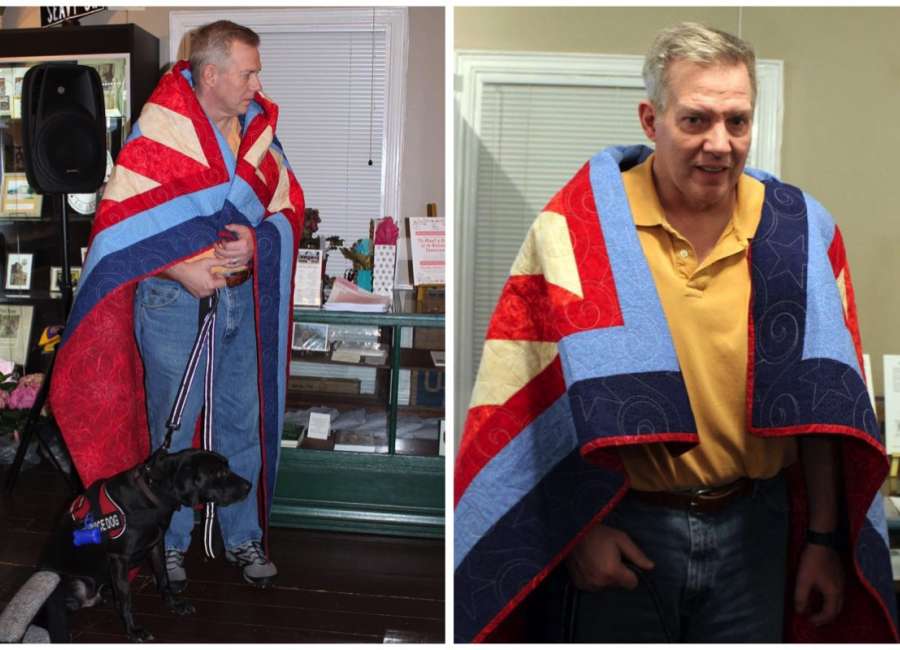 Senoia resident, Thomas Patrick Malone recently received a quilt of valor from the Coweta County chapter of Quilts of Valor.
Malone, a disabled veteran, served with honor in the U. S. Army from 1989 - 1992. He was in the Army National Guard while attending college, and returned to the Guard after his active duty service.
Malone was a member of the 82nd Airborne Division serving as a Special Operations and Infantry Officer. He was deployed to Panama during 'Operation Just Cause' in 1990 and also served in 'Operation Desert Shield' and 'Operation Desert Storm' in 1991.
His military training included: Infantry Officers basic in 1989, Air Movement Operation in 1990, Jumpmaster in 1991 and Joint Fire Power Control in 1991. During Mr. Malone's service, he was awarded the Army service ribbon, Army lapel button, National Defense Service medal, Senior Parachutist badge, Armed Forces Expeditionary Medal (Panama), Combat Infantry Badge, and the Army Commendation Medal.
Malone's quilt was pieced and bound by Karen Daniels who made the presentation on behalf of the Coweta County Quilts of Valor and it was quilted by Jean Raines.
The mission of the Quilts of Valor Foundation is to cover service members and veterans touched by war with comforting and healing Quilts of Valor.
The organization was founded in 2003 and has awarded over 246,625 quilts to date. For more information about the Coweta chapter of Quilts of Valor please see their Facebook page at https://www.facebook.com/CowetaQuiltsofValor/