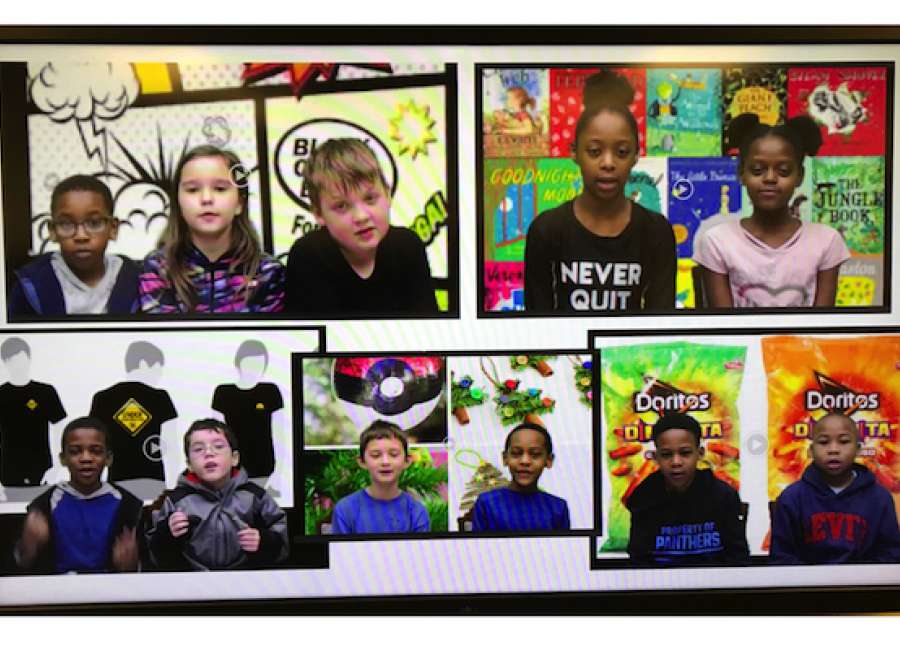 Students learn about entrepreneurship through Launch Pad Library
Nothing teaches business savvy like swimming with the sharks.
Students in Douglas Duncan's third-grade class at Ruth Hill Elementary School recently learned about entrepreneurship in the school's Launch Pad Library, where they created business projects and presented them to judges in a "Shark Tank"-like competition.
The project began when Deidre Bembry, a local insurance agent and chair of the nonprofit Keris Kares, began working with Duncan's class to teach students about business. Bembry led seven sessions on entrepreneurship during the students' Library Media specials using the "Kiera Starts A Business" booklet, created especially for Launch Pad Library students by last year's Leadership Coweta class.
Students learned the definition of an entrepreneur, how to brainstorm ideas, how to create branding and how to pitch ideas. They also practiced presenting themselves and their businesses to judges with composure and professionalism.
"We are so grateful for Deidre Bembry," said Anne Graner, media specialist at Ruth Hill's Launch Pad Library. "Her enthusiasm, knowledge and willingness to empower our kids was fabulous. We are also grateful for Leadership Coweta's 'Kiera Starts a Business' booklet for the guidance it provided."
Bembry, who has operated her own State Farm Insurance agency in Newnan since 2009, is a wife and mother of three in addition to serving as chair of the nonprofit Keris Kares – a foundation named after her late daughter, founded to raise awareness about pediatric cancer and help care for families affected by the disease.
When students were ready to take their business plans and the skills they learned from their studies and dive into the competition, Bembry served as a judge, along with Brooke Barnes, Paige Deweese and Thomas Parker.
Barnes has owned and operated Polka Dot Pastries, an online bakery, for the past 13 years. A former elementary school teacher and insurance agent, she also is the director of disability sales for Southern Oak Advisory and a wife and mother of three.
Deweese is the owner of PaigeMe Marketing & Events, through which she helps local businesses market through social media by managing their social media outlets. She also is an events planner.
Thomas Parker is a retired U.S. Air Force officer who worked in computer science for the Air Force and as a civilian for the U.S. Army. He is a mentor at Ruth Hill and a volunteer at Bridging the Gap. He also serves the community through his fraternal organization, Theta Lambda Lambda Chapter, Omega Psi Psi Fraternity Inc.
On Shark Tank presentation day, the judges met the students, exchanging business ideas and handshakes. Each of the five teams then officially introduced themselves, showed their videos and answered the judges' questions.
Points were awarded in five categories: teamwork, knowledge of product, communication, creativity and investment likelihood. As the judges met and tallied their scores, Graner discussed the experience with her students.
"Many of the kids felt pleased with their presentation and felt like they had accomplished something important – being able to stand in front of adults they did not know and communicate their ideas," Graner said. "They also mentioned what they would do differently, such as having the actual product in their hands during the presentations."
When the scores came in, Comics for Kids – created by Axel Adams, Kamell Stewart and Jordan Kuhnsy – was declared the first place winner. The project's business purpose is to create subject-based comics so kids can better understand English language arts and reading concepts. Team members received certificates and $30 gift cards to Urban Air.
Second place winner was The SpecialTea Girls, created by Zariya Bellamy and Brelyn Teagle. Its business purpose is to help younger students feel special by helping them with their reading and sight words. Team members received certificates and a free fast food lunch.
Third place winner was Ruth Hill Logos, created by Jeremiah Taylor and James-Lee Lotts. Its business purpose is to create unique logos for new businesses. Team members received certificates and an hour of free time in the Launch Pad Library studios.
All of the aspiring entrepreneurs were awarded certificates of participation and goodie bags for their efforts.
"The kids had a real 'Shark Tank' type of experience," Graner said. "They showed great presentation skills and teamwork."