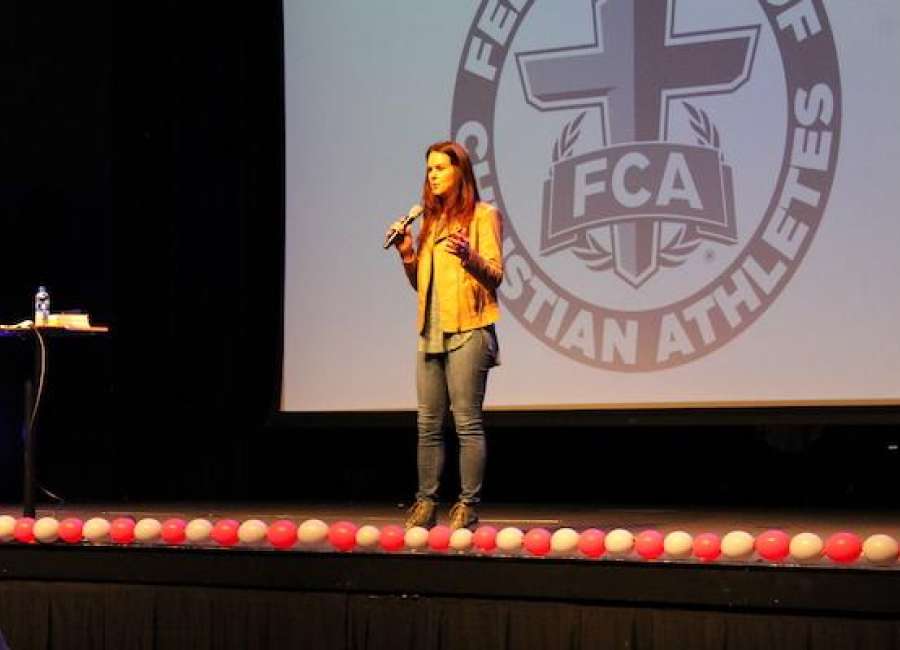 Georgia Tech volleyball legend Kele Eveland spoke to middle and high school female student-athletes at Coweta Fellowship of Christian Athletes Women in Sports Conference Jan. 18.
Eveland is the first woman to have her jersey retired at Georgia Tech. While she was on the volleyball team, she was a First Team All-American and Atlantic Coast Conference Player of the Year.
She played volleyball in Grenada, Spain, for four years and coached at San Diego State University. Now, Eveland travels the country as a commentator on ESPN, a coach and a speaker.
Eveland spoke to the students at the conference about how she found faith during her great success in volleyball at Georgia Tech.
Eveland said she didn't grow up in a Christian home. Her family valued school and sports, and she grew up thinking that if you excelled in both of those things, you would be set for life.
She was valedictorian of her high school and went to Georgia Tech to play volleyball. During her junior year, she said she became angry when she didn't win the volleyball awards she thought she would, after experiencing success so far in life.
Eveland recalled a friend she had named Crystal, who "glowed." Eveland asked her friend Crystal for help because she was stressed and upset about not getting the awards.
Crystal told her to read the book "Jesus on Leadership." Eveland started reading the book and learned about Jesus for the first time.
"This girl didn't get it. In life girls, if you don't understand where your peace and joy comes from, you cover it up with something," she said.
Eveland said she tried to cover it up by eating, and then she would try to make herself feel better about eating by running. She said she felt like she was living a rollercoaster, but she continued to cover up her pain.
Eveland said her senior year of college was a "fairytale" year. This was her best year in volleyball, and she was recognized nationally for her achievements.
Even though she felt like she had finally made it, she said she experienced her lowest low that year.
"You think in your life, hey, if I achieve this or get this, it's going to fill me, it's going to complete me," she said. "What happens after you get a taste of that success, and it doesn't fill you, you tank."
She said she tanked secretly and hid how unhappy she was.
Eveland went back to her friend Crystal and asked her for help again.
"I remember her walking me through it and saying, 'Jesus will take your pain and anxiety away if you give it to him, and he'll make your life better than you can imagine,'" she said.
However, Eveland said she likes figuring stuff out, and she couldn't let her anxiety go.
"I still hung on to my stresses in the world, and I didn't get it yet. I thought I was writing my story when God was writing it," she said.
Eveland shared the verse Isaiah 46:10, "I make known the end from the beginning, from ancient times, what is still to come. I say, 'My purpose will stand, and I will do all that I please.'"
She told the girls that God knows everything that will happen in their lives. Eveland said she has struggled with this in her life because she wants to figure it out herself.
However, after she let the stress of the unknown go, Eveland said she's more joyous and confident than she's ever been. She said God's plan for her life was even better than what she thought she wanted.
"What happens when you let go, you don't have to say anything or prove that you have your life together, you just start glowing," she said.
Eveland encouraged the girls at the conference to glow like her friend Crystal did at school and on their teams.
"It took one friend that glowed for me to see Jesus," Eveland said.