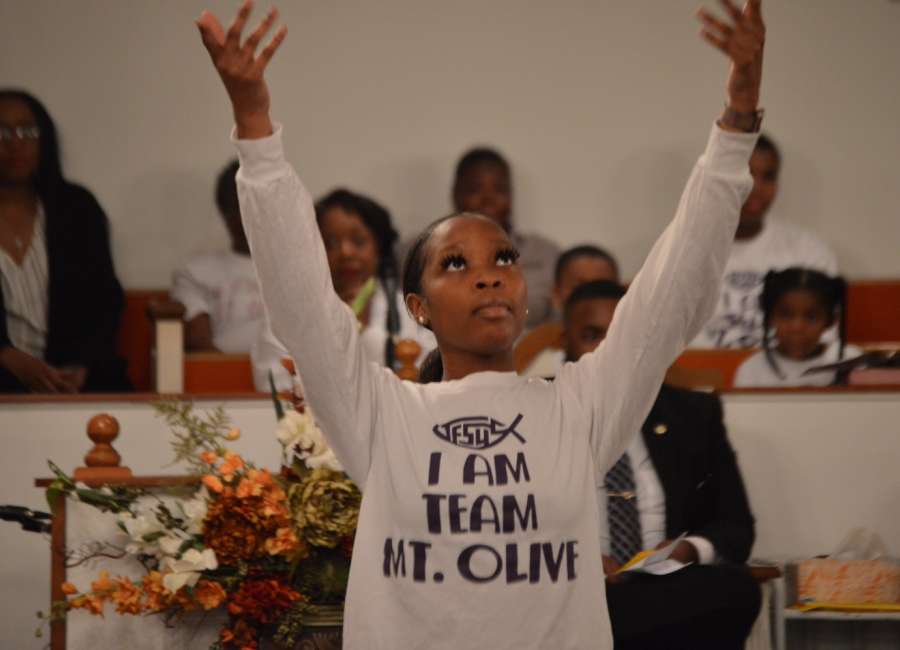 Unity was the message of this year's Dr. Martin Luther King Jr. commemorative program.
Held each year the night before the local parade, the commemorative service is a time of celebration and reflection, with prayers, praise dancing, music and speakers.
Monique Bentley and Cliff Fisher, grand marshals for Saturday's parade, were the keynote speakers at the event. Bentley is vice president, and Fisher is president, of the Coweta County African American Alliance.
Longtime Coweta educator Winston Dowdell, who recently retired from the Coweta County Board of Education, was honored at the event.
This year's commemorative program was held at Mt. Olive United Methodist Church on Poplar Road.
MLK events are "the celebration of an American hero – and a role model to us all," said Mistress of Ceremony Deborah Tatum, worthy matron of Newnan Chapter 483, Order of the Eastern Star, which has put on the MLK events for 33 years.
"This parade could have stopped after the first year," Tatum said. "But we serve an amazing God."
Bentley said she has watched videos of King's "I Have a Dream" speech many times and has noticed so much from his demeanor. "I can see his passion, his determination and dedication for the love of humanity just from the words that he spoke."
King spoke about the injustice visited against people of color. Today, people have cameras in their phones that can capture scenes of injustice, and still things can go unnoticed, Bentley said.
"God placed angels on this planet to help those who have a difficult time with helping themselves, and to speak for those who cannot," Bentley said. "God gave us eyes to see and a voice to tell their story."
After the end of slavery, African Americas faced lynchings, segregation, the destruction of their property, and physical, mental and emotional pain, Bentley said.
But through it all, "people of color still remained strong, focused and hopeful for a better future for their descendants," she said.
The most important thing that kept people together was their spiritual beliefs, she said.
"The spirit of God was their backbone of unity, and second was family," Bentley said. "Today, hope and faith is a necessity," she said. And it must continue through unity and not division, she said.
Between 1860 and 2016, the percentage of children living in homes with both parents decreased from 88 percent to 69 percent, Bentley said, and 23 percent of children live with just their mother.
"If the family structure cannot unite, then how do you expect the entire community to unite as a whole?" Bentley asked.
"My answer is through love, commitment and education."
Bentley also urged people not to satisfy their thirst for freedom "by drinking from a cup of bitterness and hatred.
"It is time to forgive those who have hurt you because holding onto that anger does more damage to yourself. It is time for you to grow into the best version of yourself you could have ever imagined," she said.
Fisher said that our shared history "is here to unite us, not divide us."
When honoring King, "we must bear in mind what he stood for and why his message not only resonated with me but is still relevant to this very day."
King once said that everyone can be great because anybody can serve, Fisher said.
"You don't have to have a college degree to serve. You don't have to make your subject and verb agree to serve. You only need a heart full of grace. A soul generated by love," Fisher said, quoting King.
Fisher has also been active in marches and activism.
"The sole reason why myself of anyone that is or has ever been involved in our line of work, is that we will all agree this is something that is meant to transcend us," he said. "It is the will and resilience of the people, the everyday working person, that gives us the inspiration as we embark on a new generation of young minds and optimistic hearts," he said. "It is imperative that we make it clear that the youth are indeed our future.
"And we must do everything in our power to educate them, encourage them, protect them, love them, guide them, and ensure that the next generation does not repeat the same mistakes of this one," Fisher said.
Dowdell has been in education for some 50 years, starting as a classroom teacher and rising through the ranks to associate superintendent of Coweta County Schools. A few years after retiring from school system administration, he joined the board of education, and retired from the board at the end of 2019.
After being given a plaque by District Worthy Matron Janice Walton, Dowdell addressed the members of the Starling Thompson Jr. Youth Choir, which performed selections during the program.
"I'm so proud to see our young people," Dowdell said. "It's an excellent opportunity to showcase what education and love and family can do. So keep up the good work."
Newnan Mayor Pro Tem Cynthia Jenkins presented a proclamation from the city. "It's an absolute privilege and honor to be here," she said. Jenkins said she thinks she was at the very first event, and attending the annual MLK programs was part of growing up for her. It's a privilege to see the chapters efforts are still in existence, she said.