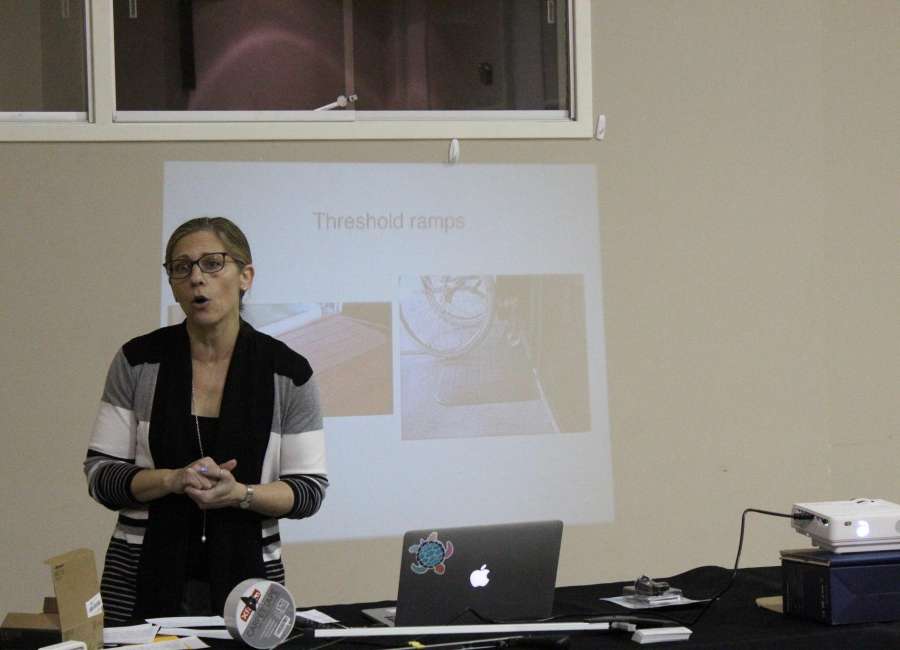 Cynthia Lourie, an occupational therapist at EnABLE Home Solutions LLC, spoke with the Newnan Parkinson's Support Group on fall prevention and home safety.
"The idea is to maximize your independence in your home; not to take it away," she said.
Newer homes are built with universal design in mind, which allows features of the house to be accessible by anyone regardless of ability or disability, Lourie said.
However, that's not the case with many older homes.
"The whole goal is to try to help people age in place so you can age safer in your own home," she said. "Universal design is a newer concept. A major challenge is that most of our homes were built before any of these concepts were popular."
According to Lourie, the main challenge of aging is the increased risk of falls as a result of changes in vision, hearing, balance, flexibility and strength.
Falls are the leading cause of fatal and nonfatal injuries for older Americans, according to the Senate Aging Committee, and the annual cost of fall-related injuries is $50 billion.
The SAC expects that cost to double by 2030.
Lourie said patients with Parkinson's Disease have a higher risk of falls because of the motor symptoms of the disease.
"The ones from a therapy perspective that we think of as related to the falls that can occur more is a decrease in coordination, stiffness and rigidity, shuffling gait, decreasing balance, difficulty in initiating movement and tremors," she said.
The fear of falling also decreases a person's willingness to participate in social or physical activities, Lourie said, which can worsen the disease's symptoms.
Lourie encouraged the members of NPSG to practice balancing and rotational exercises to manage issues such as shuffling.
"Staying physically active is imperative," she said.
In addition to exercises, Lourie said another way to prevent falling is to make changes to your home.
"Some people may be resistant to modifying their home. We understand that. It's a process and something to think about, but the idea of modifying your home is to decrease your fall risk so you can stay in your home," she said.
Lourie said when making home modifications, you should anticipate what your needs will be in the future.
"For instance, right now you may be very well able to stand at the sink and wash your dishes, but five years from now you may want to sit," she said.
Many of Lourie's suggestions were to help patients with fall prevention in their homes, such as installing grab bars in the bathroom, raising or lowering kitchen appliances so they are easier to access and installing motion-sensored lights to avoid tripping at night.
A grabber tool is a good piece of equipment to have in the home too, she said, as it can be used to reach items that fall in the tight spaces between appliances.
Lourie also said patients should explore the option of installing a stairlift if their bedroom is on the second floor of their home.
"I would say 90 percent of the recommendations we make are not renovating an entire room or bathroom," she said. "They are helpful hints or smaller pieces of equipment that can help the changes or how you would do something to enable more independence or decrease in fall risk."
According to Lourie, homebuilders are now working with occupational therapists to create better-designed homes that suit the needs of its occupants.
"If it's just a homebuilder doing it, they have no understanding of the disease process, the medical issues and the aging process that goes into why you need modifications," she said. "That's why some of these homebuilders are starting to connect with therapists. The therapists can make the recommendations and then the homebuilders can do the recommendations and follow through."
The Newnan Parkinson's Support Group meets the second Tuesday of each month at the First United Methodist Church of Newnan at 2:30 p.m.
The group's Feb. 11 meeting will feature Dr. Thomas Wichmann, director of the Morris K. Udall Center of Excellence for Parkinson's Disease Research, who will speak on deep brain stimulation.