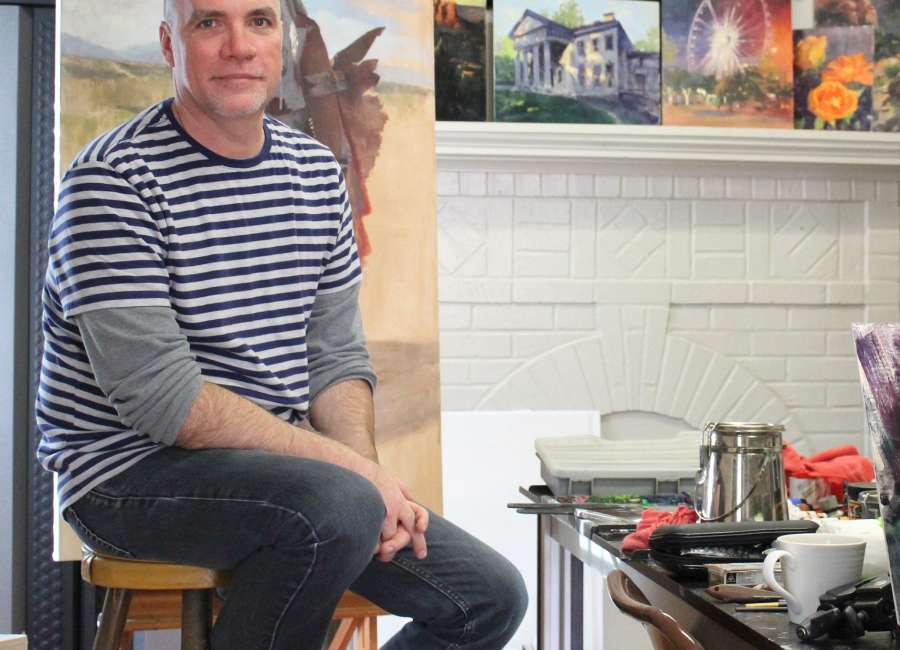 Four and a half years ago, Patrick Saunders and his wife, a painter and photographer respectively, sold their house and hit the road.
"We sold our home and everything we owned and we bought an Airstream travel trailer and just traveled the country and made art," he said. "My wife and I were both really interested in seeing the country and the world, and we thought about how we can combine what we do with travel."
Saunders is the Newnan artist-in-residence for the month of January.
He said he's painted for thirty years and has worked making Hallmark cards, where he painted "flowers, figures and Santa Claus," and taught at the Kansas City Art Institute.
"As a painter, you're torn between the desire of what you want to paint and what you think someone is going to buy. As a commercial artist, I always focused on that and it really burned me out," he said. "For me, art is all about my personal experience. I didn't want to do commercial art anymore. It's about me and what I experience and find beautiful."
Saunders said he sells his paintings wherever he is, but also manages a website for online purchases. If one of his paintings is bought, he will drive to the nearest post office and ship it.
"If someone likes a painting I can ship it to them from anywhere," he said.
The space at Gray Cottage, which houses artists-in-residence, has allowed Saunders not to worry about the weather while working on pieces.
"It's nice to have the space," he said. "Normally, I paint exclusively outside."
Saunders said he learned of Newnan's artist residency after meeting Millie Gosch, a member of the Artrez board, after attending the Olmsted Plein Air event in Atlanta last year.
After spending a few days in town, Saunders praised Newnan's interest in the arts.
"I'm really impressed with the culture of Newnan, as I've seen it so far," he said. "I travel to small towns across the country and I'm amazed at your performing arts center, the art you have around town, the banners of the photographs and the level of interest in the arts here is really impressive. Newnan is lucky to have that. It's rare."
While he is in town, Saunders said he will paint some of the old houses in the city and the rural landscapes within Coweta.
"I don't know why a painter would want to leave this place," he said. "It's very picturesque."
Saunders provided demonstrations at the Nixon Centre and at the Newnan Carnegie Library to show his process.
During the demonstrations, Saunders said he painted and spoke with the attendees at the same time. He encourages questions in an effort to show that the ability to make art is learned, not something people are born with.
"My goal is to show that there is no such thing as talent. No one is born being able to make art," he said. "We learn how to do it and there is a system for learning how to do it, so I try to get that across."
The main takeaways from the demonstrations, Saunders said, will help participants understand what they want to say with their art and how to talk about art with others.
"I want to teach that to all of my students everywhere I go," he said. "And it's important that they walk away not feeling like they created a great painting in the classes, but that they know how to talk about their work and other people's work in the future and how to evaluate it."
Saunders' time in Newnan will culminate with a gallery show at Gray Cottage on Jan. 23 from 6-9 p.m, which will feature work he painted in Newnan and across the U.S.