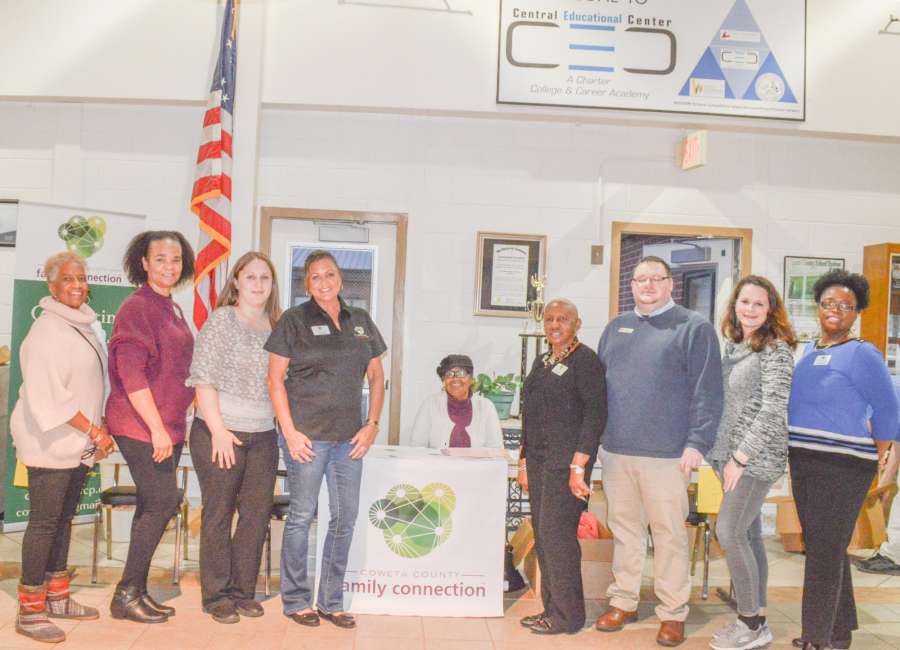 A crowd that some participants called the biggest ever turned out for Thursday's Repack the Backpack and resource expo event.

More than 300 children and parents attended the event, which featured school supplies to "repack" children's book bags. The school supplies were provided by nearly 40 organizations and businesses.
Each organization or business had a table and representatives were able to interact with parents and caregivers and talk about their services.
Repack the Backpack is the yearly signature event for Coweta County Family Connection, a collaborative made up of many nonprofits and agencies in Coweta.
Representatives from the Georgia Department of Early Care and Learning, the Coweta County School System and the local Head Start programs partnered to talk to visitors about "quality rated" childcare centers, free pre-K, and Head Start programs.
Their table was set up in the lobby, right by the door.
"They gave valuable information to families as they arrived," said Carol Prince, executive director of Coweta County Family Connection. School readiness/success – and making sure parents know about resources such as lottery-funded PreK – is CCFC's strategy for this year.
Lauren Odom, executive director of the Newnan Coweta Boys and Girls Clubs, said her organization has participated for several years, but this was Odom's first year attending the event.
"There were so many kids that came through and so many parents – it was a great place for them to come where everybody was right here," she said. "This was an amazing event and school supplies are needed all year round," Odom said.
Parents could talk to the Housing Authority, the Health Department, the YMCA, health insurance organizations, child care organizations, and many others.
Alfrieda Thomas of the Housing Authority of Newnan said that her table ran out of supplies, for the first time ever.
"Sometimes people say there is not a need and we don't have families that need help for their children with school supplies," Thomas said.
The large crowd proves that's not the case. She said she'd never seen so many vendors, either.
"It was really great to see the community rally together and support each other so positively," said Nancy Langer with the Salvation Army.
There was a large contingent from the Coweta County office of the UGA Cooperative Extension Service. This was the first time the extension office participated, and they came well stocked with crayons.
"We really enjoyed being a part of it this year and really getting to get face-to-face contact with the community," said Candace Tucker, family and consumer sciences agent.
The extension office is about a lot more than just 4-H, and there were fliers available for several upcoming programs, including a class on finances and budgeting, and one on preventing Type 2 Diabetes. Agents also talked about the new Cloverbuds program from those in kindergarten through 3rd grade. Tucker said she particularly felt like there was a lot of interest in the budgeting class.
Will Walton is with a new clinic in Tyrone that provides behavior analytic services to those with autism and serves ages 2 to 21. Walton said he was excited to be a part of the event. "What better way to introduce ourselves to the community than to give back," he said.
Walton said he and others were able to talk to so many parents and caregivers, including several who need the services the clinic offers.
The event was a "huge collaborative success," Prince said. In addition to the 35 agencies and organizations, Kiss 104.1 was on hand with some entertainment. There were new organizations, and many community leaders and public safety officials stopped by.
CCFC board members volunteered to keep the evening running smoothly, Price said, and outside donations poured in this year.
"We are truly grateful for all the community support," Prince said. "I believe this was our best event ever."