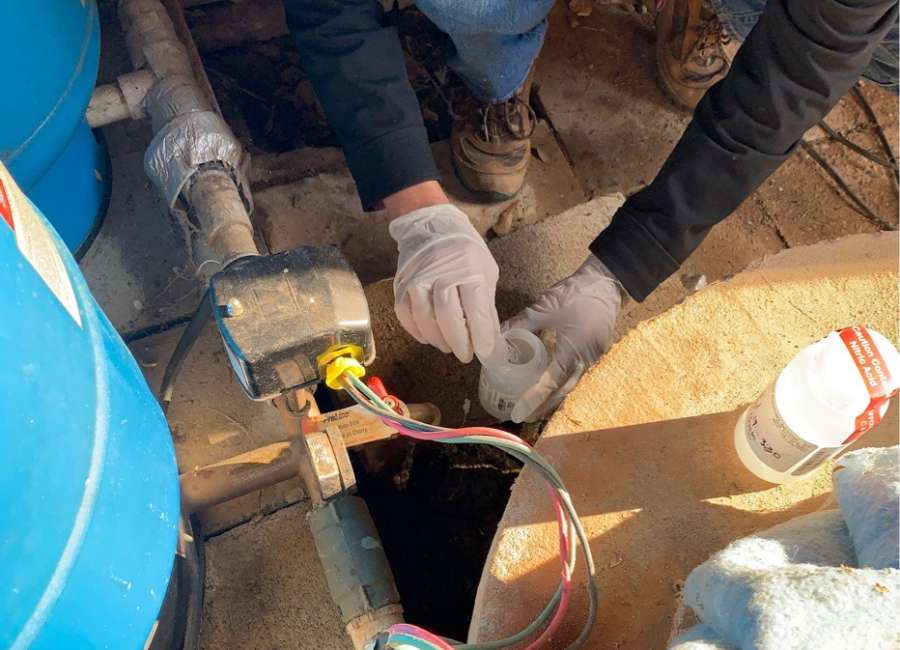 The Chattahoochee Riverkeeper is eager to test wells around Georgia Power Plant Yates in Coweta and Plant Wansley just down the river in Heard County to see if there is any contamination from coal ash stored on the power plant properties – they just need people with wells to contact them.
"We don't know who they are unless they reach out to us," said Kevin Jeselnik, general counsel for Chattahoochee Riverkeeper.
The vast majority of homes in the areas around Plant Yates are served with county water. However, "We know there are lots of wells in that area that maybe aren't used for water service, but still are used for other reasons," Jeselnik said, and his staff would like to test them.
Some of the roads in the area include Dr. Elliot Road, Robinson Road, Stapler Road, Shannon Road, Old Carrollton Highway, Wagers Mill Road, Sol Bridges Road, Dyer Road, Warren Road, Hendrix Road, Wahoo Overlook Trail, Boone Road, and Bob Brewster Road.
Most of the residential areas surrounding Plant Yates are or can be served by the Coweta County Water Authority. However, there is no water service to Sol Bridges Road, which has a handful of homes and borders Plant Yates.
Wells might be used to water gardens or pets. Or even if they're not used at all, testing the wells can show whether any groundwater contamination has moved from the Yates site into the surrounding areas.
Anyone with a well in the area near Yates who is interested in having their water tested can contact Jeselnik at 404-924-4508 or kjeselnik@chattahoochee.org .
The testing is done free of charge.
Because groundwater is always moving, possible contamination could move far away from the plant itself.
"Based on many factors about how groundwater plumes move, a mile is not a far distance," Jeselnik said. "It depends on the topography and type of soil. There is no magic line that demarcates potential exposure."
Georgia Power is in the midst of ash pond closing and consolidation at Plant Yates, and work has been ongoing for a few years.
When the plant burned coal, the resulting ash was stored in ponds or in an unlined landfill. Now that the plant only burns natural gas, no more coal ash is being produced.
The ash on site has been dug out of some ponds and is being consolidated into three former ponds, in what Georgia Power calls the "ash management area."
The ponds are drained – "dewatered" – and ash from several ponds will be piled on top of the existing Ash Pond 3 and Ash Pond B and Ash Pond B Prime. Dewatering of the largest ash pond, Ash Pond 2, began in the fall of last year.
Once the excavation and consolidation are complete, the ash management area will be covered to keep rainwater out. But there is no liner underneath the ash, and the lowest parts of the ash management area are sitting in the groundwater, according to Georgia-Power provided documents reviewed by the Southern Environmental Law Center.
There is a series of monitoring wells on the Plant Yates site, and tests at various wells have shown the groundwater is contaminated with beryllium, selenium, cobalt, and high levels of boron.
Georgia Power claims that the contamination hasn't migrated off the Plant Yates site, Jeselnik said.
"There is no evidence that it has migrated off-site – there is no evidence because no one is collecting it," Jeselnik said. "That is why we want to collect some."
There is plenty of data about what can happen or how the contamination could migrate off-site, Jeselnik said.
Tests done by the Altamaha Riverkeeper around Georgia Power Plant Scherer near Macon have found contamination in drinking water wells as far as two miles off-site.
"We don't want to just go on what we see in other communities. We want to see what is going on within the Chattahoochee River community," Jeselnik said. "We're really eager to connect with anyone who has a well and wants to know what the water quality is."
Current state and federal regulations put strict rules on the disposal of new coal ash produced at power plants but regulations don't require liners on pits that hold old coal ash.
The Georgia Environmental Protection Division is currently reviewing permit applications for ash pond closure at all of Georgia Power's sites, including Yates, Wansley, and Plant McDonough-Atkinson, which is also along the Chattahoochee.
McDonough-Atkinson is in Smyrna, in Cobb County. Other electric utilities that burn or have burned coal have also applied for permits.
Jeselnik said that plans for closure at Wansley, which still burns coal, are "pretty egregious."
While Yates had many ash ponds of different sizes, there is one very large pond at Wansley which is approximately 90 to 100 feet deep, Jeselnik said. Reports submitted by Georgia Power to EPD show that the bottom 80 to 90 feet of the pond is "saturated in groundwater," he said.
Though the pond may be dewatered, "it will never be dry," Jeselnik said. "There is wet, sludgy coal ash that will continue to be wet and sludgy because it's being constantly in contact with groundwater that flows through the area."
A bill introduced on Monday, the first day of the Georgia General Assembly session, would require all coal ash to be stored in lined landfills – under the same rules regulating landfills for household garbage.