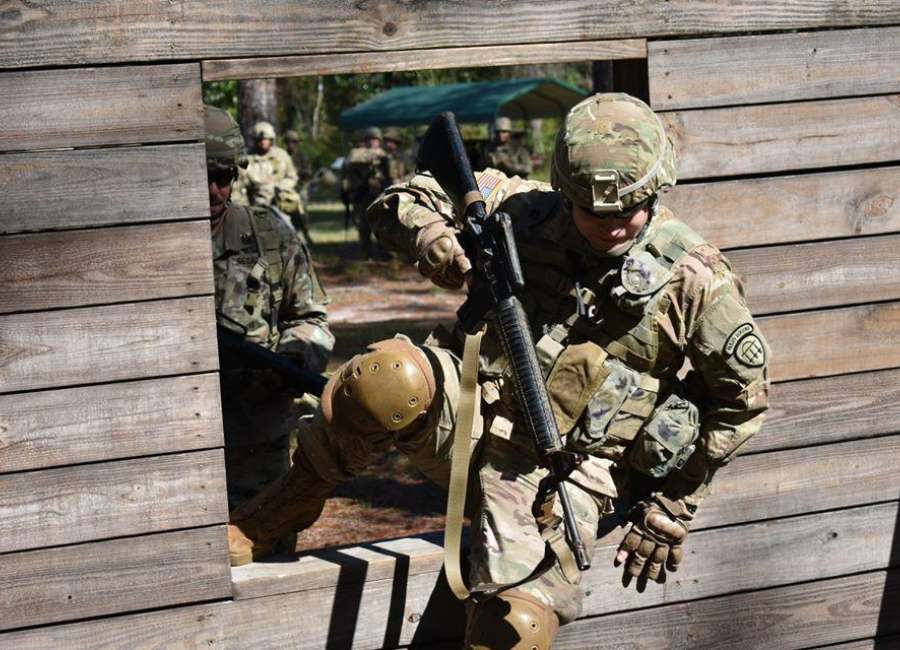 When Newnan resident Joe Mezzatesta turned 40, he wanted a hobby that was meaningful.
All his life he was drawn to uniform service, he said, but a motorcycle accident at a young age injured his knees and prevented him from enlisting.
Mezzatesta said he wanted to improve skills like first aid, CPR and wilderness survival and be able to use them.
After speaking with a few friends, Mezzatesta learned about the Georgia State Defense Force (GSDF).
"It's an all-volunteer organization, but it's a third military branch for the Georgia Department of Defense," said Chief Warrant Officer Three Howard Seay, commander of Alpha Company in the Fifth Brigade of the GSDF.
"We are true citizen-soldiers. I'm not saying that the National Guard are not, but we are traditionally are unpaid. It's a very servant-leadership based organization," he added.
"This is a way for me to join a service and serve my community, serve my state," Mezzatesta said. "It fits exactly what I wanted to do."
According to Mezzatesta, the GSDF is designed to stay within the state and augment the duties of the National Guard.
There are approximately 500 citizens in the GSDF.
Units in the GSDF are unable to be federalized and sent overseas and into combat, said Mezzatesta.
The GSDF assists the National Guard "if they were deployed, if anything else needs to be done, if things don't really need a National Guard response or if they could use extra hands in a disaster response," he said. "Generally speaking, the GSDF does everything the Army National Guard does."
Seay said the GSDF origins stretch back to when Georgia was a colony in the 1700s.
"We trace our heritage back to General Oglethorpe, where he trained the citizens of the colony to be the first line of defense," he said.
As a volunteer force, the members of GSDF are not required to respond to deployment. A mission will come up and the individuals in the GSDF can decline to deploy. Once a GSDF member commits to going on a mission, they are obligated to go, said Mezzatesta.
Like the National Guard, members of the GSDF are required to attend a weekend-long training session each month and four-day annual training session.
During natural disasters, such as the recent Hurricanes Michael and Dorian in 2018 and 2019, the GSDF will often be the first to respond.
According to Mezzatesta, when helping with disaster relief, GSDF units will setup cots in shelters, assist with food and water distribution and will remove fallen trees from roadways.
Mezzatesta said GDSF units arrived in Donalsonville, Ga., before the National Guard to help with relief from Hurricane Dorian.
The GSDF's smaller numbers allow them to react to situations quicker, he said.
"They showed up in mass force, which is what they do. They have huge resources," he said of the National Guard. "But it takes them a while to get together and get everyone rallied to go out. So we spent nine days there before the Guard and got everything ready. When they showed up we took another day and a half to transition our operation over their service and then we were able to leave."
Mezzatesta and Seay's GDSF unit is embedded with the 1177th Transportation Company, a National Guard unit in LaGrange, which allows them to assist the National Guard with their training and operations.
"We also support them as they train during their warfighting mission," Seay said. "We may play the bad guys to help them exercise their skills or refresh their basic skills in their ongoing training. It's a good asset for them. They're not having to use internal resources so they're getting more people trained by letting us assist them."
Mezzatesta said the average of the GDSF members is 50 years old.
About two-thirds of the GSDF does not have prior military experience, he said. It's made up of people who have the desire to do something in a uniformed service without enlisting.
"If anybody that has any kind of interest of 'I want to be in a uniform, but I don't want to join the army,' then this is the place to go," he added. "We're held to the same standards and do a lot of the same stuff."