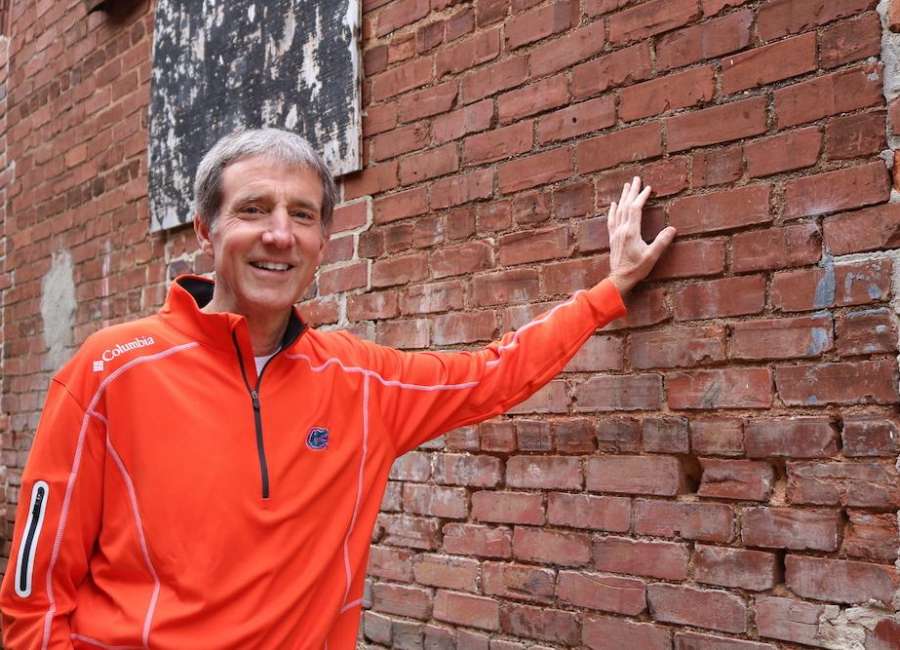 Now that the National Championship game of college football has been played—an absurd 16 days after the semifinals and rendering it almost anticlimactic, it's time to move on to other important matters.
Like college basketball.
Being a University of Florida alum living on the south side of Atlanta, the closest venue to catch a Gator game is a few miles past the Alabama border: Auburn University. My first four visits to War Eagle Country didn't turn out particularly well; three losses in football (1989, 2006, 2011) and one in a half marathon that I failed to win (although to be fair, I've never won one in my life).
But my luck changed in 2014 when my wife—also a Gator—and I ventured into enemy territory for a basketball game. A few hours later we left Auburn Arena with satisfied smiles on our faces, not just because of the 68-61 Florida victory but for several other reasons as well:
Cindy and I left home allowing us plenty of time to make the 3 p.m. tipoff. As Cindy has never been on time for anything in her life, I didn't remind her the game was being played in the Central Time Zone. When we pulled into the arena's parking lot I said we had time for a quick bite since we had 90 minutes until tipoff since we gained an hour. She frowned and asked me how long I had 'been aware of that little fact.' She wasn't amused by my answer: 'Since seventh grade.'
During the first time out several hundred miniature parachuting cows fell from the rafters, a promotion for a popular fast food establishment. Trust me: you haven't lived until you've seen a basketball court blanketed in parachuting cows.
Second time out: the cheerleaders scoured the crowd to find 'the loudest fan.' They selected a student that wasn't all that loud although he was flailing his arms and legs uncontrollably directly behind the Auburn bench, obviously well on his way towards a bachelors degree in spasticity (look it up).
Third time out: one lucky fan was given the chance to win a car by making a 94-foot putt from one side of the court to the other. The golf ball ricocheted off the front of the courtside press box as the public address announcer loudly boomed out 'GOOD TRY!'
Halftime: Two fans appeared at midcourt dressed as Michelin Men, inflated in rubber suits such that their mobility was dramatically restricted. Then engaged in a faux sumo fight. I feel certain the Founding Fathers of the sport would have considered it disgraceful. I, however, found it hilarious.
But this topped them all, this conversation we overheard between two—I'm almost ashamed to admit—Florida fans:
Fan #1: The Gators are the ones in the blue uniforms.
Fan #2: Is Auburn in white?
#1: Yes; wearing white makes them the home team.
#2: What does Florida wear when they're the home team?
#1: Sometimes white, it just depends.
#2: Depends on what?
#1: Stuff you wouldn't understand.
#1: That player just got fouled in the act of shooting.
#2: What happens now?
#1: He shoots two free throws. They count for one point if he makes them.
#2: What if he got fouled trying a three-point shot?
#1: He can shoot as many as three free throws, but he only gets to shoot as long as he keeps making them. If he misses the first one, he's done.
#2: Makes sense.
#1: (Florida coach) Billy Donovan just called a time out.
#2: What did he do that for?
#1: Some of the players need some Gatorade. They're getting tired from running up and down the court and Gatorade gives them fresh legs.
#2: Is that why the players are sitting on folding chairs while the coach is talking to them?
#1: Now you're catching on.
#2: I'm beginning to like this sport. What did you call it again?
I swear all of this is true; they had about as much business being at a basketball game as I do at a science fair. (Believe me, if you knew me better you'd be in stitches right about now.) To top things off, both men appeared to be in their 30's.
As for the game, a win is a win, although Cindy and I noticed the Gators didn't get many points from any of their guards during the game.
As we stood to leave we overheard Fan #1 explaining to Fan #2 why: 'the smaller players' job is to dribble the ball up and down the court and give the ball to the bigger players so they can make the baskets. That's why you don't see Florida's smaller players scoring many points.'
It sounds like he's catching on.
Scott Ludwig lives, runs and writes in Senoia. His latest book, "Southern Charm" is a collection of his first 101 columns for The Newnan Times-Herald. He can be reached at magicludwig1@gmail.com .