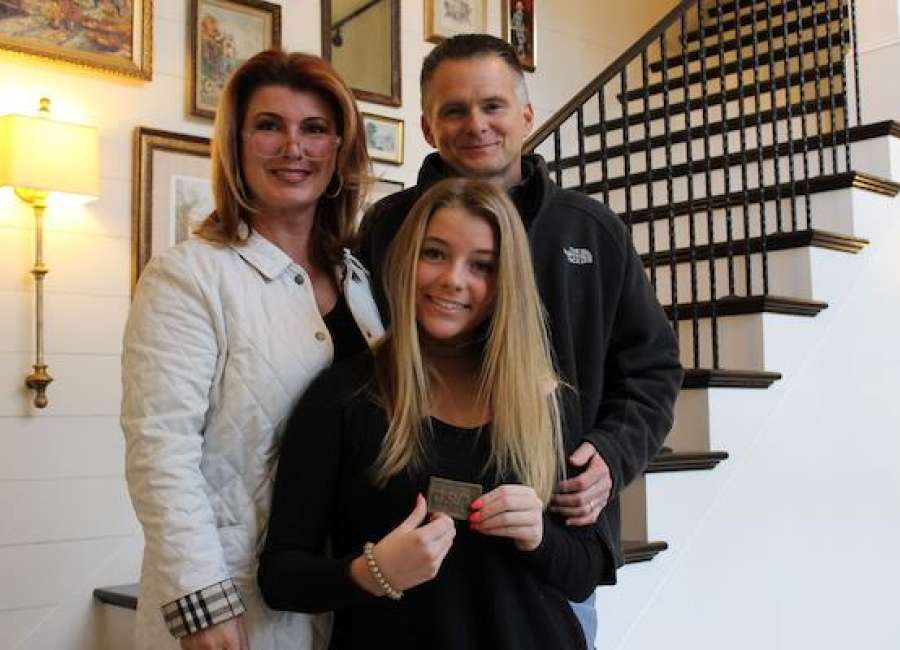 When the Smiths took their new metal detector out for a test in their backyard in 2016, they say they never imagined what they would find.

Proctor and Stephanie Smith's daughter, Anne Bentley Smith, was given a metal detector for Christmas that year. In March of 2016, the family decided to see if they could find anything in the backyard of their house off Jackson Street.
Stephanie said they walked around for about 10 or 15 minutes and found lots of small things, including old pieces of metal that didn't look like much of anything.
"I saw something lying on its side and dug around for a little bit, and I was getting ready to move on to the next thing when I decided to pick it up," she said.
At first, she said she thought it was an old toy that had become weathered.
Since they weren't sure what it was, Proctor said they invited a friend who enjoys metal detecting, Carlton Jones, over to check it out. Jones told them it was a Confederate belt buckle and that he had been looking for one for 40 years.
"It was the ultimate beginner's luck," Stephanie said.
Because of the other metal pieces they found around it – including an old bullet – the Smiths said they believe the area may have been used as a Confederate campsite.
The buckle they found with "CSA" stamped on it is part of a limited number of buckles produced, and they believe it came from Virginia, Proctor said.
"It's crazy that we hadn't found this before or come across it when we poured the concrete for the driveway," Stephanie said.
The house where the buckle was found was built in 1906, about a mile from downtown Newnan off Jackson Street, and Proctor's family has owned the house since 1960.
He said the original homeowner built the house so he could move to the country. The Smiths say they believe the backyard had been used as a stable, because of the number of horseshoes they have found.
Jones suggested the Smiths send the story of finding the buckle to different magazines about metal detecting. American Digger Magazine replied, and they were featured in the September 2016 edition.
Confederate belt buckles are rare, and they sell for between $2,500 and $4,000, according to www.armyoftennesseerelics.com .
However, the Smiths said they are planning on keeping the buckle in the family since it was found on their property.
Their daughter, Anne Bentley, a ninth-grader at The Heritage School, has taken the buckle to school for Civil War Day. It was more personal for her to show her classmates an artifact she found from something they have learned about in class.
Although their beginner's luck find got them more interested in metal detecting, the Smiths say they haven't found anything as exciting since the buckle.
"I don't think we'll ever be as lucky as we were the first time we went out," Stephanie said.