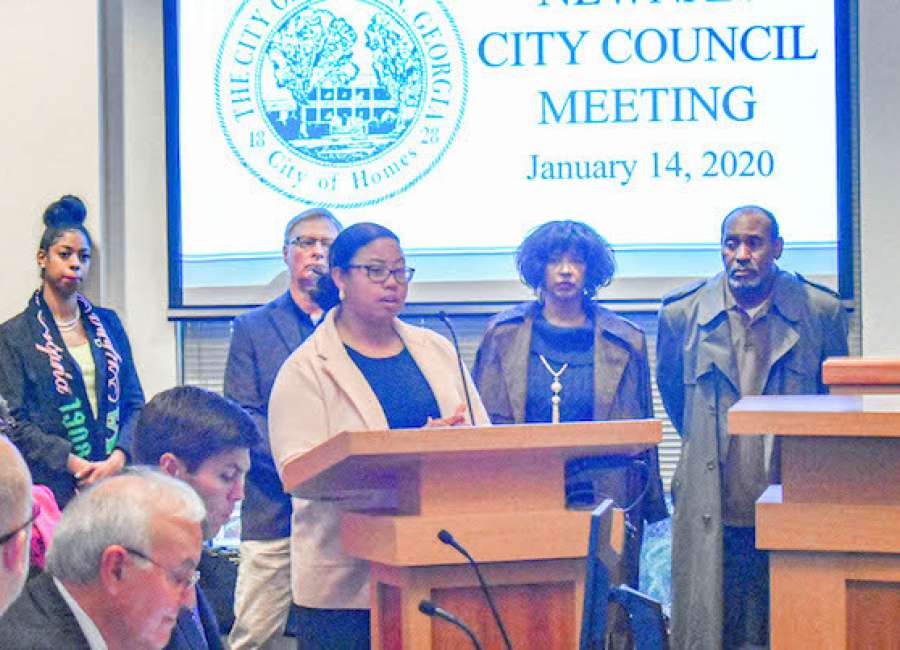 A Newnan attorney and mother says the significance of having a woman of color serve as mayor pro tem should not be underestimated.

Kimberly Bourroughs Debrow praised Councilwoman Cynthia Jenkins, who was the city's mayor pro tem for 14 years, and urged the council to continue to ensure Newnan's population is appropriately represented by city officials.
"Our community is very diverse, and the service of Councilwoman Jenkins for the past 14 years has been significant," Debrow told the Newnan City Council.
In a split vote, council members voted Tuesday to elect Councilman George Alexander as mayor pro tem, indicating that the position will now be filled on a rotating basis according to seniority.
Jenkins began serving on the council in 2004, the same year as Alexander. She said she was approached by Mayor Keith Brady in 2006 and asked if she would consider serving as mayor pro tem.
"He told me that in two years of working with me, he thought I was capable and held the respect of the citizens," Jenkins said during the discussion before Tuesday's election vote. "(He said) it was time for a woman to take a place of prominence and leadership on the council, to demonstrate the progress and inclusivity of the city of Newnan."
Debrow asked council members to take those factors into account when considering the impact of Jenkins – who indicated she was not included in the decision to change the mayor pro tem selection criteria – serving in a prominent government role.
"I'd like to implore this body to consider some things that may otherwise not be so apparent," said Debrow, who serves on several nonprofit boards and is president of the Georgia Association of Black Women Attorneys.
She also is the mother of a 2-year-old daughter.
""I'm raising a young black girl here in Newnan," Debrow said. "I would implore this body to consider the significance (Jenkins serving in the mayor pro tem) position can have for those in our community, particularly our young black girls."
Debrow said that while she trusts the council to make good decisions on behalf of its citizens, she felt Jenkins was not properly recognized for the work she has done in the mayor pro tem role.
"It seemed very unceremonious to simply adopt a new procedure and, based on that procedure, whatever it is, identify and elect a new mayor pro tem," she said. "It almost seems as though it did not acknowledge the 14 years that Councilwoman Cynthia Jenkins has very well served in this position.
"So if no one else were to say it, I just want to just acknowledge and thank her for her service for 14 years," Debrow said, drawing applause from those attending the meeting.