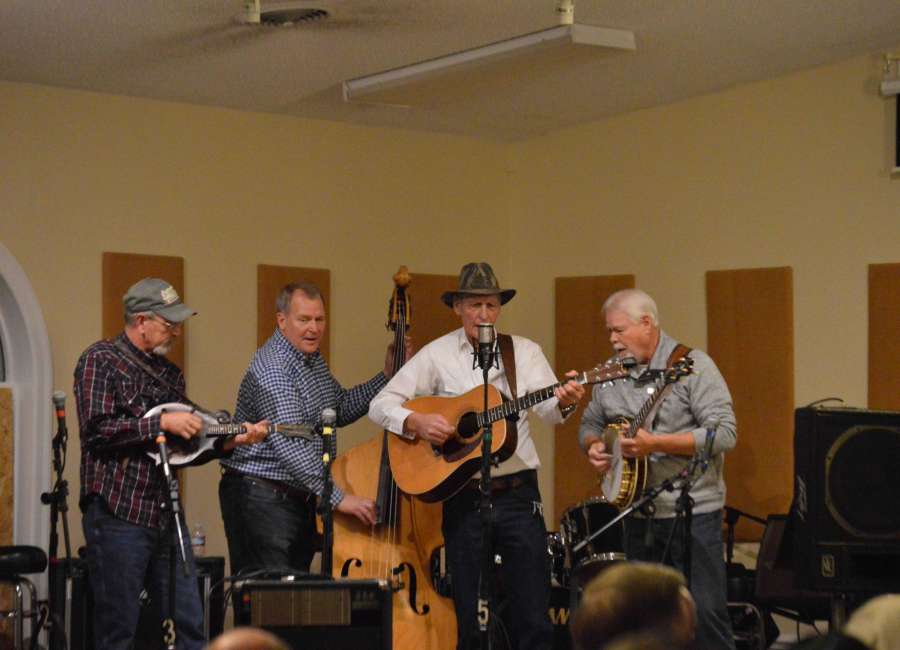 For over 27 years, every Saturday night – except for occasional holiday breaks – the opry was live in Hollonville.
The Hollonville Opry House was a long-standing and highly beloved tradition in Pike County, with multiple bands, dancing and a lot of fellowship.
That came to a sudden and painful halt a year ago, when the organization lost the only building it had ever had.
For months, the Hollonville Opry was homeless. For the regulars who had become friends and family, it was heartbreaking.
"It was like a nightmare, the way it happened," said Freddie Bostwick.
"We were like one big happy family," said his girlfriend, Martha Little. "It was really sad to know that we weren't going to get to do it anymore."
During 2019, organizers of the opry held benefit concerts to raise money in hopes of finding a location.
"Volunteers were helping us look for a place and things that could help us," said Charlotte Kirkland, one of the original founders of the Hollonville Opry and current treasurer.
They were hoping to buy a place, but no place could be found. The future seemed bleak.
Until a member of Turin United Methodist Church, Michael Rickles, whose uncle is a friend of the opry, thought the church could possibly be the opry's new home.
Pastor Tommy Holder said that Rickles "came up to me one day and said – you know, we've got this fellowship hall. We use it often but not all the time, and this could possibly be a ministry opportunity. What do you think?"
The church decided it would be a great idea. And now, the Hollonville Opry has come to Turin.
Shows the first and third Saturday of the month
The first shows were held in September 2019, and shows are the first and third Saturday of every month, from 6:30 to 9:30 p.m. There are three bands, with a mix of country, bluegrass and gospel.
Ideally, the first band to play is gospel, the second is bluegrass and a third is country, said Harold Kirkland, who is in charge of booking bands and is current president of the organization.
Everything is free – including the snack bar. The opry exists completely on donations and volunteers. The members of the opry's board usually provide sandwiches and hot dogs, while opry fans bring desserts.
"The church has been wonderful," said Kirkland. "They have our utmost thanks and appreciation for doing this."
The people are the opry
It's not the original opry house, but as Harold Kirkland tells people, the Hollonville Opry was never a building. "The people are the opry house, really," he said. "We can make it anything we want to make it."
"The people are coming together, we've got that good warm fuzzy feeling, with the music and the fellowship, and we're bringing in a lot of new faces," he said. "The people from the church have been really nice to us. It just couldn't have been any better. They have really bent over backwards to give us the opportunity to put on a good, wholesome program."
Marcelle Landers is an opry regular who's well known for her buck dancing. The opry "has meant the world to me," she said. "These people have put their heart and soul into this. You couldn't find a better group of people anywhere."
Landers said she was starting to think that the opry might never find a new home. "This church has just opened their hearts to them, that is so awesome," she said. She's happy that she can go to the opry again, but said she's even happier for the people who have put so much time and effort into the opry.
For Little and Bostwick, who are both widowed, the opry was life changing.
After her husband died, Little said, she would sit at home, look at pictures of their life together, and cry.
"The best thing that ever happened to me was I let somebody talk me into going to the opry house," she said. Two months after she started visiting the opry, Bostwick asked her to dance. She said no. She wasn't ready.
But Little's friend told her she should say yes. "She pushed me out of the chair after I said no," Little said. So she decided to dance with Bostwick. That was two years ago. "The last two years have been totally awesome," she said.
She said they are excited and thankful that the opry is back. "We truly believe that God put us together," Little said.
Bostwick started going to the opry back in the beginning, in 1991, and would often help with set up. When his wife's health declined, they stopped going. After her death, he would go every now and then.
"Mrs. Charlotte said come on back, we want to see you back," he said, so he became a regular again.
Sharing God outside the sanctuary
Every night, since the beginning, the opry has opened with prayer. And closed with everyone singing "Amazing Grace."
Pastor Holder said that hosting the opry helps the church as well as the opry.
"We saw an opportunity to help out an organization that was important to the community for almost 30 years – what better way to use this place than to at least let them come in and see if they can make it work," he said.
"Our prayer, from the church perspective, is that it would draw non-church people in the eastern corner of Coweta into the church," Holder said. So far, there have been a few opry visitors who have returned on Sunday mornings.
Because it's a Methodist church, allowing the opry took the approval of the church hierarchy. Getting the approval wasn't hard. The United Methodist Church has a program called Fresh Expressions that "is looking at doing church outside of a traditional sanctuary," Holder said, and hosting the opry fits right it.
"We're trying to create a Christian atmosphere where people can relax and let their hair down and share God," said Michael Rickles.
The opry started when a group of about 20 folks who loved music met on a back porch in Pike County in 1991. By the end of the meeting, officers were elected, an organizational structure was decided and one member said they could host concerts at his old seed barn in the middle of Hollonville – if they thought the building would work.
Volunteers got busy transforming the old seed barn into what became the Hollonville Opry House. Though that home was taken from them, hopes are to, one day, have their own, permanent home once again. Signs and equipment from the building are in storage, waiting for that day. But until that day comes, everyone is grateful that the opry is once again hosting music and friends.
For more information about the Hollonville Opry at Turin, visit the Hollonville Opry House page on Facebook.