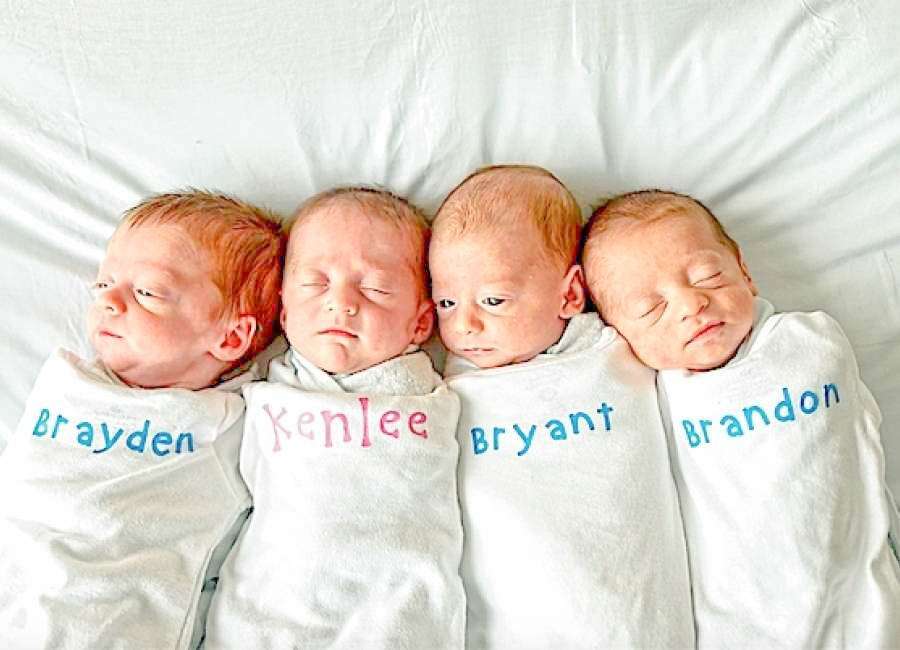 The quadruplets that made history at Piedmont Newnan recently celebrated two milestones – their third birthdays and starting school.

Braydon, Bryant, Brandon and Kenlee Miller were the first quadruplets to be born at Piedmont Newnan Dec. 16, 2016. The mother, Kortney Miller, said she and her family, including big brother Bentlee Miller, welcomed the new babies with open arms.
Miller said going from one child to four was an adjustment, but with support from the children's father Justin Miller and the oldest of the bunch, Bentlee, the adjustment was much easier.
From one to four
"You just do it," Miller said. " You don't have a choice."
Before welcoming the new babies, Miller worked full-time for the Coweta County Sheriff's Office. She currently stays home and her children started school at Head Start earlier this month.
Miller posted about the "Quad Squad ''on her Facebook page when she dropped them off for their first day.
"My three pounds all the way down to 2 pounds babies started Headstart!," Miller wrote. "I can't even begin to tell you the emotions I had today as I dropped my babies off. I'm an emotional wreck but they did great. I don't know what to do since they aren't home…guess I'll take a much-needed nap."
Miller said the quads love school but had to adjust at first. She said they would often ask their teachers when their mommy would return. She uses the time the kids are away at school to catch up with household chores and errands.
Miller said big brother Bentlee is a huge help.
"When we first brought them home, he would say, 'Mommy, can you tell Jesus to take this baby back?' He has helped tremendously, which is great because instead of doing something one time, you're doing it four times," she said. "It was hard. I went through a lot trying to make sure I had that time with Bentlee."
Miller said all of the children are pretty much on the same schedule, but their personalities are what really set them apart.
"Baby A is Brandon," Miller said. "He is a good boy. Very sweet, but sneaky. Baby B is Braydon, and he is my defiant one, but not necessarily in a bad way. Baby C is Bryant. He was just diagnosed with autism, so he just requires a little more attention. Baby D is Kenlee and she is the princess and the head of the household. They get along, but they are brothers and sisters."
Miller said Christmas looks like "we just bought for the whole community of Newnan," and as for birthdays, the family typically celebrate with a birthday party.
Miller, who has been pinned as the quad mom, said the household spends about $80 a week for diapers.
"We go through diapers like boxes of candy," she said. "Oh, and we have loads of laundry."
But, mealtime is pretty easy since the four are not picky eaters.
Looking ahead
The mom of four said she plans to return to work, but she is not sure when and what she will be doing. And as far as more children in the future, she said the idea is not completely out of the question.
"Whatever God sees fit," Miller said.
She said her fiance Jonathan Bolton, who helps out with the children, only has one child.
"I think he wants another one," Miller said. "I wouldn't mind having more."
Miller credits patience and her village for helping her raise her family.
"It truly does a village," she said. "My fiance helps so much and the kid's father, Justin. We co-parent very well. The more love the better."
Besides a village, Miller said patience and prayer are key.
"Honestly, you have to learn from them (the children)," Miller said.
Miller became pregnant with the quadruplets without the aid of medical fertility drugs.
Although multiple births have occurred several times within the family's history, their three sons and daughter are the first set of quadruplets.
The hospital's women's services team was notified of Miller's pregnancy at just 16 weeks, one week into the mother-to-be's second trimester of pregnancy, according to medical professionals at Piedmont in a previous Newnan Times-Herald article.
A team of experts including physicians, obstetricians, neonatologists, nurse practitioners and nurses was gathered in addition to respiratory specialists, the pharmacy, blood bank, radiology and an engineering team.
Miller delivered the quads at 29 weeks. The babies remained in the Neonatal Intensive Care Unit, or NICU, for two months before being released to go home.
Quadruplets not common
The odds of having naturally-conceived quadruplets in about one in 700,000, according to Dr. Heather Turner at Southern Crescent Women's HealthCare, who delivered the babies via cesarean section Piedmont Newnan.
Turner previously delivered the couple's four -year-old son Bentlee at Piedmont Newnan as well.
"Kortney's case was even rarer because for her each child came from their own egg, which led to four individual sacs and placentas – meaning she released four eggs at once prior to conception," Turner said. "Kortney's pregnancy was labeled high-risk due to the likelihood that they would be born prematurely, have low birth weights and spend time in the NICU. This required routine OB visits and appointments with a perinatal specialist throughout her pregnancy to monitor the babies and mom's health. Piedmont Newnan's Level III NICU allowed the quads to be delivered in their hometown."
Turner said "being able to share the experience with the Millers is something I cherish."