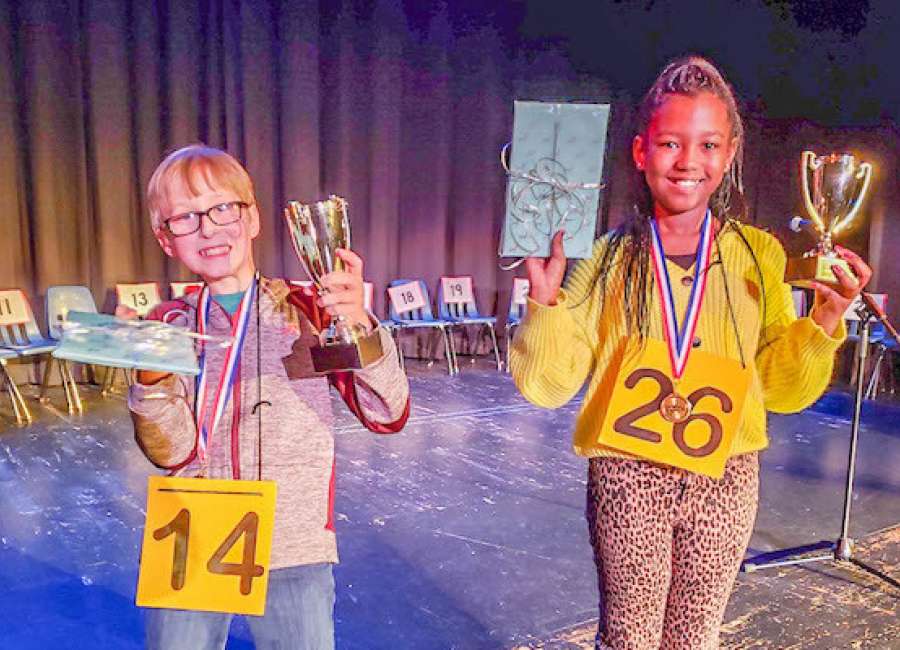 It was "camouflage" and "embroidery" for the win as Lee Middle School's Chase Hamman claimed the Coweta County Spelling Bee title Thursday.

Ahleah Watkins of Moreland Elementary School was runner-up in the event, which was held at the Newnan High School Auditorium and featured 26 school-level champions in grades 4-8 going 33 rounds before Hamman correctly spelled the winning words.
In addition to Watkins, contestants from Coweta County elementary schools were Prince Korli, Arbor Springs; Ethan Escobar, Arnco-Sargent; Amare Baker, Atkinson; Ethan Felsted, Brooks; Charlotte Sargent, Canongate; Yazmyne Stanley, Eastside; Andrew Preston, Elm Street; Levi Kemp, Glanton; Asher Neal, Jefferson Parkway; Gavin MacDonald, Newnan Crossing; Shayna Henderson, Northside; Gavin Thompkins, Poplar Road; Cayleb Dunlap, Ruth Hill; Caroline Sawyer, Thomas Crossroads; Emme Purugulla, Welch; Logan Brewer, Western; Adam Gaillard, White Oak; and Ben Lear, Willis Road.
Hamman's fellow middle school contestants were Ayaan Rahman, Arnall; Chase Johns, East Coweta; Charleston Long, Evans; Jonathan Freeman, Madras; Aiden Morris, Smokey Road; and Jack Reynolds, 8th Grade Academy (CEC).
Each school also named a runner-up in its school-wide spelling bee, to serve as alternates in case the winner became unable to compete in the county contest.
Elementary school alternates were Sierra Laidlaw, Arbor Springs; Rylee Denny, Arnco-Sargent; Andrew Harley, Atkinson; Andrew Lewis, Brooks; Kaity Shumaker, Canongate; Emma Phelps, Eastside; Meleiya McNeill, Elm Street; Madison Kare, Glanton; Destiny Hardemon, Jefferson Parkway; Bailey Avery, Moreland; Kameren Moss, Newnan Crossing; Vincent Allbritton, Northside; Ava Kelly, Poplar Road; Andreveon Gray, Ruth Hill; Luke Mayfield, Thomas Crossroads; Daevee Nix, Welch; Hannah Little, Western; Skyler Thompson, White Oak; and Lyla Shelnutt, Willis Road.
Middle school alternates were Daniel Choi, Arnall; Liam Ross, East Coweta; Journey Puett, Evans; Andrew Kim, Lee; Faith Whitlock, Madras; Jaxon Fowler, Smokey Road; and Ayden Beard, 8th Grade Academy (CEC).
Hamman and Watkins each received a Kindle Fire, provided by sponsor Truist Financial (formerly BB&T).
Principal Julie Durrance of Arbor Springs Elementary School, Principal Kiefer Triplett of Smokey Road Middle School and Principal Jennifer Whetstone of Willis Road Elementary School served as judges, and Dean Jackson was pronouncer, for Thursday's competition.
The school system's curriculum staff organize the annual spelling bee.