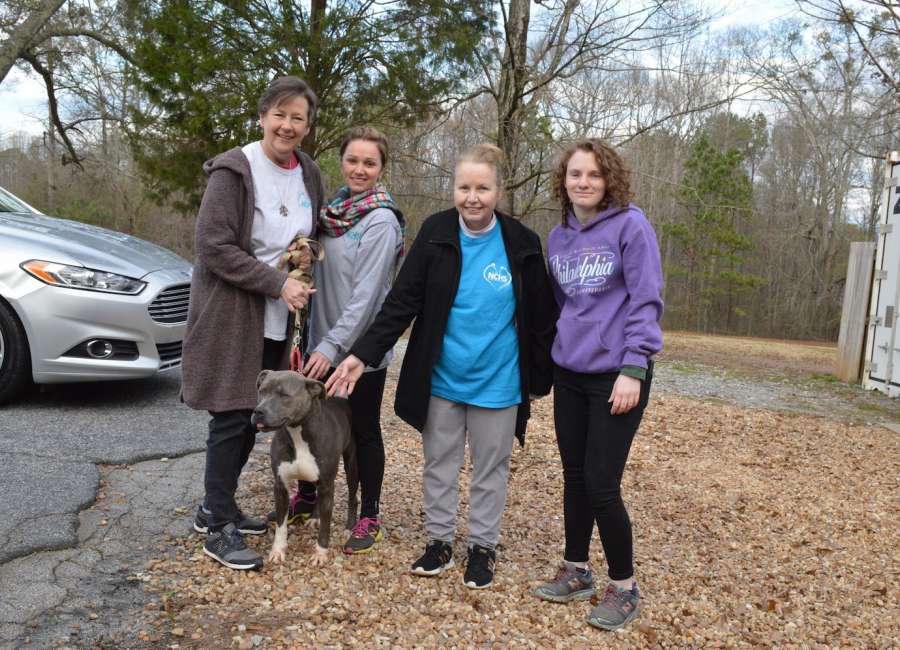 Six local dogs are on their way to new homes in Nova Scotia, Canada.

The dogs, five of which are former residents of the Coweta Animal Services shelter will be adopted through Hearts of the North, a rescue organization that takes "death row" dogs from the south to new homes in Canada.
On Friday, volunteers with the Newnan-Coweta Humane Society drove the dogs to Macon, where they were put on a transport to Nova Scotia, along with dogs from Macon, Camilla and Cochran. Transporters planned to drive through the night, and they should arrive in Canada on Saturday evening, said Lisa Schmidt, dog coordinator for NCHS.
It's not unusual for Coweta dogs to be put on transports to head to new homes up north, but they don't usually go quite so far north.
"In the past, NCHS has sent dogs to Maine, New York, Illinois (and) Wisconsin," Schmidt said.
Dogs from Georgia are traveling further north because there are not enough dogs in the northern states to meet the demand from people who want to be dog owners, she said.
Other states have much stricter animal laws, including mandatory spay and neuter laws, that keep the population down, according to Schmidt. There aren't as many breed restrictions up north either, she said. In Georgia, many apartment complexes and some subdivisions won't allow certain breeds such as pit bulls and pit bull mixes, and some have restrictions on how many pets someone can have.
There's also a cultural difference when it comes to how people think of and take care of animals, Schmidt said.
"It's a completely different mindset sometimes," she said. "We need better education for the public on responsible pet ownership. We need legislation for spay and neuter. You can hardly make a difference at the end of this when we're just trying to rescue and place. It has to be at the beginning of the issue, with better local, state and national legislation, better spay and neuter, and teaching and education about responsible pet ownership."
The trip to Canada began with Drew, a heartworm-positive pit bull mix who initially was thought to be aggressive when he was taken in to Animal Services.
"They had him on a euthanasia list," Schmidt said.
Schmidt said Drew was temperament-tested four times with other dogs, people and cats to see how he would behave.
"He was actually fine. He had never bitten anyone. He's been fantastic," she said.
Gail Lustig with Hearts N Homes Rescue helped with Drew and gave NCHS information about Hearts of the North. In October, Drew went to NCHS for heartworm treatment.
Hearts of the North said they wanted Drew, and while he was going through heartworm treatment, Schmidt said the NCHS contacted the Canadian organization about some other animals.
"We said, 'Hey, can these dogs go too?" Schmidt said.
The answer was yes.
"None of this would have happened for any of them if it hadn't started with Drew," Schmidt said.
NCHS sent biographies and information about the dogs, along with videos of the dogs being temperament-tested.
Social media and networking between various rescues, all over the country, is a big part of getting the dogs to new homes.
"It's about who sees it on social media," said Schmidt.
But before sending animals there, the NCHS checks out the rescues's reviews and ratings and visit, if possible.
"We have a great group of volunteers that makes this happen," Schmidt said.
Schmidt said the NCHS would rather adopt all pets out locally.
"But sometimes it is a huge help to be able to send the dogs to another rescue, where they already have a home. They won't sit with our rescue waiting for one," she said.
"It takes a village," said NCHS volunteer Jamie M. Sanders. "And it never stops."
For more information about Newnan Coweta Humane Society, visit www.nchsrescue.org .