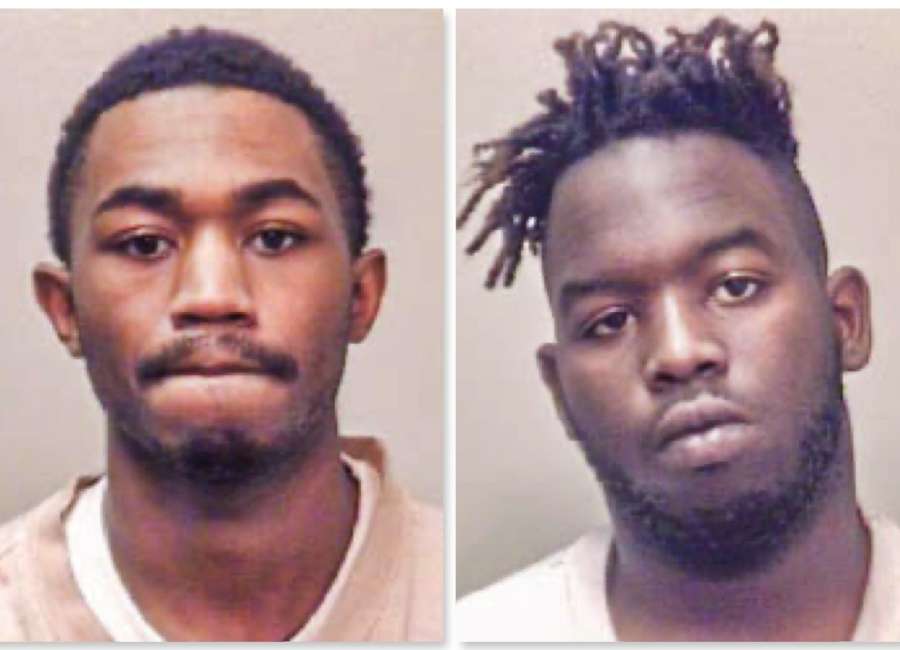 Nearly a dozen guns were recovered when two people suspected in a rash of car break-ins were taken into custody after a high-speed chase that ended in Tyrone.
Antonio Merrell McCrary, 22, of Ellenwood and Jamale Dewarn Woodward, 19, of Decatur are charged with 12 theft charges, according to jail reports.
Investigators said the two men are responsible for burglarizing a dozen cars in the parking lots of several businesses in the Newnan Crossing Bypass area, according to Major Mark Fenninger with the Coweta County Sheriff's Office.
Based on video surveillance and eyewitnesses, investigators were able to determine the same two men were responsible for the break-ins and issued a lookout for their car. The two were spotted by a deputy in the parking lot of Piedmont Newnan Hospital.
As a deputy attempted to run the tag on the pair's Dodge Charger, which was reported stolen out of Atlanta, the men fled the parking lot. Officers from the Newnan Police Department and tye Coweta County Sheriff's Office chased the two men on Interstate 85 at speeds up to 130 mph.
Authorities said the driver of the Charger, identified as McCrary, nearly struck several cars during the pursuit and continued driving into Fayette County after getting on I-85 at exit 56 towards Tyrone.
As McCrary began passing cars on the wrong side of the road on the double line, he lost control of the car at Palmetto Pines Drive, went off the road and hit a ditch before the car launched into the air and struck a motorist as it continued fleeing east, according to police.
Authorities said McCrary ran through the intersection at Senoia Road, which forced another driver off the road causing him to hit a tree. McCrary continued on Senoia Road toward Highway 74 but lost control on a ramp, ran off the road, turned sideways and was disabled by a deputy's car, which struck the driver's side of the Dodge.
Both men were taken into custody. Inside the car, police recovered all the items stolen from the cars in Coweta. Eleven guns were recovered, including three from Newnan and eight from other jurisdictions, according to police. Laptops and electronics were also recovered.
Police are still working to ensure the stolen items are returned to their owners.
McCrary is charged with 11 counts of entering auto to commit theft, theft by taking, theft by receiving stolen property, fleeing/attempting to elude police, leaving the scene of an accident with injury/death, reckless driving, failure to maintain lane, improper turn signals, running a red light and driving while unlicensed.
Police said McCrary is also wanted on burglary charges in another state.
Woodward is charged with 11 counts of entering auto to commit theft, theft by taking and theft by receiving stolen property, along with marijuana possession and carrying a gun without a license.
Both McCrary and Woodward were denied bond following their first appearance hearing Friday.