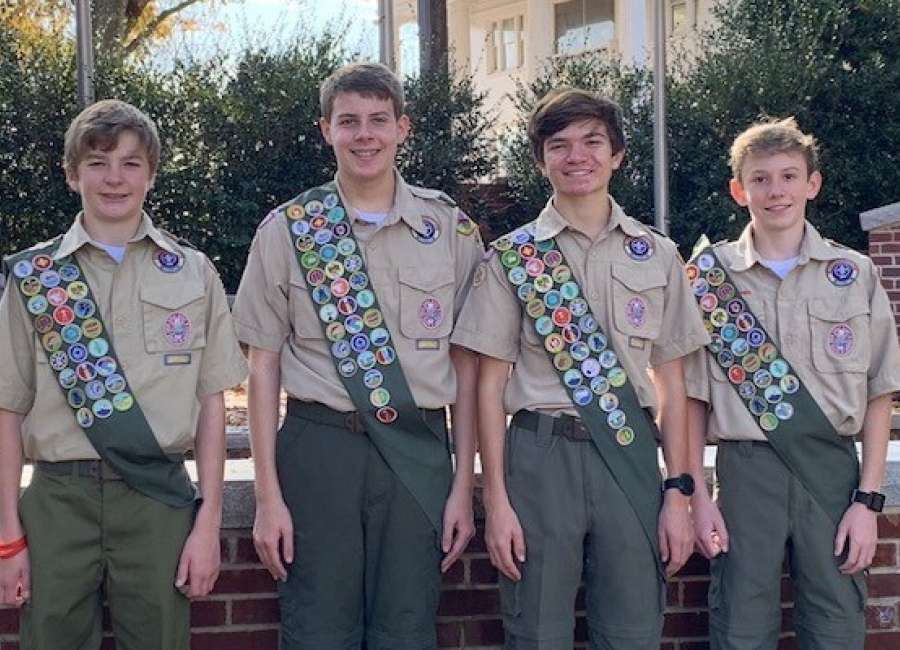 Boy Scout Troop 41 of First United Methodist Church will recognize four of their members as Eagle Scouts in a ceremony this Sunday.
Scott Zachry, rank advancement chair for the troop, said that it is rare to have this many Scouts receiving the rank of Eagle at one time in a troop.
Eagle Scout is the highest attainable rank in the Scouts BSA program of the Boy Scouts of America. Since the program's beginning in 1911, only 4 percent of Scouts have earned this rank, according to www.scouting.org .
The four Scouts who will receive the honor – Reed Miller, Jack Terrell, Zach Zachry and Thomas Dean – have been in Troop 41 together since they were old enough to join.
An Eagle Scout himself, Zachry said he thinks that Scouts are more successful in achieving the Eagle rank when they can do it alongside each other. He said all of the teens helped each other with their individual Eagle Scout Projects.
The Eagle Scout Service Project is something anyone looking to make the rank of Eagle must complete. Scouts must plan, develop and lead a project that is helpful to a religious organization, a school or a community, according to www.scouting.org .
"You've got to have a boy-driven group and have them plan their own projects," Zachry said.
All of the Scouts that will be recognized this weekend are also younger than the average Eagle Scout. The four Scouts being recognized are either 14 or 15, while the average age of Eagle Scouts in the U.S. in 2018 was 17, according to the "Bryan on Scouting" blog.
Zachry said troop leaders wanted the Scouts to be finished with their Eagle Projects before they started high school so that they could focus on school, sports and getting ready for college.
Zachry said he hopes that in addition to teaching them life skills, the Eagle Scout rank will help them with scholarship opportunities for college.
"Being an Eagle Scout teaches you determination and persistence," Zachry said. "There aren't that many Eagle Scouts left, so it's special to be part of a small group like that."
The Eagle Scout ceremony will be held at First United Methodist Church's Annex Building at 33 Greenville Street, Sunday, Jan. 5, at 2 p.m.
Matthew 'Reed' Miller
Miller is 14 years old and a freshman at Newnan High School. He has been in scouting since he was 7 and completed his Eagle Scout Project in the spring of 2019.
For his project, he created wheelchair-accessible flower beds for residents at Wesley Woods.
Wesley Woods had several residents who expressed interest in planting a flower and vegetable garden, but they couldn't stand for long periods of time. They reached out to Troop 41 last winter to see if anyone was interested in building wheelchair-accessible flower beds for them.
"My great-grandmother had lived in an assisted living home for many years, and she loved staying active and having things to do in the home. This would have made her proud," Miller said.
With the help of his family, friends and fellow scouts, Miller built the four cedar flower beds for the facility. He said the residents were excited to start planting their flowers and vegetables.
"One of my favorite pictures they sent me this summer was of a cucumber that they had grown in their garden. It was huge!" Miller said.
In addition to fulfilling his project requirements, Miller also said he formed relationships with the residents. He has gone back several times since with some of his friends to play games and visit with the residents.
Jack Terrell
Terrell is 14 years old and a freshman at Newnan High School. He has been in Scouts for nine years, and he chose to build a ga-ga ball pit for Brooks Elementary School as his Eagle Scout Project.
Terrell came up with the idea of building a ga-ga ball pit because it was something he enjoyed playing while at Camp Thunder, an annual summer Boy Scout camp in Molena, Ga.
Ga-ga ball is similar to dodgeball, but it is played in an enclosed octagonal pit. Instead of players throwing the ball, they hit it so it rolls. The game is played until one person is left who hasn't been hit by the ball, according to Terrell.
The pit will be used for recess during the school day. Terrell said he wanted to build it at Brooks because his mom teaches there, and also because he went to school there.
Terrell said he thought it would be a good addition to the playground, and Jillian Andrew, the principal of Brooks, agreed.
He raised all the money to purchase the materials for the pit, and constructed it over a weekend, with the help of volunteers, in July.
"To me, Boy Scouts is an organization to learn leadership, teamwork and other necessary life skills while spending quality time and bonding with good friends," Terrell said. "Starting as a Cub Scout, I have grown in my Scouting career with great role models and friends surrounding me, and it has influenced my life by helping me become a leader to my friends and my community."
Zach Zachry
Zachry is 14 and attends Northgate High School. He has been in Scouts since he was in the second grade.
For his Eagle Scout Project, he built and installed benches for the Madras Middle School car rider line.
He saw the need for the benches after his own experience waiting in the car rider line. Zachry said there was nowhere for students to sit, and their backpacks were too heavy to stand in line.
Zachry approached Madras Principal Lorraine Johnson with his idea, and he said she loved it.
He also wanted a project he could complete without a lot of adult assistance, since the projects are supposed to be Scout-driven. Zachry completed his project with adult transportation help only.
"Scouts has been great. I have had so many great experiences that have taught me to problem-solve and persevere," he said.
Thomas Dean
Dean is 15 and a freshman at Newnan High School. He has been in Scouts for eight years.
For his project, he made several improvements to the exterior of the Change Church in Grantville.
Dean's family knows the pastor of the church, TJ Boyd, which was how they found out there was some work needed.
Dean contacted Boyd, who suggested several safety improvements. He installed handrails, stripped and painted floors and steps, and installed fencing around an HVAC area.
"Boy Scouts has given me opportunities to make friends, learn life skills and have outdoor adventures that wouldn't have been possible on my own," Dean said. "I have learned a lot about leadership and communication and what it means to have a good work ethic. If I could do it all over again, I would."