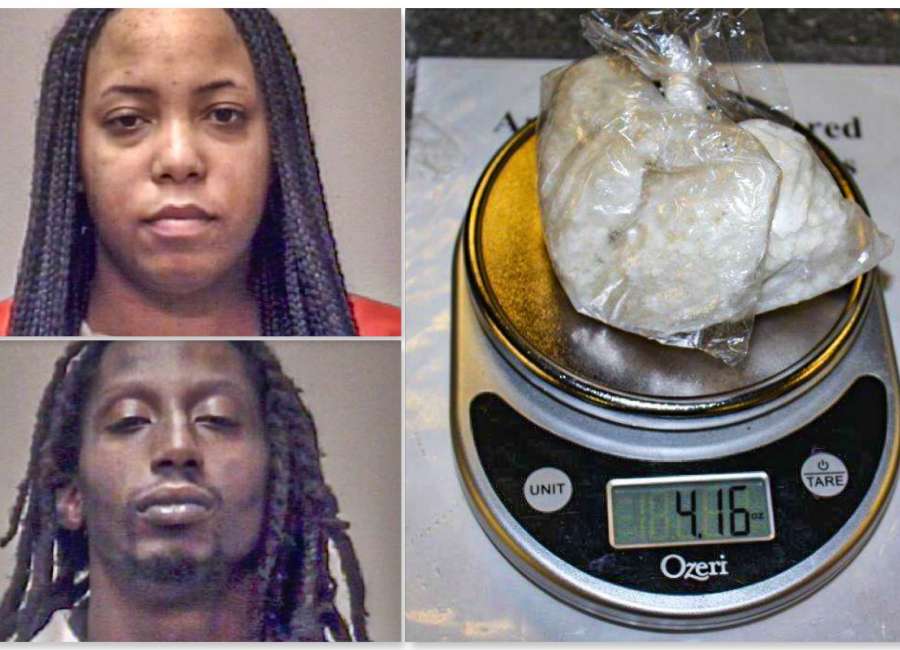 More than a quarter-pound of cocaine was seized after a driver couldn't keep it between the lines.

Jarrell Daniel Rivaz, 29, and Atiya Lykel Smith, 26, are both being charged with cocaine trafficking following their arrest on New Year's Eve.
A deputy with the Coweta County Sheriff's Office was on patrol Tuesday afternoon when he noticed a Chevy Cruze driving on the shoulder near mile marker 38 southbound on Interstate 85.
After conducting a traffic stop on the car, the deputy spoke with the driver and explained he was being pulled over for failure to maintain lane and because his passenger wasn't wearing a seat belt, according to the police report.
The deputy reportedly noticed the smell of marijuana coming from the car and asked the driver to step out.
The driver, identified as Rivaz, refused to provide his drivers' license or exit the vehicle, the report stated. The passenger, identified as Smith, also allegedly refused to provide identification and began recording the deputy on her smartphone.
Rivaz eventually exited the car and was arrested for obstruction, while Smith reportedly continued to refuse to identify herself.
Inside the car, deputies found a marijuana grinder, a rolled cigar containing marijuana and a bag containing less than an ounce of marijuana. In the trunk near the spare tire, deputies found two bags containing suspected cocaine, weighing a total of four ounces.
Approximately $1,157 was also found, authorities said.
More marijuana was discovered at the jail, in Smith's clothing, as well as in the back of a patrol car that transported the individuals, according to the police report.
Rivaz, 29, of Columbia, S.C., was charged with failure to maintain lane, obstruction, marijuana possession and cocaine trafficking. Smith, 26, of Newark, N.J., was charged with going inside the guard line with drugs, obstruction of officers, marijuana possession, and cocaine trafficking.