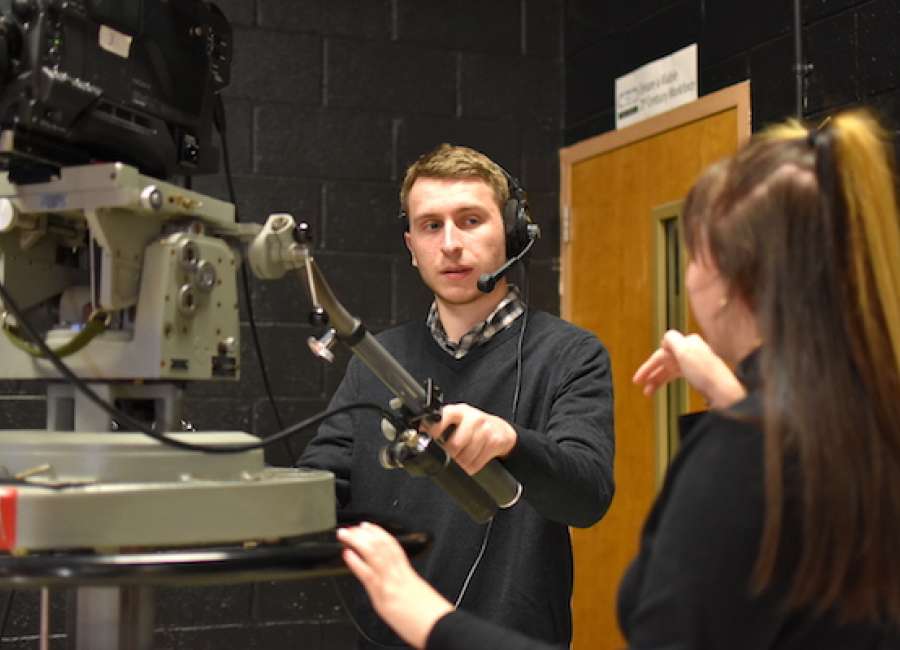 Sean Gannon and Mai Brown say music brings people together, and Musiki Flow is a perfect example.

As interns in the Central Educational Center's Video Broadcasting program, Gannon and Brown will co-direct a documentary on the project, for which musicians Bahar Bingol Gjuka, Doug Kees, David Puett and Jack Jones have worked to merge Turkish and Western music training and traditions.
One goal is to enter the film into consideration for the Student Production Awards – the student Emmys – but recognizing Newnan's thriving arts and music scene also is a driving factor. Gannon says a recent New York Times article about photographer Mary Beth Meehan's "Seeing Newnan" exhibit – a collection of oversized portraits of local residents that has drawn sharp criticism from some Cowetans – was missing some important details.
"I believe the article painted Newnan in somewhat of a bad light," he said. "There's definitely a rich cultural atmosphere in our town, and this is something I want to express in our documentary."
Kees, a strings instructor at CEC, also teaches private guitar lessons at Musicology in Newnan. Gannon is one of his students and an acquaintance of Puett's, and the involvement of local professional musicians in Musiki Flow helped shape the idea for the documentary.
It didn't hurt that both Gannon and Brown were already on the student production crew scheduled to film the Feb. 8 Musiki Flow, which will take place in CEC's Studio B.
"The concert is a really big thing for us," said Brown, who is designing the concert set. "As film professionals, we have done things like this before, so we use as much of our creative ability as possible."
In previous interviews with The Newnan Times-Herald, Gjuka – a Ph.D. candidate at the University of Calgary – said her project involves introducing Western-trained professional musicians to traditional Turkish music and training, which is heavy on improvisation and interpretation.
"The end product will be music that sounds familiar to you," she said. "But we will be showing something extremely creative and challenging, how music evolves between other people and takes on the character of where it lives within the culture."
The documentary will include footage from the concert, along with personal interviews. Natural light and "raw" footage will be abundant, say the directors, and the storytelling will be intimate and personal. It will be somewhat biographical, with a focus on how the musicians coalesce as they navigate the technical side of music and translate it into an expressive piece of music, Gannon said.
"It's the juxtaposition of Eastern and Western styles of music, and our goal as documentarians is to condense it and make it palatable," he said. "We want to make the audience feel smart when they're watching it, like they're learning something no one else knows."
Brown said the objectives for the documentary fit neatly into her vision of what film should be.
"The whole reason I decided to (pursue) film was to open people's minds to new concepts and change the way that people think," she said. "This is a perfect way to achieve that."