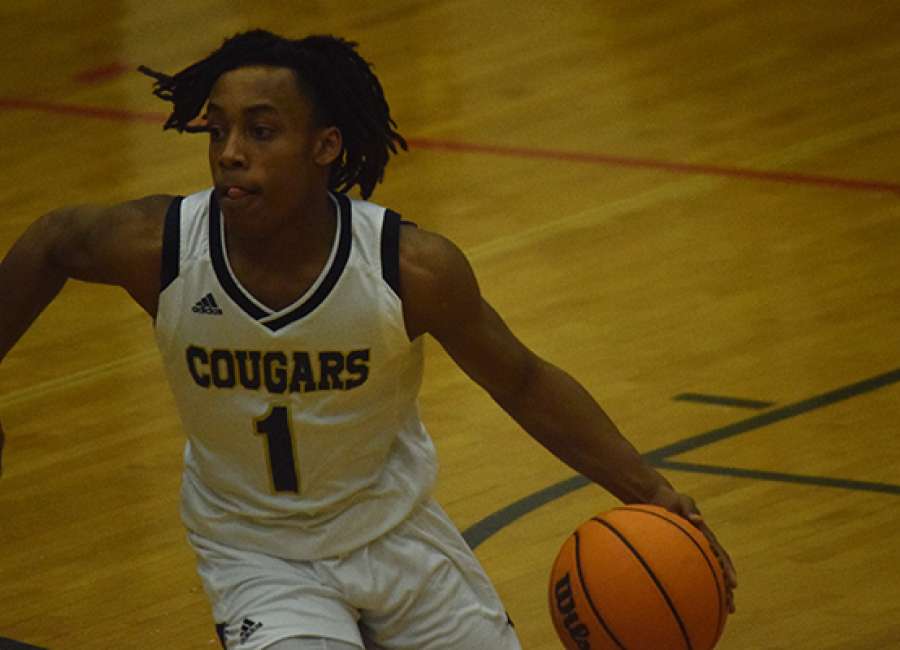 First-year Newnan boys basketball coach Trent Gatzemeyer sees the confidence growing in his team every time it takes the court.
Performances like the one the Cougars put together Friday night in a Region 2 7A game against visiting Pebblebrook will go along way in boosting the team's hopes as it moves toward the postseason and the region tournament.
Jamar Stargell's 3-point shot at the buzzer put a huge exclamation point on the comeback and gave the Cougars the dramatic 54-53 victory as their fellow students rushed the court in celebration.
"I am just so proud of these guys," Gatzemeyer said. They are really buying into everything we are trying to teach."
The dramatic victory closed out a night that saw Newnan suffering though some shooting problems in the first half.
The Cougars hit just five shots from the field in the first two quarters and fell behind 32-19 at the break.
Newnan's wake up call came in the third quarter as it outscored the Falcons 19-6 as Pebblebrook suffered through a shooting slump of its own.
Zion Brown and Justin Wallace were two of the offensive spark plugs coming out of the locker room in the third quarter for the Cougars.
Wallace knocked down two 3-point shots and Brown one as the Cougars whittled away at the Falcons' lead.
Wallace finished the game with three 3-pointers and tossed in 15 for the Cougars.
Hilmon and Andre Young had nine for the Falcons.
Brown's 3-pointer closed out the third quarter and sent the game into the final eight minutes with the game tied 38-all.
The fourth quarter saw several lead changes with under two minutes to go.
Pebblebrook grabbed a 50-49 lead on Danny Stubbs' basket with 1:20 left in the contest.
Wallace then worked some offensive magic for the Cougars putting his shot attempt into the basket with 40 seconds left to give Newnan a 51-50 lead.
The two teams exchanged 3-pointers down the stretch as Nile Hilmon gave the Falcons the lead for the final time with four seconds left.
Newnan worked its way through the Pebblebrook defense, fed the ball to Stargell who pulled up, a swished the ball through the basket to complete the Cougars' comeback.
It was a tail of two different halves for the Cougars who scored just six points in the first quarter, getting a basket from Donte' Colton.
Newnan's other first-quarter points came from free throws.
Despite its first-quarter shooting problems, Newnan only trailed 11-6 heading to the second quarter.
Wallace Bass' basket early in the second period cut the lead to 11-8, but Pebblebrook went on a 21-11 run to close out the first half.
Newnan improved to 12-10 and 2-4. Pebblebrook dropped to 9-11 and 2-4.