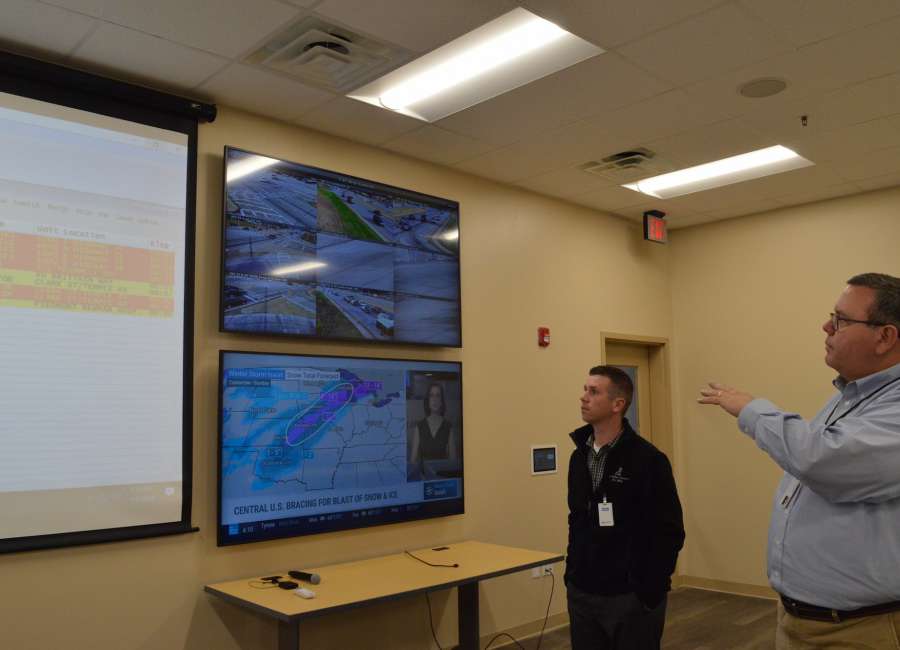 There's a lot going on at Coweta 911.
Major building upgrades are underway, there's a new director and new Emergency Management coordinator, and there's better equipment – and more on the way.
Michael Terrell, former chief probation officer for Coweta State Court Adult Probation, became 911/Emergency Management Agency Director in December, following the retirement of Jay Jones, who left over the summer.
This week, former Newnan Fire Department firefighter Nic Burgess was named Emergency Management coordinator, and the new Emergency Operations Center at the 911 Center opened for the first time as part of a simulation of a winter storm event.
911 Communications officers are currently answering calls out of the center's training room while the main call center is being completely remodeled.
The call center is getting larger, with a new configuration. Instead of 10 dispatcher stations, there will be 14, with two more for supervisors.
There will be the ability to grow that to 18 when needed, according to Terrell.
The operators are already working with new equipment, including new radio computers, and new computer-aided-dispatch (CAD) computers. The phone computers were replaced last year to fix problems with low volume or echoes on calls.
This week, the Coweta County Commissioners voted to move forward with the purpose of a new "CAD to CAD" system that will dramatically improve the process of transferring calls to other counties.
The major need is for transfers related to the city of Palmetto. Part of the city is in Coweta County, and the city has grown quite a bit by annexation in the past few years.
Palmetto's police and fire services are dispatched by Fulton County 911. But if someone in the Coweta County part of Palmetto calls 911 from a mobile phone, that call goes to Coweta 911.
Coweta 911 operators take the call, talk to the caller, figure out what is going on – and then have to pick up the phone and relay that information to Fulton County 911. And that can mean a delay in getting a fire engine to a house fire, for instance.
Sometimes the delay can be a few minutes, Terrell said. In some cases, operators will go ahead and dispatch Coweta County Fire Rescue crews to the scene while they are on the phone with the caller, to speed up the response.
"Coweta and Palmetto have a mutual aid agreement, whereby crews will go help each other out if needed – however, we don't need to send a unit if they've got it covered," Terrell said.
With the new CAD to CAD system, operators can transmit the call information directly to the CAD system in Fulton County, and Futon County will be able to dispatch fire or police response while the Coweta operator is still talking to the caller.
It will take a while for the new system to become operational. Coweta County Administrator Michael Fouts said it will probably be ready this summer.
Though the first connection will be with Fulton County, Terrell envisions future connections with other counties.
There can be issues along the Chattahoochee River with callers in Coweta getting Carroll County 911, or callers in Carroll reaching Coweta 911. When someone dials 911 form a mobile phone, the call center that is chosen depends on the nearest cell tower, according to Terrell.
And when the caller is close to a county line, the cell tower might be in the other county.
The newly upgraded radio system will allow for continued population growth in Coweta County. Both the old radio system and the new one are eight-channel systems.
One channel is taken up by the radio system itself, leaving seven channels for communication, said Terrell. And sometimes – not often, but sometimes – they run out of radio space.
The new system will allow for two conversations per channel, Terrell said. That functionality will require a few changes in the radio towers. Some antennas will be re-positioned, and there will be a new antenna on the Senoia tower, Terrell said.
The upgrades to the 911 Center are funded by the 2019 Special Purpose Local Option Sales Tax, and county staff have been working for a few years on planning the project, Fouts said.
"As the community is growing, there is more demand on public safety," Fouts said. People often think of increasing staff on the front line – deputies, firefighters, paramedics. But people don't necessarily think about the 911 communications officers and all that goes into answering and dispatching those 911 calls, Fouts said.
"We are really trying to upgrade the 911 infrastructure and the personnel to support the front-line response," Fouts said. The 911 Center moved to its current location on International Park in 2008, from its former location in the basement of the Coweta Administration Building.
After 11 years, "It was due for some upgrades," Fouts said. And the Emergency Operations Center, which was set up in the center's training room, wasn't big enough.
The EOC will be where public safety, utility, and other officials meet during emergencies, such as tornado outbreaks, ice storms, floods, or other emergencies. There's room for everyone to meet, and there are breakout rooms.
Screens in the center can show the CAD – which shows where every fire engine and ambulance is and what they are doing, as well as weather radar, live video feeds from the Newnan Police or Coweta Sheriff's Office cameras, and television news coverage. It could even shows maps of power outages, Terrell said.
In addition to the upgrades, the center is looking for new communications officers. Right now, there are several positions open, Terrell said.