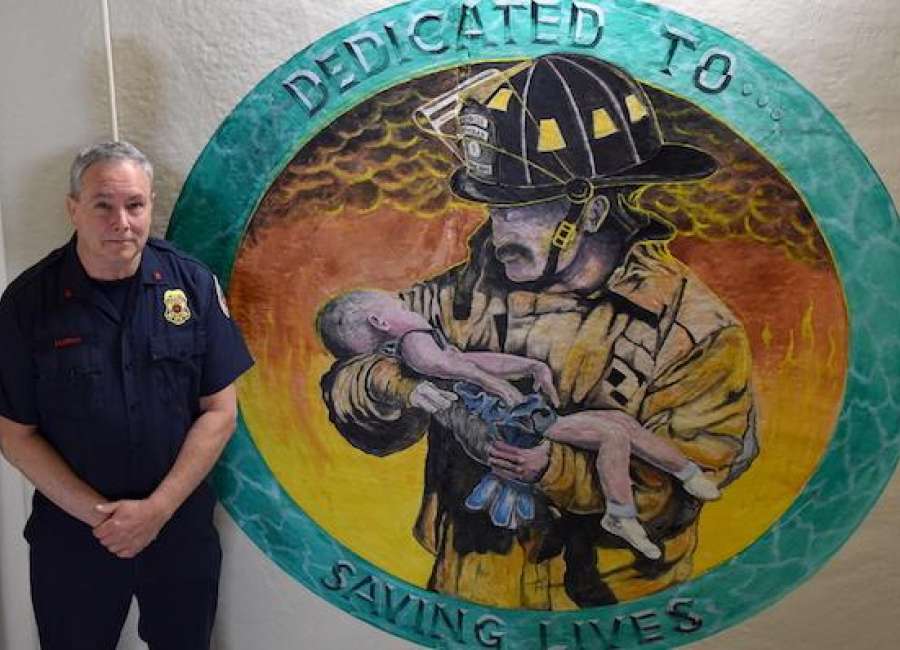 Fire may draw a crowd, but firefighter Jim Murphy can paint one.

A 22-year veteran of the Newnan Fire Department, Murphy has spent countless hours creating pieces of art not only on his off days at home, but between calls at Station 1 – sometimes using the bays as a makeshift studio.
"I carved my fireplace mantle on the bumper of a truck," said Murphy, 61.
It all started in third grade, when he saw a group of admiring children gathered around a classmate and his drawing of a giant bug crawling up a skyscraper.
"I said, 'I could do that,'" Murphy said.
His grandmother said the detail in his drawings showed promise, so Murphy's mother – a schoolteacher – enrolled him in art classes. Murphy attended the Art Institute of Atlanta for a period of time after high school and has continued to refine his skills despite what would appear to be a vast departure, career-wise.
Murphy, who grew up outside of Grantville, started off in the Coweta County Fire Department. He worked there for five years before starting his own sign business that included clients like Buffalo Rock. But after three years, he said, rising insurance costs were "killing" him so he re-joined the firefighting ranks, this time with the Newnan Fire Department.
A lack of art depicting firefighters
There is not much in the way of art depicting firefighters, Murphy said, so he set about creating some. About 21 years ago, he painted a mural of a firefighter holding a baby in the stairwell of Station 1, which he recently finished touching up.
One of his paintings – which incorporates both hand-painting and airbrush – depicts a firefighter rushing from the flames of a burning house with a child in his arms and an angel covering both with its wings. Dozens of firefighters are enjoying their retirement years in possession of fire axes bearing their portraits, thanks to Murphy's talents.
Murphy also paints still lifes, nature and farm scenes, and he has put his hand to everything from murals at Elm Street and Glanton elementary schools to approximately 40 custom tattoos. It took him three months to make his daughter's hand-carved jewelry box, and he also carved and custom-painted a Pinewood Derby car for a friend's child.
"It wasn't the fastest, but it won a prize for Best Looking," Murphy said.
For the past 18 months, he has been sculpting animals in clay. Now that his lion sculpture finally meets his standards its slowly drying before it gets fired, and Murphy said he is ready to pick up his acrylics again.
"I jump around so much," said Murphy, who occasionally brings his laptop to Station 1 to create digital artwork, too. "I just get burned out on some things. There are certain times when I don't want to pick up a brush and other times I can't get enough."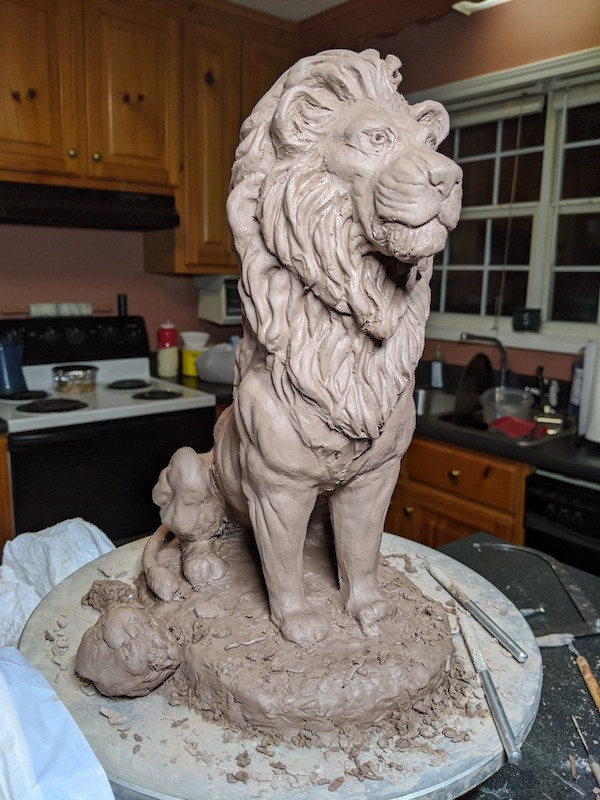 Preparation, composition and technique
He's a big believer in preparation, composition and good technique.
"I'd been thinking about doing a lion sculpture, so I looked up pictures on the Internet," Murphy said. "You could tell the guy put a ton of work into it, but the head was so out of proportion that it ruined the whole thing. You want to get to the end, to the fun part, but if you don't have your drawings and proportions right, it's not going to come out right."
Although he takes commissions that require deadlines, when Murphy is creating a piece that originates with him, time is more fluid.
"I never know when I'm going to be done. I work it to death, and I still see things I need to fix, so it's hard to know when to put my signature on it," he said. "I like to get away from it, too. I'll work it for 15-20 minutes, then get up and get away from it. And then I'll work on it for an hour or two. So it's hard to say how long something took to finish."
And if you expect some thought-provoking titles, you can forget it.
"I never really name artwork," Murphy said. "I always thought that was kind of cheesy. They name stuff that looks like a monkey flung poop on the canvas to try and give it some deep meaning, but I'm not that kind of artist. I don't need to go on and on about how it represents the struggle of mankind through the ages."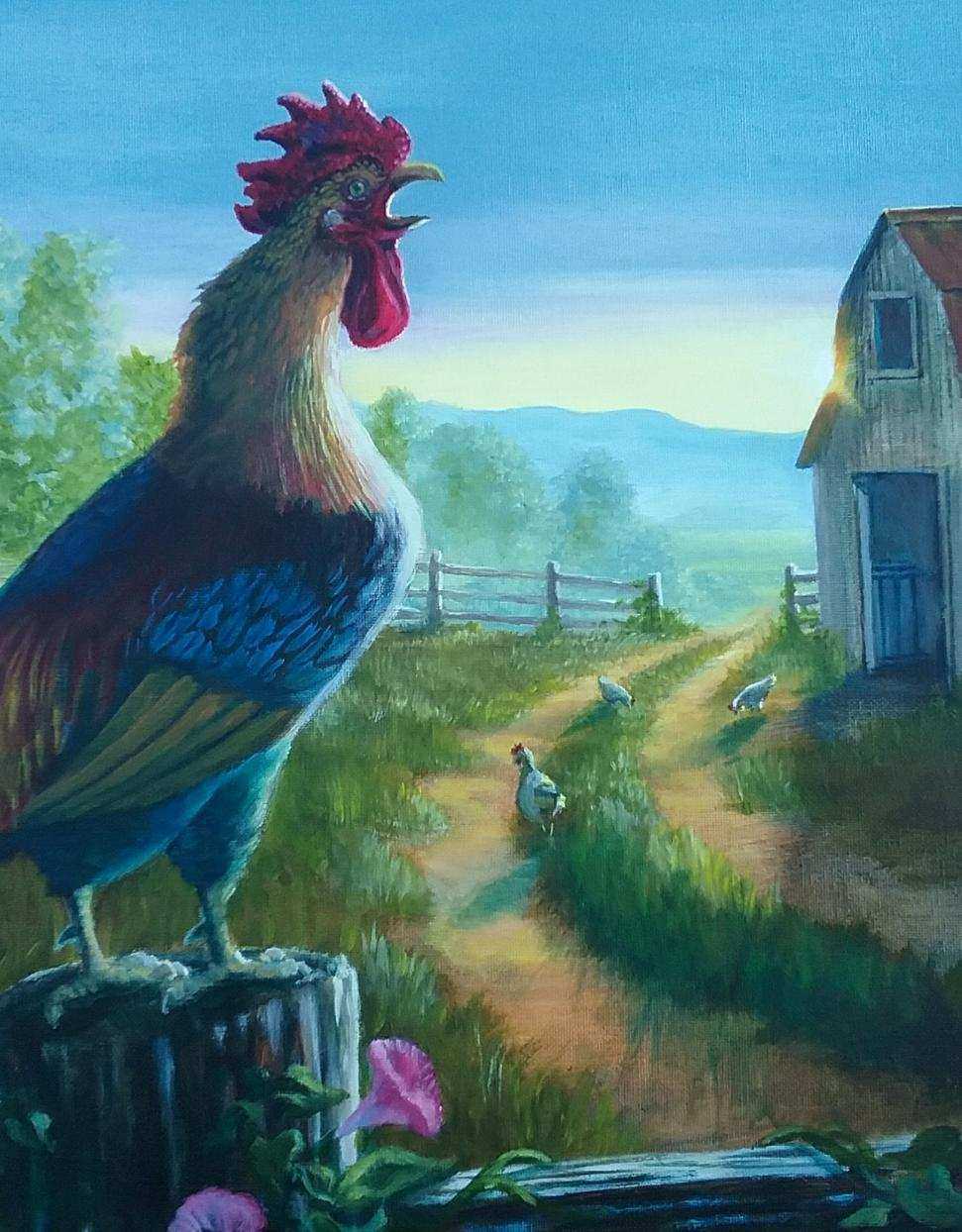 The influence of classic rock
If there's one overarching influence on Murphy's work, it's music. He foregoes the Beethoven for good old classic rock.
"Music affects art some way," Murphy said. "If I have mellow stuff playing, I lean more toward mellow paintings. But if I'm painting a guy busting out of a grave on a motorcycle, I'm not listening to mellow music."
His artwork once took third place out of 2,000 submissions in 96 Rock's "Draw a Foghat" contest, in honor of the band Foghat. The Atlanta radio station awarded Murphy $80 worth of albums for his pastel drawing of a gangster hat perched on a moon with three chrome pipes and big green eyes.
"That was the thing – nobody knew what a 'foghat' was," Murphy said.
Retirement is coming up at the end of 2020, and Murphy is in the process of turning his spare bedroom into a studio and looking into building his own website. Meanwhile, he will continue to process the more ghastly aspects of a firefighter's job as he always has done – by creating art to a soundtrack of AC/DC, Def Leppard and Aerosmith.
"You see some bad stuff on the job," Murphy said. "To take your mind off things when you get back to the station, you can watch TV, you can get on your phone or you can do art."
"When I'm focused on the art itself, everything else just flies away."