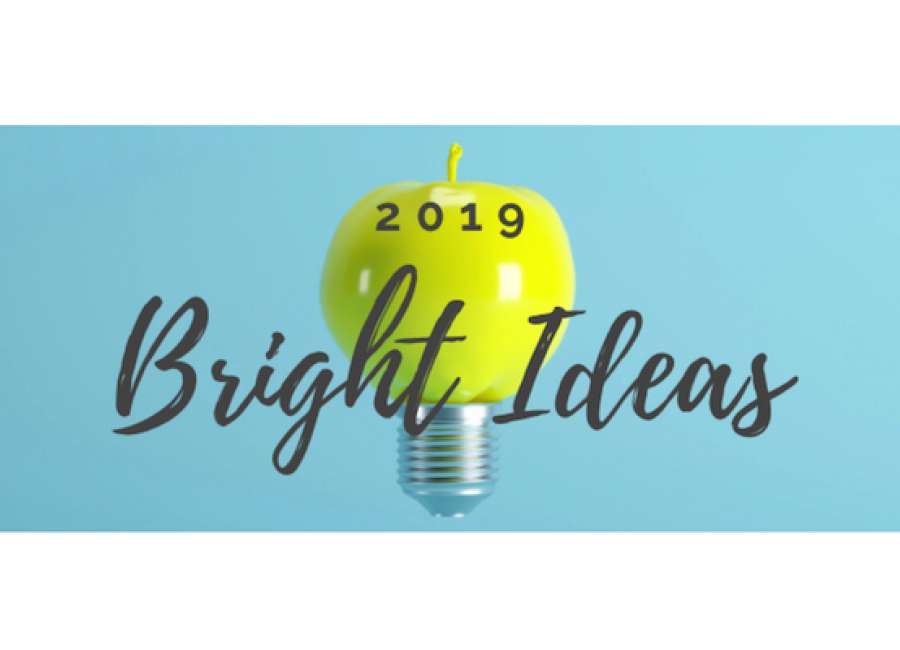 Students in the Coweta County School System will soon be taking part in enhanced learning opportunities, thanks to their teachers' "Bright Ideas."

Eleven teachers from Coweta elementary, middle and high schools have been awarded more than $13,000 for classroom projects with 2019 Bright Ideas grants from Coweta-Fayette EMC, which funds the program through its Operation Round-Up initiative.
Bright Ideas grants provide up to $1,500 per project, and projects must be implemented within 18 months. More than 100 applicants from 51 schools in the Coweta-Fayette EMC service area submitted project ideas, which were judged by seven retired teachers from Coweta and Fayette counties.
A total of $30,538.76 was awarded to 27 teachers from Coweta, Fayette, Heard and South Fulton counties.
Coweta winners – and their grant-winning Bright Ideas – included:
Paula Corley, White Oak Elementary School
Grant amount: $1,569.90. Project: Mission 2020: Return to the Moon
"Using virtual reality technology, my students will blast off taking a simulated field trip to the moon and experience the excitement and wonder of space exploration by being immersed in a three-dimensional learning environment. Students will begin by viewing first-person footage and listening to audio clips from the historic 1969 moon landing. After establishing a historical connection, students will explore the moon on their own, walking in the virtual shoes of Neil Armstrong and those on Apollo 11. Once students participate in their virtual space adventure, they will interview each other and write a first-hand account of their historic experience."
Anna Bassett, Newnan High School
Grant amount: $1,455.44. Project: Poeterrific Podcasts: Bringing real life technology to 21st century learners
"My desire is to use this equipment to teach students how to use their voice and knowledge to create podcasts. I want to make learning in my English classroom line up with the 21st century learner by interweaving my instruction with digital experiences and social media interactions."
Mary McMillan, Arnall Middle School
Grant amount: $1,093.80. Project: Social Studies KidTalk Podcast
"The social studies podcast will be used to help students learn a myriad of tools to help in their education. They will learn how to podcast; how to use the tools needed to edit, produce and maintain sites dedicated to podcast usage, and create their own content based on their knowledge. Most importantly they will create meaningful podcasts based on the social studies standards that they are learning as a project based assignment that will deepen their knowledge and help their fellow students across the state, and possibly country, learn these standards as well."
Cristy Fogle, Arbor Springs Elementary School
Grant amount: $939.70. Project: Eeekk! What Lurks Beneath? A Pond Ecology Study
"This pond ecology study will have students exploring water samples collected from a local pond over several weeks/months. Students will observe and study microorganisms, plants, water quality and its impact on pond life. Using 1000x magnification microscopes will afford students a more in-depth perspective on our collected samples. This study will be expanded to include water samples collected by students from their own yards to compare water quality from different sources and possible causes."
Joshua Boyd, Newnan High School
Grant amount: $1,492.72. Project: Music Recording Lab
"The music recording industry is one of the fastest growing music professions. Career paths include recording, mastering, producing and audio-engineering. We want to create a music production lab where students are not just able to professionally record performances, but also start to learn about audio production, audio engineering and music technology. Our goal is to take traditional band teaching, and creatively weave in 21st century audio production projects. Ultimately, our goal is to connect the art of music to other disciplines such as science (physics) and design (engineering)."
Faith Wheeler, Poplar Road Elementary School
Grant amount: $916.65. Project: Hands-On Learning With Play
"The objective of my project is to allow my students to do STEM (Science Technology Engineering Mathematics) activities using items received through the Bright Ideas grant. Many of the items such as Legos, interlocking plastic discs and construction sets can be used for multiple STEM projects without needing to be replaced."
Laura Farmer, Madras Middle School
Grant amount: $689.68. Project: Drones: Applying Today's Technology to the Classroom
"Robotics leads the industries of today, and the use of drones is at the top of the list. Agriculture, architecture and construction, delivery and retail companies, emergency responders, engineers, environmentalists and media news companies utilize drones for more efficient business. This technology is not coming. It is an expectation in today's business world. However, there is a gap between what our students are exposed to in the classroom and the reality of how business is done. With this project, I would like to enhance my students' understanding of drone robotics by applying it to the current curriculum across content areas."
Jodi Gilbert, Newnan High School
Grant amount: $1,395. Project: Spanish Proficiency Through Stories
"I would like the Spanish teachers in my department to have access to "Somos," an exceptional Spanish curriculum for levels 1-3 that will complement our county scope and sequence and replace our very outdated textbooks. This popular curriculum used in schools nationwide is based on the most up-to-date research on second language acquisition and is aligned with ACTFL (American Council on the Teaching of Foreign Languages) standards for proficiency."
Michelle McClendon, Arnall Middle School
Grant amount: $1,498.01 Project: Creative Coding
"Preparing our students for the future is one of the most important goals all teachers share. The careers of the future will depend on computer programming and coding even more than they do now. All of our students will not go to college for computer science or even go to college. Therefore, it is increasingly important to help students learn the language of coding so they will be able to compete in tomorrow's workforce. This project will use Sphero Sprk+ robots to help students use their creativity as they learn the first steps of computer programming."
Sharon McClellan, Welch Elementary School
Grant amount: $1,307.03. Project: Cell Exploration
"The Georgia standards of excellence objective that is the basis for this project is for students to obtain, evaluate and communicate information to compare and contrast the parts
of plant and animal cells. Using microscopes, students will view plant and animal cells looking for similarities and differences. Students will both write about and illustrate the two types of cells showing the similarities and differences. This activity will be taken a step further by creating 3D cells with the 3D printers."
Stephanie Landrum, Glanton Elementary School
Grant amount: $1,031.94. Project: Readers are Writers: Creating a Creative Writing Learning Community
"We would love to start a creative writing club for our school that edits and publishes a monthly/bi-monthly literary magazine that would feature our students' writing. Our objective for this project is to give our students more exposure to different types of literature and writing styles and to help spark and strengthen their own writing. We hope to provide our students with mentor sessions from real authors as well as to provide them with hands-on, real-life experience in the creation and distribution of a publication."
Operation Round-Up is a voluntary program managed by the Coweta-Fayette Trust Board. The program allows members to round up their monthly electric bills to the nearest dollar amount.
The trust funds local charitable organizations, non-profits and individuals in need.
EMC customers can sign up for Operation Round-Up online at www.utility.org/operation-round-up-purpose or by calling 770-502-0226.
The 2020 Bright Ideas Application will become available online in May 2020.