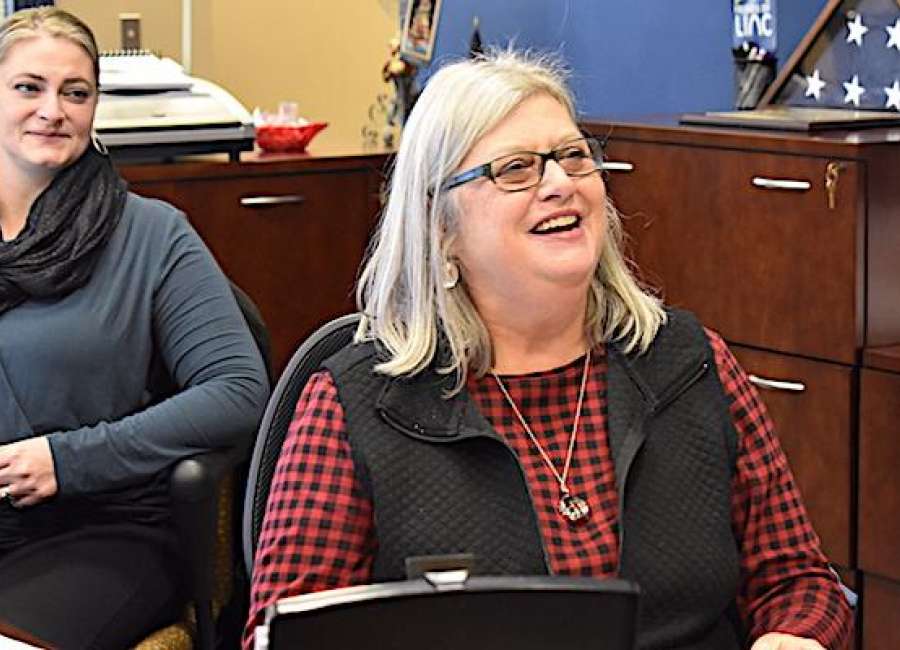 Libby Winn listens sympathetically as a woman explains her concerns about a letter she received from the city of Newnan about a recent information breach.
After calming the woman's fears, Winn gets back to the business at hand: training her replacement, Megan Shea, who will take over as administrative assistant when Winn retires Friday.
It will be the Columbia, S.C., native's second retirement. The first was from a corporate-owned bank that was being restructured.
This one is from a family.
"That's what I'm going to miss, is the people," said Winn, who has been with the city for 16 years.
She said when she and her family – which includes husband Kemper and children Lauren and Ralph – moved to Newnan in 1996, she felt comfortable right away.
"It just felt like home to me," she said.
She had some secretarial and customer service experience, so after Winn took early retirement from the bank and learned the city had an opening, she was a natural fit. Still, there was some adjustment.
"One of the biggest differences was that at the bank, everything was secret," Winn said. "In government, everything is transparent. That took me a little while to learn."
But the hours are much better, and the work more enjoyable, she said.
"It's really well-run here, and there are so many projects going on all the time," Winn said. "I don't plant the trees, I don't water the flowers, I don't pave the roads. But I get to be a small part of it. A support job. That's what I like."
And then there are the people she works with.
Danny Lewis was city manager when Winn was hired, and then longtime city manager Dick Bolin returned for a while before current City Manager Cleatus Phillips took the helm.
"Libby is simply a special person who has traits that can't be taught," Phillips said. "She has a combination of institutional knowledge and a genuine personality that made her a perfect fit for her position."
Winn said she is accustomed to words of praise from Phillips.
"Cleatus never hesitates to tell us how much he appreciates us," Winn said. "The atmosphere here is so family-oriented, and people jump in and help each other."
Like when her co-workers "jumped in" and helped Winn through her battle with breast cancer.
"It was amazing," she said. "I got cards and calls, and people would just come by the desk and give me a hug, and it was really good."
She beat the disease, and when she was declared cancer-free, Newnan City Hall celebrated with her.
"When I finished my chemo and radiation, they presented me with a cake that said 'You're radiant,'" Winn said.
They also reached out on less happy occasions. When she was in South Carolina for her father's funeral, Winn received a phone call that shocked her sister.
"We were in the car and I got a call from (Mayor Keith Brady), telling me how sorry he was," Winn said. "My sister was like, 'You got a call from the mayor? The MAYOR?'"
She's learned to appreciate the day-to-day interactions, Winn said.
"One of the associates here has a really deep voice, and sometimes I walk in at the same time he does," she said. "When I do, he always says, 'Miss Libby Winn, come on down!' I'll really miss that. The little funny things people do, I'm going to miss."
But while retirement will move her away from her City Hall family, it will bring her closer to her own. It'll mean more chances to hear Ralph sing "Heartbreak Hotel" with his band, Hwy Mojo, and more time with Lauren and her husband Adam at their Senoia church, Sovereign Hope.
Most of all, retirement will give her plenty of time with her four grandchildren.
"I got a call this morning from my granddaughter, who's 3," she said. "She said, 'Granny, I'm so excited you're coming for dinner tonight!' I just love it."
And Phillips said while Winn may be leaving City Hall, she's not leaving the City Hall family.
"I know she is gonna enjoy retirement and spending more time with her grandbabies," Phillips said. "We're gonna miss her, but she'll always be family to each of us here at the city."