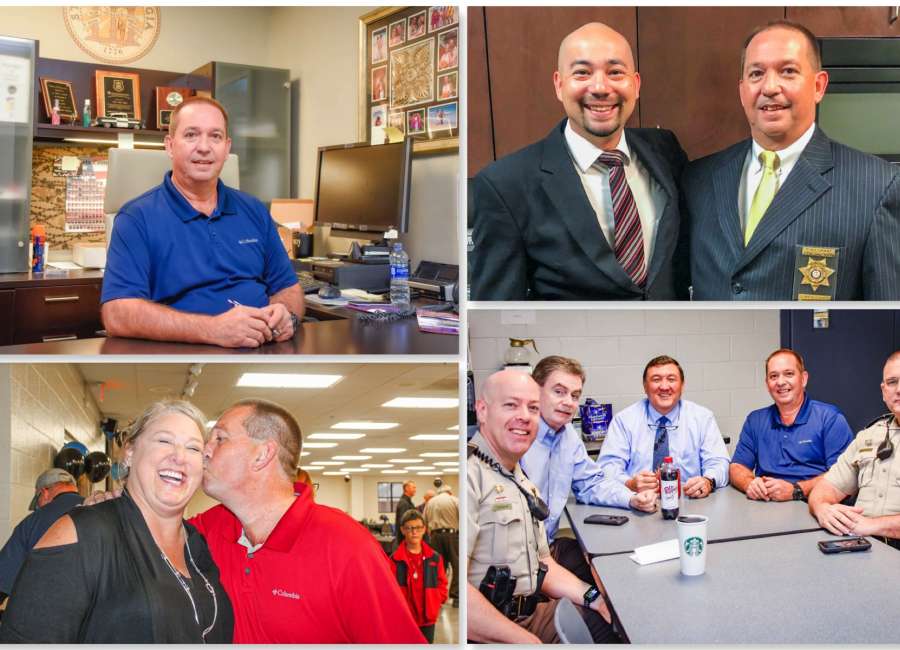 A staff photo of the Coweta County Sheriff's Office lies on Tony Grant's desk. Taken more than 30 years ago, Grant is one of those 51 employees standing in an empty field where he currently sits.
At the moment, Grant's the longest-serving employee at the sheriff's office.
"I pride myself in that," Grant said, leaning back in his chair. "I've been here longer than anyone in this building and I'm ready to hand that off to the next person in line."
Now, Grant is preparing to retire at the end of the year, but expects he'll be busier than ever. The master electrician and all-around handyman has been the pastor at Born Again Ministries for over a decade and plans on combining those two passions – faith and working with his hands.
"God blessed me with the talent to fix stuff," he said. "It's an outreach – I get to serve people and that's what I've done my entire life."
Roots
As a youngster, Grant worked alongside his father as an electrician, who passed away when Grant was only 15. In 1982, Grant began his career in public service as a firefighter with the Coweta County Volunteer Fire Department.
It was there Grant "fell in love" with public service and eventually became a State Certified Firefighter.
In 1984, he transferred over to the sheriff's office where he started as a jailer before moving into the patrol division as a deputy and then supervisor.
Staring at the old staff photo, it's not hard to see how far the sheriff's office has come since the days of 51 staff members.
"Back then, the entire patrol division was around 20 people," he recalled. "The most we ever worked with was 4 on one shift – the majority of my time was just two people."
Grant recalled the days of "Mayberry" at the sheriff's office. Jail inmates that were considered "frequent fliers" were often asked to answer the phone if things got busy.
When both a radio operator and deputy called in sick, Grant took on both roles.
"I took calls and then dispatched myself," he said. "It was a different time back then. You knew about 99 percent of the people you saw. It wasn't a transit hub like it is today."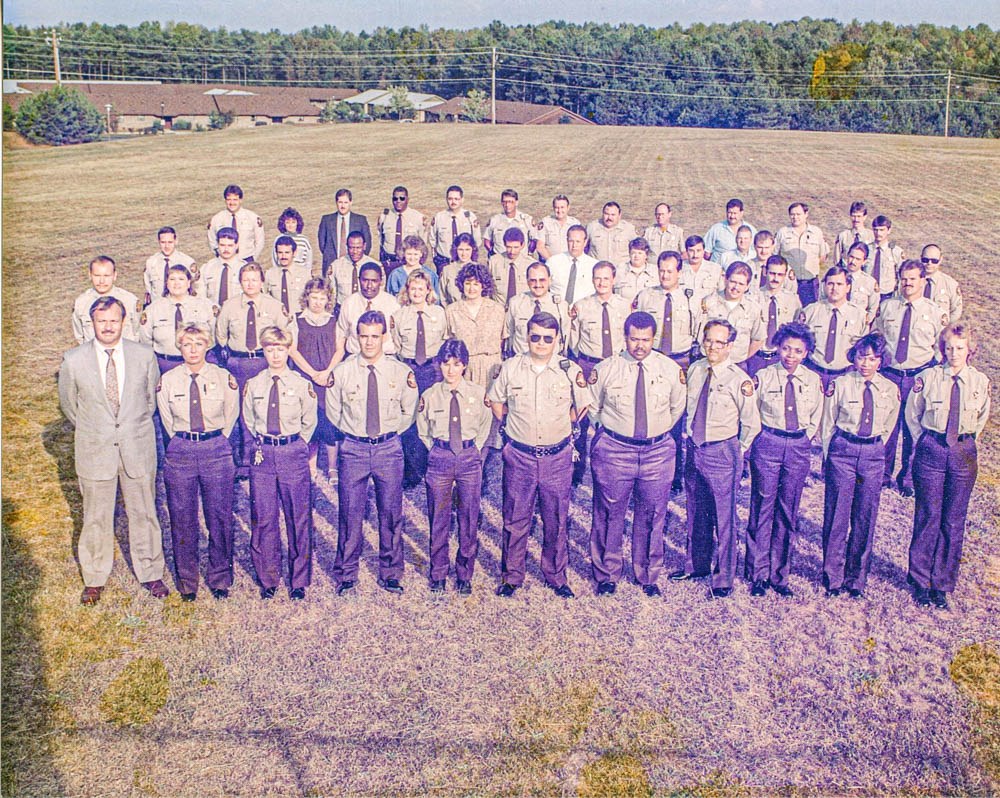 Lt. Col. Tony Grant is seen in a 1987 staff photo taken where the new sheriff's office stands. Grant is third row, second to the right.

For the next 35 years, Grant worked in the court and warrant division, investigations and ultimately the professional standards division, which includes internal affairs, training, open records, asset management, personnel and communications.
"Now, we employee 264 people," he said. "We have as many on one shift now as we did in the entire department back in the day."
Grant said law enforcement has changed over the last three and a half decades – primarily through the advances in technology.
"We've come a long way since the days of a Smith & Wesson pistol, handcuffs and a slapjack," he said. "The two greatest advances in law enforcement technology are the Taser and body camera."
As the head of internal affairs, Grant said the number of complaints against officers has drastically declined through the use of body cameras.
"I've never had a single person who complained come down and accept an invitation to watch the body camera footage," he said.
Looking back on the various roles Grant has held during his time, investigations remains his favorite – a position he held for over 20 years.
"I loved it," he said. "I came into Criminal Investigations when Mike (Yeager) was elected, and there were just four of us back then in the department."
Over the years, Grant said the department worked and solved 28 out of 29 murders – the last unsolved case being the Wayne Spurrell murder of 1995.
Found shot in the passenger seat of a station wagon on Pierce Chapel Road, the case remains the subject of an upcoming podcast hosted by the sheriff's office.
"I haven't given up on that yet," he said.
Family ties
After Mike Yeager retired to take on a new role at the U.S. Marshals Service, Grant had intended to seek the office of sheriff along with Lenn Wood.
Ultimately, Grant pulled back, citing his concern about putting his work family in an uncomfortable position.
"I wanted what's best for my family and the family of our sheriff's office," Grant said. "We have the best employees in the business, and I don't want to put them in a bad position."
Now serving as sheriff, Lenn Wood said his relationship with Grant is strong and will miss his sense of humor and knowledge.
"We worked closely for 25 years. We investigated, prayed and cried together," Wood said. "I know he will always be just a phone call away. He deserves a chance to be with his wife, Crystal, and his grandchildren and enjoy himself as he leads his church. I wish him all the love and peace he can get in his retirement."
Yeager said Grant's 35 years of service and commitment, no matter what department he was serving, has made a big impact on the sheriff's office.
"He was involved in many high-profile cases during the course of his career and instrumental in seeing them through the prosecution and closure for victims," Yeager said.
Like many great leaders, Grant's strengths aren't necessarily in his accomplishments, but how he makes others feel around him. Despite his rank, many employees cite his approachability and willingness to help others.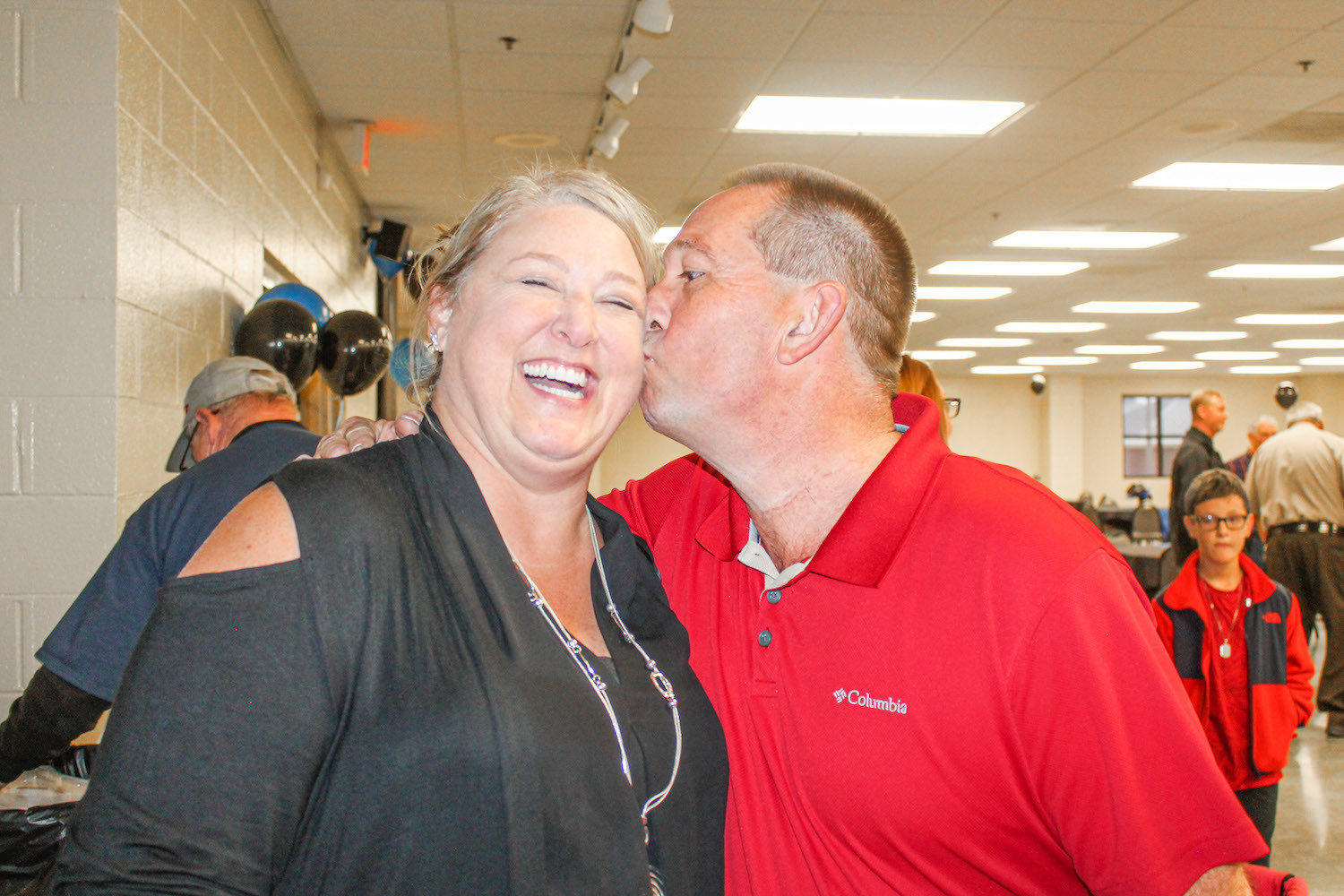 Donna Rooks, administrative assistant to Sheriff Lenn Wood, calls Grant her "go-to" person – a reliable source no matter what the need. "All I have to do is mention that something is needed and he will make sure that it is handled," she said.
"When the ladies want to all go out for a special lunch, he'll sit at the front desk and answer phones for us. He delivers packages for me and does Office Depot runs," she said.
If office equipment isn't working, Rooks calls on him first.
"If he can't fix it, he will figure out what needs to be done and follow through with getting it repaired," she said.
But what many will miss about Grant is his ability to deliver laughter and good advice to those he encounters on a daily basis, including his own family.
Crystal Grant said she's looking forward to Tony's retirement.
The two married in 1986 and she's worked at the sheriff's office with him since 1993. Now an intel analyst for the drug unit, Crystal said working at the sheriff's office has given her a better understanding of the stresses that law enforcement undergo on a daily basis.
"What people don't realize is all the things they see at work, they come home with them too," she said. "Being married for 33 years, you're a single parent sometimes with those long hours because they're gone all the time."
His son, Anthony, grew up in the same building where he now works. Being under the watchful eye of his father wasn't easy.
"I couldn't get away with much because everyone knew me," he recalled. "But it was also a lot of fun. I grew up with an extended family that I get to work with everyday now."
Despite going into law enforcement over 15 years ago, Anthony has only been at the Coweta County Sheriff's Office since 2016, transferring from the Newnan Police Department patrol unit to the criminal investigation unit.
Anthony's passion lies with investigations and hopes to run the division someday, just like his father.
"I learned a lot on patrol and in the jail, but I feel like I've learned more in the past few years than at any other point in my career," he said. "There's something new every day and if I ever hit a wall, I can always call my dad and get his take on the situation."
Anthony said working alongside his dad has been a "tremendous honor" that he'll always cherish.
"I never dreamed I'd get the chance to work with him – it's been a pleasure, a joy, and these have been the best years of my career," he said. "I don't think a lot of kids get that same experience – he's taught me so much at home and at work."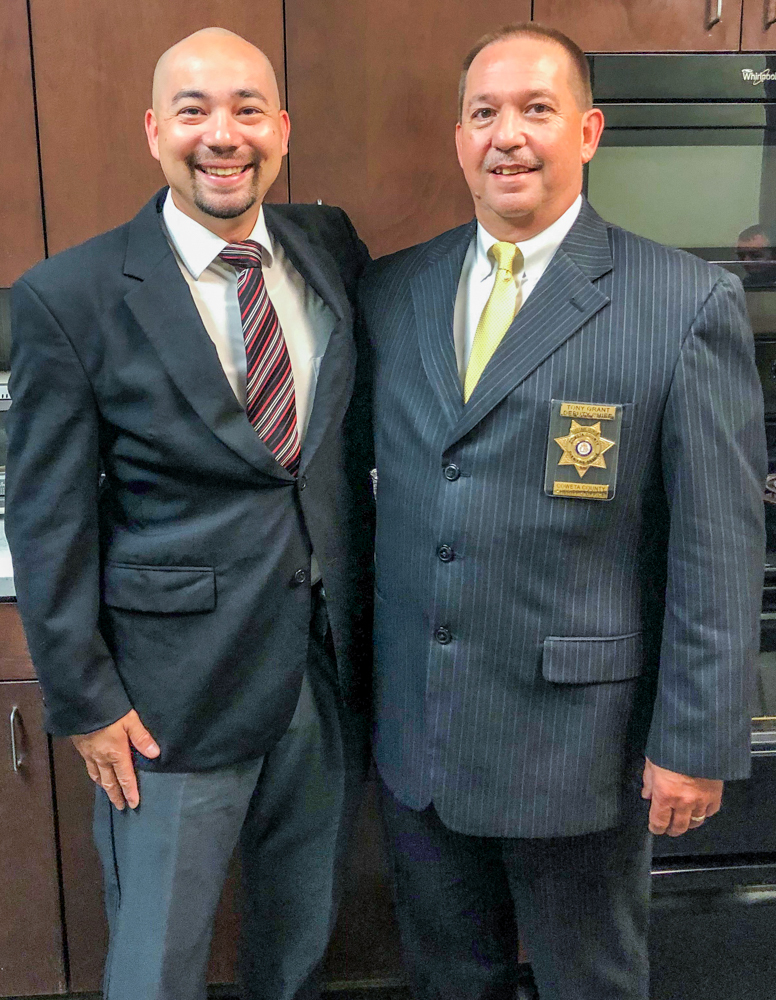 Grant said it's been a blessing to work his entire career with his family and still plans on coming by to visit. Even with more than three decades of blood, sweat and tears poured into the department, he's under no illusion that things will be different without him.
"A long time ago, you think this place can't run without you," he said. "But then you realize it was here before I got here and will be here long after I'm gone."
Grant says he's not thinking about a legacy or accomplishments on his way out, but is only concerned with one thing – leaving it in a better place than when he arrived 35 years ago.
"I think Loretta Lynn summed it up best when she sang, 'We've come a long way, baby,'" he said.