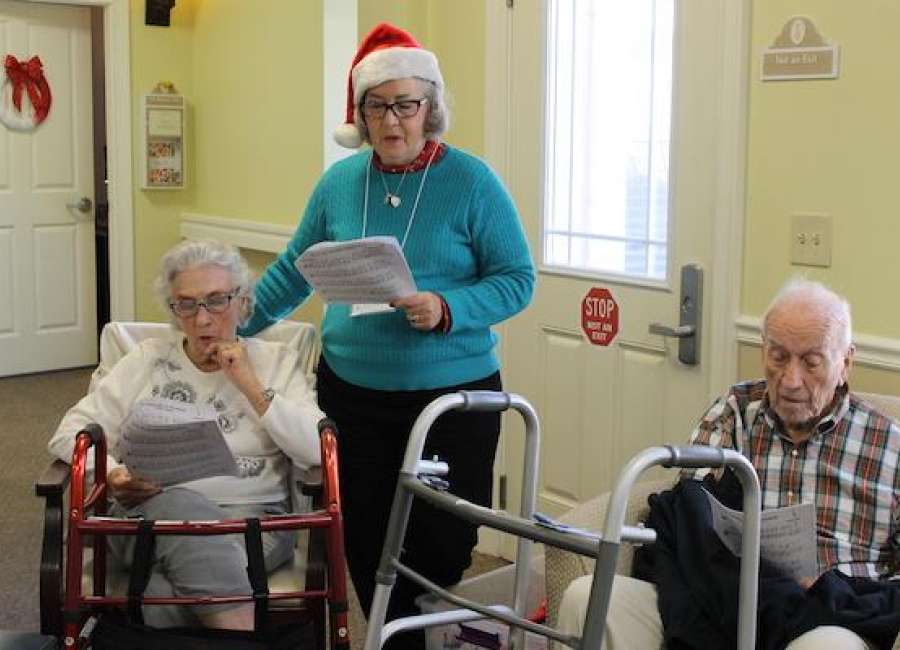 Every Wednesday at Benton House, you will find volunteers singing and playing instruments with residents.
The Music and Memories program, started by the Newnan Rotary Club, brings music to three senior living centers every week. In addition to Benton House, the program is offered at Avalon Health and Rehabilitation and Insignia.
The program began in September 2018, started by a district grant from the Rotary Club.
Cathy Wright, former president of the Newnan Rotary Club, submitted a grant request for musical instruments for the program when she was the president-elect, in 2017-2018.
"I've always been involved in music in some way, and that led me to think of a music idea," Wright said.
At the same time, Dr. Lyn Schenbeck approached Wright about her idea of creating music therapy for patients in the hospital.
However, the hospitals weren't ready to initiate a program like that. So, Wright came up with the idea of bringing the program to nursing homes.
"We knew that music is like the best therapy for people with Alzheimer's and other kinds of dementia because it's something that brings their memories back. It spurs their memories unlike anything else," Wright said.
Schenbeck and Wright researched how music can help people with dementia.
Schenbeck is a retired CEC instructor, conductor of Newnan's Centre Strings orchestra and trains volunteers for Music and Memories.
She said music is highly recommended in geriatric care settings because of how it helps improve the social, psychological, intellectual and cognitive performance of older adults.
Research suggests that listening to or singing music can provide emotional and behavioral benefits for people with Alzheimer's disease and other types of dementia.
Musical memories often are preserved in Alzheimer's disease because key brain areas linked to musical memory are relatively undamaged by the disease. Music often evokes emotions that bring memories.
Even though not all residents can sing or play instruments, listening to it and being involved can still help with memories and cognitive function.
Schenbeck said that when she worked at a senior living center, a woman came in who didn't talk, but Schenbeck knew that she used to be involved in church music.
After two or three months of Schenbeck singing "Jesus Loves Me" with her, she began to recall the words and memories from when she was in church.
Schenbeck said that music therapy is primarily about building relationships through music. It's equally important for the volunteers to get to know the residents.
After submitting the grant request, they received a district grant of $12,000 from Rotary for the program.
Wright said they spent the money on instruments to use at each of the nursing homes, and they bought enough instruments for at least five facilities to use.
Their plan was to have a team of three people go to each facility once a week. Currently, they have eight volunteers between the three facilities.
Volunteers sing and play instruments with the residents for an hour once a week at each facility. Since most have been participating for over a year, they know the residents by name, and the residents look forward to seeing them.
"I thought it would be uncomfortable and scary, but it wasn't at all," Wright said. "You get to know the people and their names and their personalities. All of a sudden, they are close friends of yours, and you want to spend time with them."
Laurie Pope, a volunteer at Benton House from the Newnan Rotary Club, said it has been interesting for him to watch the residents participate more since he's been going.
He said he has seen those that may not be able to sing or play instruments tapping their feet along with the music.
"Practically everyone enjoys what we're doing," Pope said.
Wright said they had staff at the nursing homes fill out a survey about how the program has been going. Staff at each of the facilities said they have seen a difference in the patients from music therapy.
"I have seen a lot more participation from when they first started coming, especially with their arms and legs. After therapy, they want to move more during the day," Mildred Whatley of Benton House said.
Whatley occasionally participates in singing along with the residents.
"It's very motivating to watch them. I can tell that their minds are being stimulated," she said.
Other local senior living facilities have approached Wright about starting a program, but she said they have not had enough volunteers.
"Once people see how easy it is to do and how fun it is, I think they would want to do it," Wright said.
Volunteers don't have to play any instruments to help, but they do have to be willing to attend two training sessions and regularly volunteer for an hour once a week.
Those that are interested can contact Wright at glenmarcathy@gmail.com or by phone at 404-435-9821 and Schenbeck at lynmusic@numail.org .