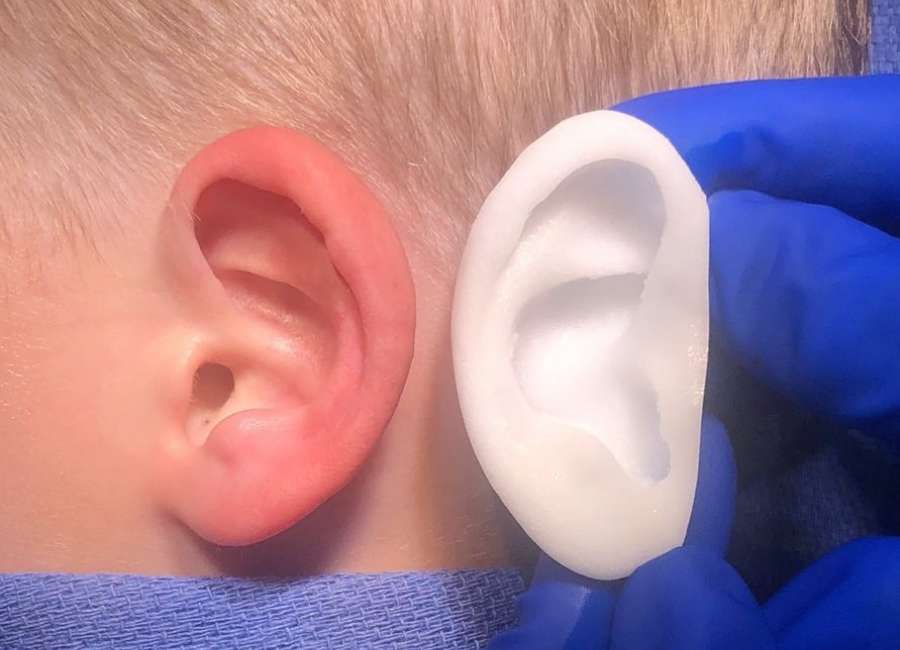 Local medical device company Poriferous was recognized last week by the state of Georgia with a 2019 GLOBE Award for excellence in exporting.
Poriferous, located on Pine Road, was one of 36 Georgia companies recognized by Gov. Brian Kemp and the International Trade Division of the Georgia Department of Economic Development at a ceremony at the state capitol.
The GLOBE Awards highlight companies that entered into a new international market in the previous year.
Poriferous sells its porous polyethylene implants all over the world, and they are made right here in Newnan.
The implants are primarily used for facial reconstruction. Because the implants are porous, tissues and blood vessels grow into the implant, a process called fibro vascular tissue integration, according to Aaron Noble, founder of Poriferous.
"It allows the blood vessels and tissue to grow into the material as if it was a scaffold," he said. "It's a living extension of your own skeleton, as opposed to a solid implant that is seen in the body as a foreign object."
The company makes both off the shelf implants and custom, patient-specific implants that are based on a CT scan of the patient.
Poriferous makes several types of implants but the one that touches Noble's heart the most, he says, is the world's first patient-specific ear. The ears primarily are used for children who have a condition called microtia, or "micro-ear."
"We're astonished by the clinical performance of our device," Noble said.
A small user of ethylene oxide gas
One of the final steps in the production process is the sterilization of the implants. To do that, the company uses ethylene oxide gas.
Ethylene oxide is an extremely effective sterilant, but it is also highly toxic. It has been found to be a carcinogen and has been in the news lately, following concerns about ethylene oxide emissions from two metro-Atlanta sterilization plants.
Because the total amount of ethylene oxide that Poriferous uses is small, there aren't any requirements for air quality permits, according to Karen Hays, chief of the air protection branch of the Georgia Environmental Protection Division.
That's based on the Georgia Rules for Air Quality and is consistent with federal law, according to Hays.
"However, the EPD director has the authority to require a permit for facilities otherwise exempt from permitting requirement and is evaluating the situation," Hays said.
Two staff members from the air protection branch visited Poriferous after being asked about the company by The Newnan Times-Herald.
"EPD will investigate all reports of ethylene oxide usage, including small users such as Poriferous," said Kevin Chambers, Georgia EPD spokesman.
If the director decides to require a permitting process for small users of ethylene oxide, the requirements would be specific to particular facilities and wouldn't apply generally to all facilities using the product, Chambers said.
When making a decision, the director evaluates many factors including the quantity used and whether a control device is used to destroy the ethylene oxide before it's emitted into the atmosphere, Chambers said.
At Poriferous, EPD staff determined that the ethylene oxide emissions are routed through an air pollution control device for destruction, according to Hays.
Both the sterilization vessel and the room sterilization are under a vacuum.
"This means that the indoor air is also routed through the control device for the destruction of any fugitive emissions of ethylene oxide," she wrote in an email.
The system includes a catalyst that captures the ethylene oxide, Noble said. "When the EPD came in… I think they were pleasantly surprised," he said.
He said that the air quality system was put in years ago, long before news coverage of the dangers of ethylene oxide.
Noble said that medical implants are the "most regulated industry in the world" and that a focus on patient health drives the company. That focus on health also includes environmental health and the health of employees.
"Patient safety and our safety is the reason this decision was made at the very onset – when there was no regulation and we were free to emit directly into the atmosphere," Noble said.
"We went through the extra investment to make sure there is no harm caused when we operated these systems," he added. "And I'm glad we did. We didn't realize it would become such a thing."
A highly-regulated industry
The facility is inspected for compliance with the ISO standards for medical devices and the Medical Device Single Audit Program, Noble said.
There are requirements for personnel testing and everyone wears a personal monitor while production is taking place, Noble said. Those monitors are then sent off to a lab.
"The results are sent back to us, and they are always less than readable," he said. "We've never had a readable amount of ethylene oxide."
The catalyst system also gets regular maintenance, he said.
"It's a pretty perfect system," Noble said, adding that he thinks it could become the standard for other small users of the product.
"It was a day to be proud of what we've done, that we're so prepared," he said of the day EPD staff showed up at his door. "That was very encouraging to me to look at just how elite our team is and to know that our controls, not just for the environment, (but) our controls for the way we make our product are regulated so strongly that it takes the stress and pressure away from them."
"That is how these regulatory systems are supposed to function," Noble said. "I hope that other medical device manufacturers take it just as seriously."
What is Ethylene oxide?
Though ethylene oxide is a simple molecule – consisting of just carbon, hydrogen and oxygen – its shape makes it highly reactive.
It's this reactivity that makes it an excellent sterilizer – and dangerous. It's highly flammable and can be fatal if inhaled in large quantities. At lower levels, it can cause cancer.
The two carbon and one oxygen atoms are held in a triangle and the carbons are held closer together than they like to be, which means the compound is under stress, said Susan Smith, retired Newnan High School chemistry teacher. When the molecule comes in contact with another substance, the ring can break open, relieving the pressure.
"That is what makes it so reactive," Smith said.
The gas, which is often shipped as a liquid, has been commercially produced since 1914, according to Wikipedia. It's used to sterilize items that can't be sterilized with steam and it leaves no residue.
Ethylene oxide is also used to make many other products, including antifreeze, textiles, plastic, detergents and adhesives, according to the U.S. Environmental Protection Agency.
Approximately 60 percent of the ethylene oxide produced annually is used to make antifreeze, according to Encyclopedia.com.
Greater awareness of the dangers
Ethylene oxide appeared in the news in Georgia this summer, when it was revealed that Sterigenics and BD sterilization plants in Smyrna and Covington were emitting large quantities of the gas, and had been for years. This report followed on the heels of the shutdown of a Sterigenics plant in Willowbrook, Ill.
In 2016, the U.S. Environmental Protection Division completed a 10-year study to better understand the risks of ethylene oxide on human health, and determined it was far more dangerous than previously thought, according to Georgia Health News.
The agency moved it to a list of definite carcinogens and updated a risk number for the chemical. In 2018, the National Air Toxics Assessment flagged 109 census tracks with elevated cancer risks because of airborne toxins – including two near Smyrna and one in Covington.
Workers at an Environmental Protection Agency office in Willowbrook had been working behind the scenes before the air toxic assessment report was released.
They found elevated levels of ethylene oxide in Willowbrook and asked the Agency for Toxic Substances and Disease Registry, a division of the Centers for Disease Control, to help.
The ATSDR found an extra cancer risk in the area of 6,400 cases per million residents. Residents in Willowbrook mobilized and by October of 2018, the Illinois attorney general had sued the company. In February of 2019, the state ordered the plant to shut down.
Georgia takes action
In August, the state of Georgia began investigating the Smyrna plant, asking for a restraining order to shut down the plant until new pollution control equipment could be installed.
Construction began under a consent order, but Cobb County ordered the plant to shut down during the construction. The plant has been shut down since September.
In late October, the state and BD, which operates plants in Covington and Madison, came to an agreement whereby BD would reduce overall production and emission of ethylene until pollution control equipment is installed by next spring.
In November, the EPA released its proposal for one of two new rules to curb emissions of ethylene oxide and other dangerous chemicals. The rule updates the standards for hazardous air pollutants in miscellaneous organic chemical manufacture.
According to an EPA press release, the proposed changes are expected to reduce emissions of ethylene oxide from covered facilities by 93 percent.
A second rule, which specifically applies to commercial sterilizers such as Sterigenics and BD, hasn't been announced yet.
Few current options for sterilization
According to the EPA release from early November, EPA is working with sterilization experts, medical device manufacturers and other government agencies, to find innovative ways to sterilize medical devices with lower levels of currently used sterilizing agents, and to find alternatives.
In late October, the EPA issued a statement about concerns that the various sterilization plant closures could affect the availability of sterile medical devices. More than 20 billion medical devices sold in the U.S. every year are sterilized with ethylene oxide, according to the EPA.
"Without adequate availability of ethylene oxide sterilization, we anticipate a national shortage of these devices and other critical devices," EPA officials said in the press release. "It's important to note at this time there are no readily available processes or facilities that can serve as viable alternatives to those that use ethylene oxide to sterilize these devices. In short: this method is critical to our health care system and to the continued availability of safe, effective and high-quality medical devices."
Last week, EPA announced a notice of proposed rulemaking for commercial sterilizers, to solicit public comment on suggested strategies for ethylene oxide emission reductions. The agency will be taking comments for 60 days.
EPA is also seeking nominations for small businesses to advise a small business advocacy review panel focused on the rule development. And the agency announced it is seeking information from commercial companies on facility characteristics, control devices, work practices and costs for emission reductions.