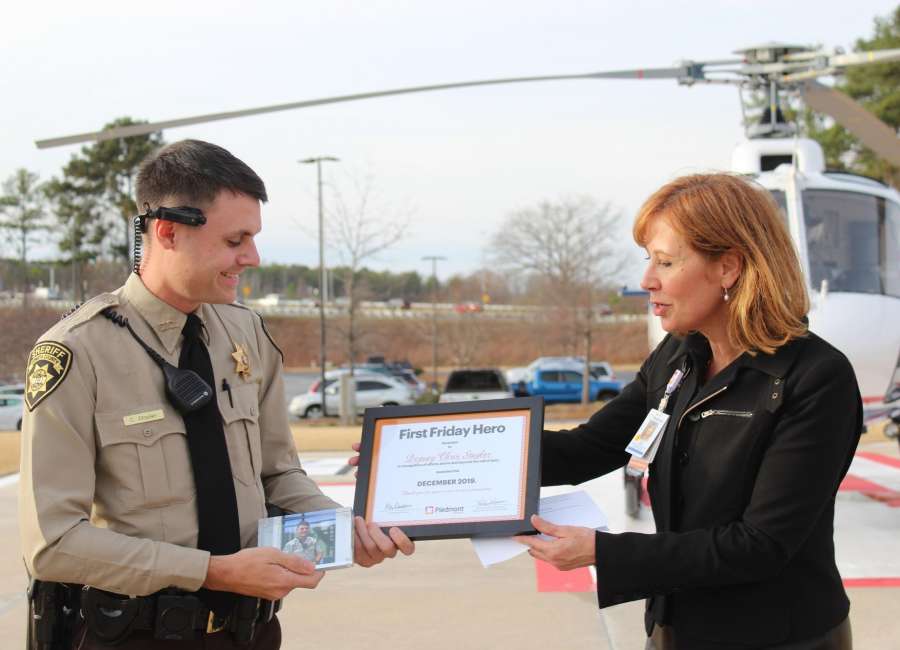 Deputy Chris Stapler was honored by Piedmont Newnan Hospital for saving a life while on patrol.
PNH honors a first responder each month who goes above and beyond the call of duty for their First Friday Heroes events.
"Their line of work is often a thankless job and we want to make the community aware of our local heroes and all they do to make Coweta County and our surrounding communities a better and safer place," said Vicki Kaiser, executive director of oncology, support services and community affairs at PNH.
Earlier this year in April, Stapler arrived at the scene of a motor vehicle accident and found one of the victims with a severe laceration, which resulted in their brachial artery being severed.
The victim was pale and losing blood quickly so Stapler applied a tourniquet to their arm, which stopped the bleeding until EMS and Airlife personnel arrived.
"He helped save her life," said Flo Sheain, senior flight paramedic. "Often, we get there and they are too far gone."
"Application of the tourniquet was critical to the survival of the victim," Kaiser said. "Usually it's EMS that applies a tourniquet, but he had the presence of mind to apply it."
Kaiser said the presence of the Airlife personnel the presentation for Stapler spoke volumes on how his actions helped the victim.
"These are people that do this every day. They know exactly the impact he had on this patient," she said.
Stapler said the incident was the first time he had to apply a tourniquet and was honored by the recognition.
"I'm very appreciative to work in the community and to help save lives," he said.
Stapler said he learned to apply a tourniquet through a class at the Coweta County Sheriff's Office.
"Once we do it, (the tourniquet) is on our belt," he said.
According to Sheriff Lenn Wood, the deputies at CCSO receive training from Coweta County Fire Rescue on using tourniquets for when they arrive at vehicle crashes.
After the training, he said, deputies carry tourniquets with them.
The training includes more than just tourniquets, Wood said. The deputies also learn how to treat other injuries, such as gunshot wounds, that they may find when they arrive at locations.
"Jeff Denney with Coweta County Fire Rescue has been outstanding for getting grant money and training for tourniquets," Wood said.
"They give us training on blood clots and trauma if there is a gunshot victim that we normally would never have been given," Wood added. "It will be expanded more as more training and equipment becomes available."