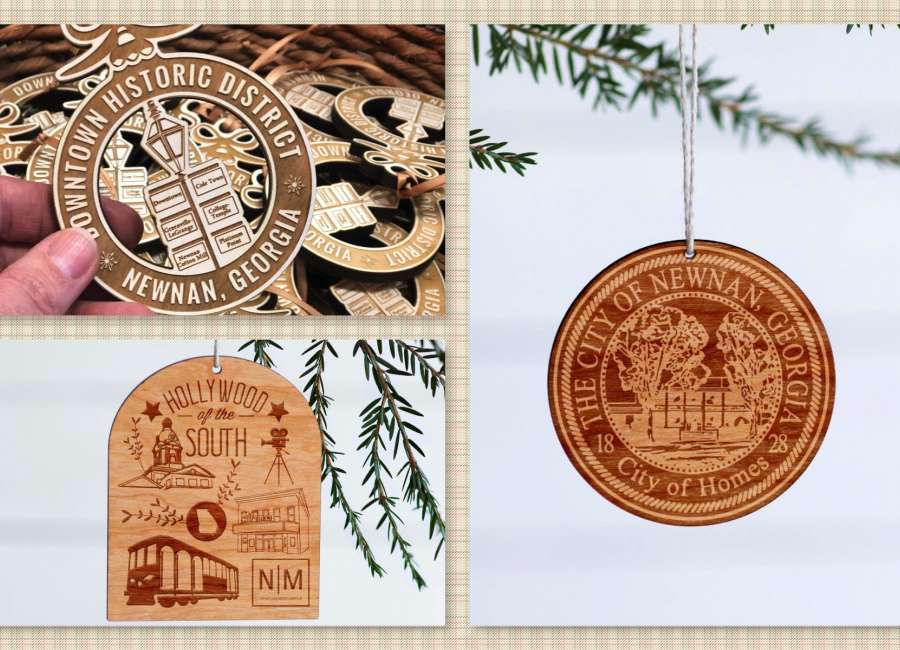 Several local shops are selling Coweta-themed ornaments this year.

Newnan Mercantile is selling two different Newnan ornaments. One is a traditional Newnan ornament with the Newnan seal. The other is a "Hollywood of the South" ornament.
The ornaments were crafted by a small business out of Ohio called The Oyster's Pearl, run by a husband-and-wife team that designs and engraves all the ornaments.
The ornaments are $12, and the store will be donating $2 per ornament to a local charity.
Gillyweeds has several Newnan ornaments made by local artists. One for 2019 features a lamppost design honoring the six historic districts of downtown Newnan. The ornament is made out of birch wood and engraved in Michigan.
Owner Valerie Dumas designed the ornament.
"The signage for the historic district went up either this year or last, and I honestly I never realized we had six districts," she said. "So I thought that having an ornament would be a good idea to remember them all."
In Senoia, the Historical Society Museum has its latest ornament, featuring the Table Talk corner at the intersection of Main and Seavy Streets.
This marks the eighth year the Historical Society has created ornaments for Senoia.
The first limited-edition Christmas ornament in 2012 was an enhanced photo of the Historical Society Museum at 6 Couch Street, taken by Susan Norton, according to Maureen Schuyler Senoia Area Historial Society Museum Director.
"All our ornaments have been hand-crafted by volunteers and have featured, aside from our Museum," Schuyler said.
Previous ornaments include images of the Senoia Methodist Church, the Senoia Baptist Church, The Church of God of Prophecy located on Main Street, the Veranda Historic Inn B&B, the Culpepper House B&B, and Senoia Coffee and Cafe.
Ornaments from this and previous years are available for sale at the museum which is open on Fridays and Saturdays from 1 p.m. to 4 p.m. The Museum is also a stop on the Senoia Candlelight Tour of Homes on December 8th and are available during that event as well.