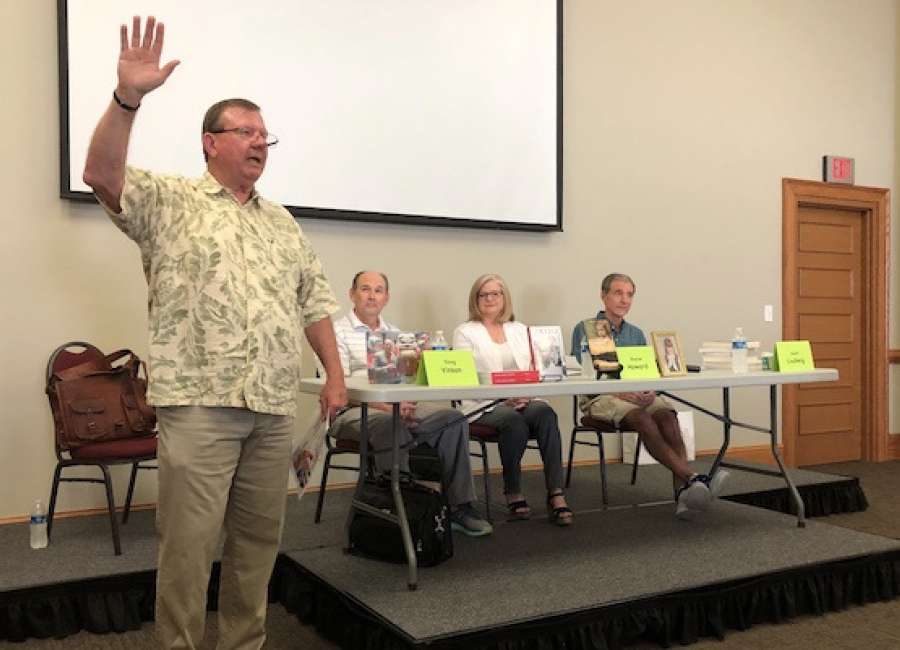 A special holiday-themed Hometown Novel Nights will take place at the Carnegie Library on Dec. 12 at 6:30 p.m.
Scott Ludwig will moderate the panel of authors, which include T.M. "Mike" Brown, Jedwin Smith and Larissa Reinhart, according to Brown, founder and coordinator of Hometown Novel Nights.
Brown will be speaking on his first two books, "Sanctuary: A Legacy of Mysteries" and "Testament: An Unexpected Return" on the panel.
Both books are part of the Shiloh Mystery Series and feature a south Georgia small-town mystery. Brown said he draws much of his inspiration from Newnan as the quintessential Southern town.
Also featured at the event will be Smith, who has served in the marines and is a former international correspondent for the Atlanta Journal-Constitution. He was nominated for a Pulitzer Prize in 1984 for his coverage of the United States Marine Corps peace-keeping force in Beirut, Lebanon, according to www.jedwinsmith.com .
He is a military historian, and the book he will be discussing as part of the panel is "I Am Israel," a story about the 100 days he spent touring Israel in 2017, including his visit to Bethlehem.
Reinhart will speak on the panel as well about her book, "17.5 Partridges in a Pear Tree." The holiday book is a part of her Maizie Albright Star Detective series.
She is a Wall Street Journal bestselling author from Peachtree City, according to www.larissareinhart.com .
"I'm particularly excited that I get to participate at Hometown Novel Night's holiday event. I've got three holiday-themed mysteries, and two are new this year, so I can't wait to share those with readers. This area is so supportive of writers and artists from all walks, and it's always fun to get together with them," Reinhart said.
Brown said he started Hometown Novel Nights as a way to introduce authors to the south side of Atlanta. When he first started writing, he said he always had to travel to Atlanta for book events.
When Brown began Hometown Novel Nights, he said the only bookstore in Newnan was Barnes and Noble.
"I decided, okay, let's do something down here to introduce local authors to a local audience," he said.
Brown started Hometown Novel Nights at Roger's Bar-B-Que in Hogansville. They held it there for several months until Brown reached out to the Carnegie Library to host it there.
While Brown was working with the Carnegie Library, Southern Fried Books opened up in downtown Newnan and became a sponsor of the event.
"It's been going extremely well; we're just continuing to get the word out. Newnan has become the central focal point of what we're doing with Hometown Novel Nights," Brown said.
The format for the event has been a panel of three authors and one moderator. He encourages the authors to talk and answer questions about their books instead of reading from them.
Brown said he tries to bring in a high-profile author when he can, and most of the authors are local or regional, some of whom are brand new.
"Sometimes, this may be the first time they have sat in front of a public audience. That's what the 'novel' really means in this case, doesn't mean we limit it to fiction, the intent of the word 'novel' in this case is new authors and new audiences," Brown said.
They host at the Carnegie every other month. In between the Carnegie events, they have events either at Southern Fried Books, Roger's Bar-B-Que in Hogansville and Monarch House in Newnan.
As far as the screening process for authors, they have to have been published, but their books can be of all different genres. Brown said they have had poetry, memoirs, fiction and biographies.
"It's turned out to be much more than I ever thought it would be. It's a lot of fun seeing authors get this experience to be in front of audiences," he said.