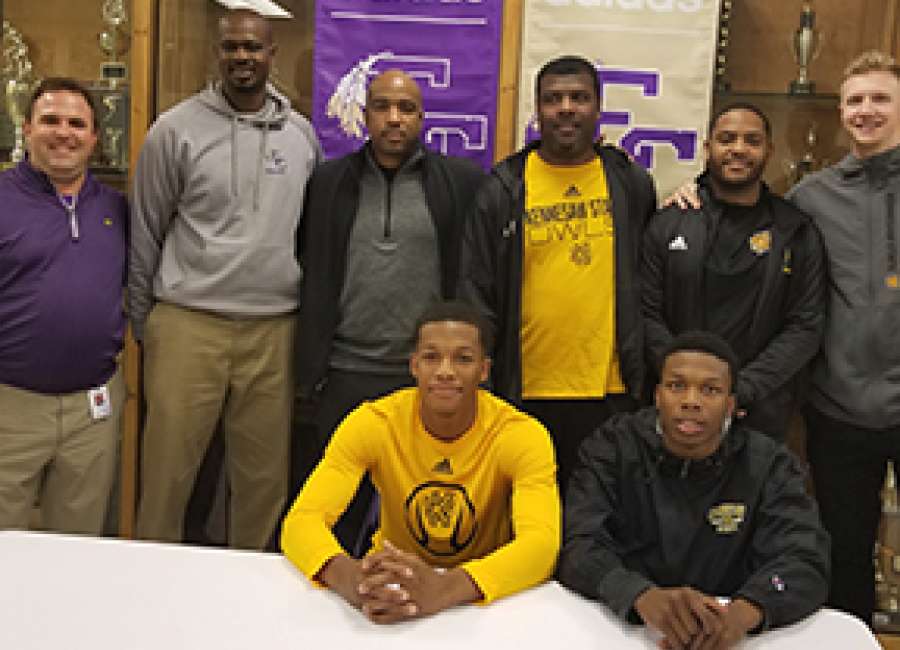 East Coweta boys basketball coach Royal Maxwell remembers the first time he met seniors Chris Youngblood and Brandon Stroud.
What he saw was potential, but very raw talent.
That was four years ago, and Maxwell was trying to build a winning basketball culture at East Coweta after the team had struggled for years.
Through the help of Youngblood and Stroud, East Coweta has turned into one of the most competitive teams in Class 7A.
"I have been blessed with guys who came in and wanted to work hard," Maxwell said. "These guys wanted it and so did their parents."
Now as they close out their high school careers in the next couple of months, Youngblood and Stroud know they will still be teammates after they leave a path of great high school memories behind inside John Thrower Gymnasium.
The East Coweta dynamic basketball duo recently signed Division I scholarships to Kennesaw State.
During their signing ceremony earlier this week, Youngblood and Stroud thanked their families and coaches who supported their basketball development along the way.
Both admitted when they first enters East Coweta High School, they had a long way to go before college recruiters started paying attention.
Maxwell was in his second season patrolling the sidelines at East Coweta after leading the Indians to a 5-22 record his first year, when Youngblood and Stroud entered as freshmen.
They would be the cornerstones of the East Coweta boys' basketball team for the next four years.
In their first season, Youngblood and Stroud got their feet wet helping the Indians to a remarkable turnaround as the team went 14-12.
During their sophomore years, East Coweta went 13-13, but the foundation had been laid as East Coweta was much more competitive.
It showed in the Region 2 7A tournament as the Indians took powerhouse Westlake to the wire before falling 66-63.
Last year was a monster season for East Coweta as the Youngblood and Stroud combination helped lead the Indians to the best season in school history with a 24-4 record.
The Indians climbed deep into the state rankings, finishing 9-3 in the region standings.
Both players averaged just over 16 points per game.
Through their first 10 games this year, the seniors are off to a fast start.
East Coweta is 8-2 with a game at home Friday against rival Newnan.
Youngblood enters the contest with the Cougars averaging 20.4 points per game, while Stroud is averaging 13.6.
Maxwell gives credit to the former football coach Steve Pardue and current football coach John Small for helping Youngblood and Stroud getting bigger, faster and stronger.
"Our guys have been in the weight room with the football players lifting and it has helped so much with our strength," Maxwell said.