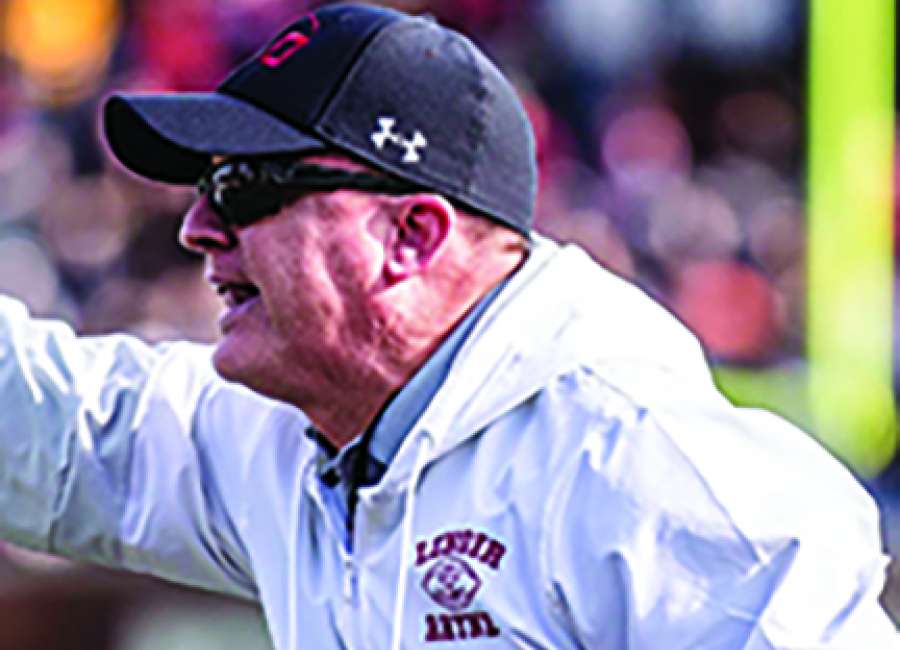 MACON, Ga. – East Coweta graduate Drew Cronic, previously the head coach at Lenoir-Rhyne University, has been named Mercer University's 20th head football coach, Athletics Director Jim Cole announced Tuesday evening.
Cronic is considered one of the more innovative offensive minds across all levels of college football. Driven by the motto "Raise the Bar", he has posted a 47-6 record in four years as a head coach and has been named the AFCA Regional Coach of the Year all four seasons. He has also helped lead his teams to four straight conference titles – Reinhardt (2016), Furman (2017) and Lenoir-Rhyne (2018, 2019).
"First and foremost, I want to thank Bear Nation and everyone involved in this process for their patience and understanding these last two weeks," Director of Athletics Jim Cole said. "A special thanks to Sybil Blalock for taking a large role in this process. We could not have done it without her. We had the opportunity to interview and vet some tremendous candidates. In that process, one candidate's passion, intensity and desire to win was evident from the start.
"Coach Drew Cronic brought that to the table. I cannot wait to see Drew implement his system and winning culture at Five Star Stadium. We're so happy for Drew, his wife, Amelia, and his three sons – Noah, Elijah and Isaiah – to be joining our Mercer Family."
Cronic engineered one of the most impressive turnarounds in college football, taking Division II Lenoir-Rhyne from a 3-8 season in 2017 to a 25-3 record under his guidance the past two seasons. After being named the AFCA National Coach of the Year for the 2018 season, he led the Bears to a school record-tying 13 wins in 2019 and a second consecutive berth in the NCAA Quarterfinals.
"It is a dream come true to be back in my home state of Georgia and to be working at a great institution like Mercer University," Cronic said. "I am excited for this opportunity and I am looking forward to working with President Underwood, Jim Cole and the rest of the Mercer Family. This is an exciting time for Mercer Football and I am looking forward to 'Raising the Bar' on the gridiron. I'm home."
LR carried a perfect season all the way to the quarterfinal round of the NCAA Division II Playoffs this season. Under his guidance, seven Bears were named All-Super Region 2 this year, led by Regional Defensive Player of the Year Jaquan Artis. The team ranked in the top eight in Division II in both rushing offense and rushing defense at seventh and eighth, respectively. LR recorded 30 plus turnovers on the year for the second straight season and the defense recorded 50 sacks during the 2019 campaign, which led the nation.
"It was important to us that the person selected to lead our program be a credit to Mercer University, as well as a talented football coach," said Mercer President William D. Underwood. "Drew Cronic impressed us as an outstanding husband, father and mentor to the young men in his program. He is a person of character and a rising star in the college football coaching profession. He will provide exceptional leadership to our program. I couldn't be more pleased that he, Amelia and their three sons will be joining our community."
In his first season at Lenoir-Rhyne, Cronic guided the largest turnaround in the nation – from just three wins in 2017 to 12 in 2018. The seven-game improvement was the sixth-greatest mark in NCAA Division II history. Cronic's Bears won 12 straight games and were ranked No. 8 in the final national poll.
During the 2018 season, LR advanced to the NCAA Playoffs for the first time since 2014 and hosted a pair of playoff games for the first time since 2013. With a 43-21 win over Florida Tech, Lenoir-Rhyne advanced past the first round of the NCAA Playoffs for just the second time in program history and, after defeating Wingate, moved on to the quarterfinals.
Cronic's success did not come just on the field; he led a turnaround in the classroom as well. With his leadership, the Bears posted a team 3.0 grade-point-average for the first time in program history and Ronnie Clifton was named a Second Team Academic All-American. Clifton, Jonathan Nolan and Clayton Horn each earned Academic All-District distinctions. Clifton was the lone representative from the South Atlantic Conference to earn Academic All-American accolades.
Before his time at LR, Cronic was the Offensive Coordinator at Furman University. The Paladins were ranked as high as No. 22 in the nation and advanced to the second round of the playoffs. Cronic spearheaded an offense that averaged 34 points a game and coached All-SoCon Second Team quarterback P.J. Blazeowski.
Before his second stint with Furman, Cronic coached at Reinhardt from 2012-16 and was instrumental in the startup of the program in November of 2011 under his Dad, Danny, the long-time coach at East Coweta.
For the first three seasons, Cronic served as Assistant Head Coach, Offensive Coordinator, Quarterbacks Coach and Recruiting Coordinator for the Eagles before being named the head coach prior to the 2015 campaign.
Cronic directed Reinhardt to a nine-win 2015 season before a record-breaking year in 2016. The Eagles went 13-1, won the Mid-South Conference Championship and advanced to the NAIA National Quarterfinals. Reinhardt averaged 51.1 points per contest and totaled 550.6 yards of offense per game, ranking first in the nation in both categories.
The Eagles led the nation in rushing offense (360.0 ypg) and rushing touchdowns (71) while having the nation's second highest passing efficiency (178.0) to go along with 25 touchdown passes. In addition, their defense finished second in the nation in points allowed (13.8 ppg) and sacks (46) and fifth in total defense at 283.5 yards per contest.
Cronic was twice named the Mid-South Conference West Division Coach of the Year and the AFCA NAIA Region I Coach of the Year. In 2016, Reinhardt produced 14 all-league picks and 24 academic all-conference honoree (both Mid-South Conference highs).
Cronic's first stint at Furman lasted nine years (2002-10) as he served in several coaching roles including wide receivers, running backs, tight ends and recruiting coordinator. During his time there, the Paladins won a SoCon Title in 2004 and put together an 11-3 season in 2005, which ended with a trip to the national semifinals.
In 1999, Cronic began his coaching career after graduate school at James Madison where he served three seasons as receivers coach and assistant recruiting coordinator. The Dukes won the Atlantic 10 Championship in his first year and earned a bid to the NCAA Division I-AA Playoffs.
Cronic played quarterback for his father – Danny Cronic – at East Coweta High School before playing collegiately at Georgia. As a Bulldog, Cronic played wide receiver and was a member of the special teams – lettering twice and participated in the 1995 Peach Bowl and 1997 Outback Bowl.
Cronic received his bachelor's degree in mathematics education from the University of Georgia in 1998 before earning his master's degree in educational leadership in 1999 from the University of West Georgia.
Cronic and his wife, Amelia, have three sons: Noah, Elijah and Isaiah.