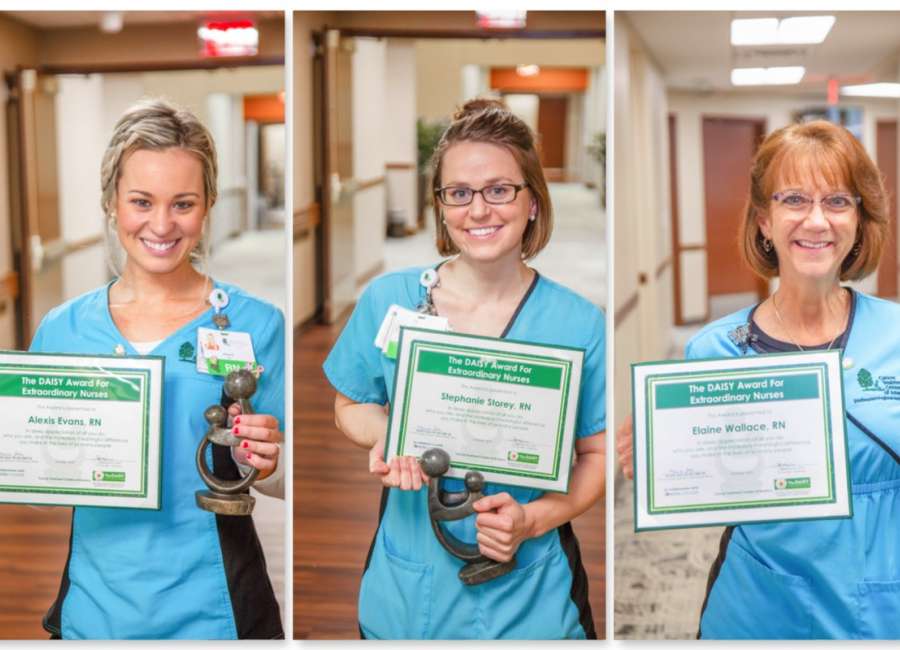 Three Newnan residents and Cancer Treatment Centers of America (CTCA) nurses recently received The DAISY Award for Extraordinary Nurses, a prestigious accolade for nurses who have provided extraordinary, compassionate care.
Alexis Evans, Stephanie Storey, and Elaine Wallace were nominated for DAISY (Disease Attacking the Immune System) Awards for going above and beyond to meet patients' needs. Sharing a passion for nursing and caring for others, Wallace, Evans and Storey each expressed gratitude after receiving the honor.
"I have encountered a lot of impactful moments during my nursing career; however, to me, the most impactful is hearing a simple thank you from patients and their families," said Evans. "I would encourage others to become a nurse because it is such a rewarding job."
For Elaine Wallace, being a nurse means being able to make a difference for each patient she meets.
"I want patients to know they are important and they matter to me," said Wallace, who was part of the opening team at CTCA in Newnan. "I get emotional talking about it. I try to encourage them."
As a nurse for 10 years, Stephanie Storey decided to pursue the profession after volunteering at a local hospital as a high school student.
"There isn't anything else I could see myself doing," said Storey. "I enjoy taking care of my patients and their families. Nursing is an amazing career."
The DAISY Foundation, a nonprofit based in Glen Allen, Calif., was established in memory of J. Patrick Barnes, a Hodgkins Disease survivor who passed away at the age of 33 after being admitted to the hospital for a rare auto-immune disease. Barnes' family, who was impressed with the caliber of the nursing staff, started the DAISY Foundation to recognize amazing nurses.
Those interested in nominating a nurse for a DAISY Award can visit www.daisyfoundation.org/daisy-award.