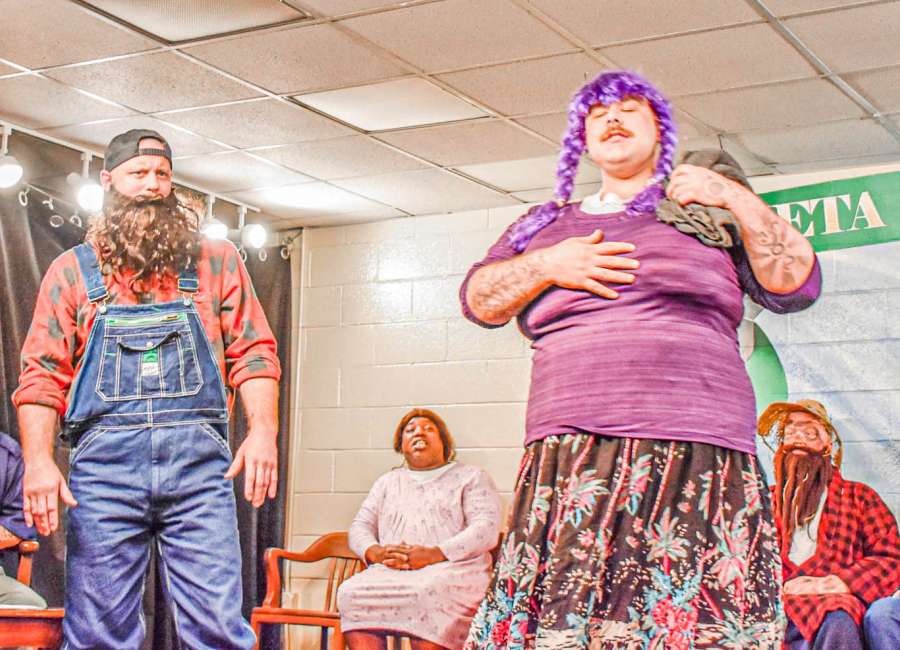 Christmas programs are an annual reminder of the reason for the season.

Commonly associated with schools and churches, it's also the hallmark of Coweta's local prison.
For the 28th year, Coweta County Correctional Institute performed its annual play last Thursday, with a cast and crew entirely comprised of inmates.
This year, the ensemble performed "The Living Nativity" – a short comedic play about a group of country folks who find themselves in the town jail after bungling an attempt at creating a living Nativity.
For many, the idea of a Christmas play at the local prison might be news, but it's something Warden Bill McKenzie has been doing ever since he came aboard many years ago.
"When I arrived, I was approached by several inmates who had done plays at a larger prison," McKenzie said. "We started with a Christian theme and showed it to our church volunteers who suggested we incorporate the offender's families and it's grown ever since."
Planning for the annual play begins in August when a play is chosen and casting begins.
For several years, a former inmate actually wrote the scripts for the play and took it upon himself to round up the cast and schedule rehearsals. This year, the prison purchased the rights to "The Living Nativity," written by playwright Karen Jones.
Rehearsals occur three times a week and begin in the evenings once inmates are off work detail, have showered and eaten supper.
"It's different from the county jail where they're coming and going all the time," McKenzie said. "When you get sent here, you're gonna be here for a year or more so you're around enough to meet people. They use this as a way to blow off steam or laugh it off. They can make fun of themselves."
The play first premiered the second Thursday in December and then the following Saturday. It's open to all family members of inmates.
Opening this year's play was live music from a trio calling themselves "The Flight Risks" who performed a handful of Christmas songs before the standing-room-only crowd.
The play was a comedic romp, comprised of a wide range of characters who delivered their lines with confidence and impeccable timing.
"For the most part, they're not a shy bunch," McKenzie laughed. "Especially when you have several who have to dress up as women, which shows they're confident in their manhood. I don't think there's ever been a time when we didn't have a female character needed. They have a lot of fun with it."
Inmate Corey Camp played the role of Judge Jack Camp, and said the play is something the group puts a lot of time and effort into.
"I had a good time and thought everyone did a great job," Camp said. "It ain't like what a lot of people think about prison. Sure, there are some bad guys here, but most have just made a mistake and they're doing the best they can to get out of here."
However, the play isn't open to the public – only to family members and prison volunteers.
"I don't think we'd have the room," McKenzie said.
Following the conclusion of the play, visitors and volunteers ate supper with the cast, crew and other inmates.
"People need to understand there's always a family who has a family member in a facility and it's a great time when we can do something like this for them," McKenzie said.
"It's not the family's fault their loved one is in prison, but they have to go through the rigamarole to get in and see them," he continued. "This is a time we can show the families that we care about them, too."