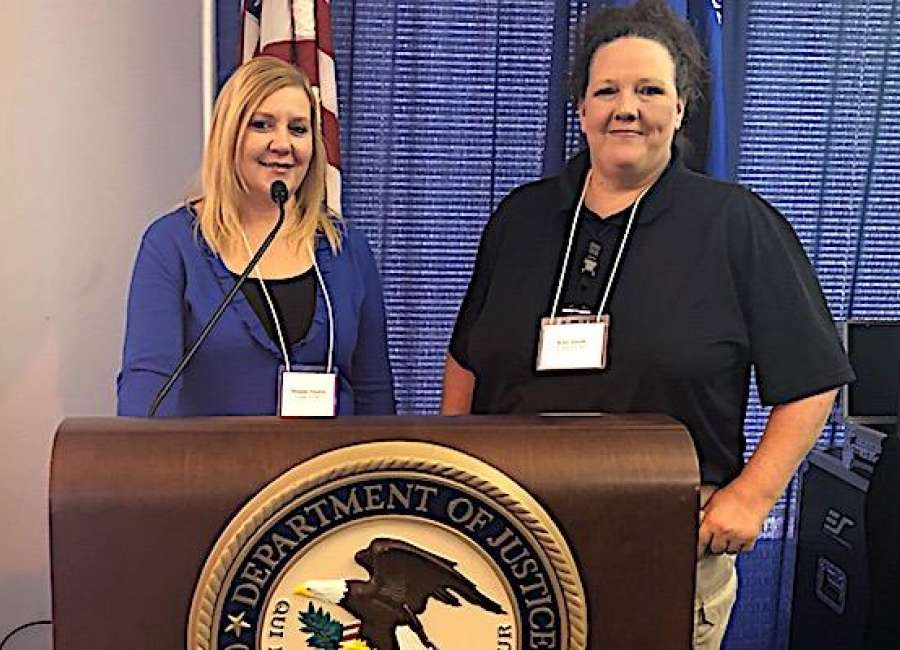 Melanie Swartz and Kim Smith, crime and intelligence analysts for the Coweta County Sheriff's Office, are among 65 members of "forward-thinking agencies" who are helping shape the future of crime data in policing.

Swartz and Smith recently joined fellow analysts, command staff and mid-level staff from law enforcement agencies in 22 states – as well as researchers and academics – in Washington, D.C. for a workshop sponsored by the U.S. Department of Justice's Bureau of Justice Statistics.
There, they shared information and discussed strategies for the impending nationwide transition from summary-based to incident-based crime statistic reporting.
Implemented to improve the overall quality of crime data collected by law enforcement, the National Incident-Based Reporting System (NIBRS) captures details on each single crime incident – as well as on separate offenses within the same incident – including information on victims, known offenders, relationships between victims and offenders, arrestees, and property involved in crimes.
Information provided by NIBRS also will include circumstances and context for crimes, like location, time of day and whether the incident was cleared.
Data reported through the FBI's Uniform Crime Reporting Program's traditional Summary Reporting System (SRS) is an aggregate monthly tally of crime and lists only the most serious charge in the case of multiple offenses, and Georgia is committed to having all of its agencies make the switch to NIBRS by 2020.
Swartz and Smith said one of the most important discussions at the workshop was how to communicate to the public that the new reporting system will generate statistics that may indicate an alarming increase in crime.
However, that's not the case.
"It's going to appear that crime is increased, but it's really just a different way of reporting," Smith said.
SRS records statistics for eight types of crimes, while NIBRS collects data on 52 crimes, plus 10 offenses for which only arrests are recorded.
"You can't compare the statistics," Swartz said.
The workshop also covered the benefits of deeper-context crime reporting; police performance and community expectations; the use of NIBRS data in strategic and tactical planning; and re-evaluation of strategies and policies.
Both Swartz and Smith started off in dispatch at the sheriff's office. Smith quickly moved into the position of terminal agency coordinator, the office's liaison with the GBI's Georgia Crime Information Center (GCIC).
"Once I was in that position, I started completing customized report writing through our local system," Smith said.
That allowed local staff to see Coweta's crime numbers, and Smith continued a natural transition into crime analysis, for which she has completed training and certification.
Swartz took over an administrative post in the Criminal Investigations Division and started learning the same skills as Smith, eventually taking charge of the sheriff's office NIBRS conversion process.
Earlier this year, Swartz and Smith were among crime and intelligence analysts from more than 20 law enforcement agencies who formed the Southern Crime Analyst Roundtable (SCAR). SCAR provides a forum for sharing ideas, strategies and concepts for more localized analytics to help maximize law enforcement effectiveness.