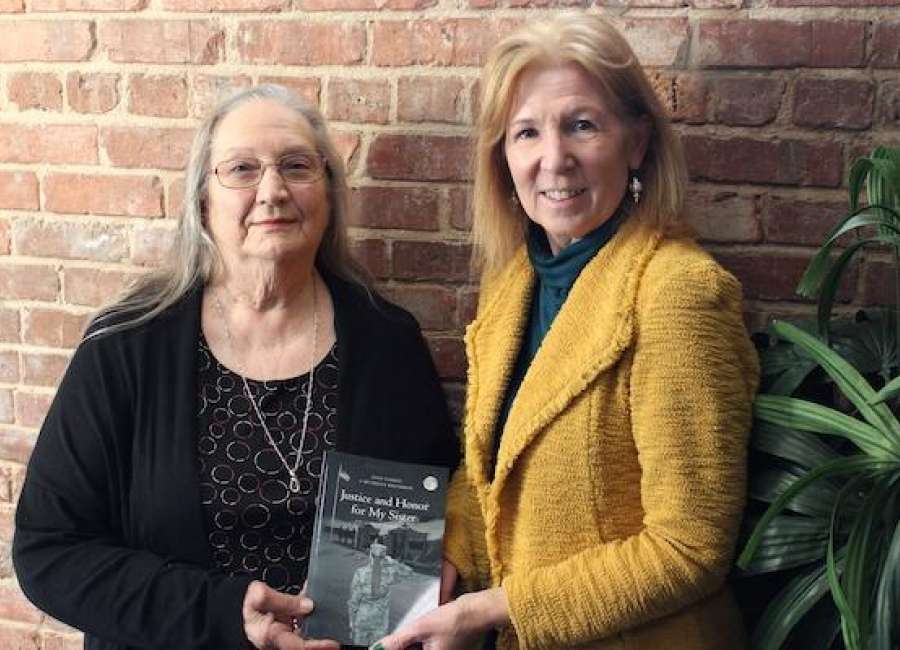 Joan Yankey and Beverley Reichman of Newnan wrote "Justice and Honor for My Sister: The Story of Margie Grey" to tell the sister of Yankey's aunt who died while serving in the Women's Army Corps during World War II.
The Women's Army Corps was created during World War II so that women could serve in noncombat positions in the Army, according to www.britannica.com .
Yankey's family was told that her aunt had committed suicide while serving, but Yankey said the family doesn't believe this is what happened, and for years they have been looked for answers to explain her death.
Reichman, an elementary school teacher, tutored Yankey's granddaughter for several years. One day when Reichman was at Yankey's house, she heard Yankey and her husband talking about her aunt's story.
"She had been collecting all these documents from the 1990s, and I heard her say, 'I wish I could write her story,'" Reichman said. "I said, 'Well, let's do it.'"
Reichman went back over, and they started going through the documents that Yankey had collected from the government and letters that her aunt had written to her family.
The book is fiction, but is based on Yankey's aunt's story. They changed all the names, places and some of the exact dates of events. They used real documents and letters that Yankey's aunt had written.
"Justice and Honor for My Sister: The Story of Margie Grey" is about the day Yankey's family received a telegram that her aunt, Margie, had taken her own life.
Margie was enlisted serving as a surgical technician during World War II. Days before she died, she wrote to her family that she had found love again, and she was coming to see them before she deployed overseas.
The book chronicles her death and the family's search for answers about what happened to Margie.
Yankey said growing up, she didn't know anything about her aunt's passing. When she was older, her mother told her that she believed her sister was murdered.
In the 1990s, Yankey requested records about her aunt's death from the Army. She said they told her there were certain documents she could not have because it would be dangerous to another veteran or another veteran's family. She said she feels like there are other things that she hasn't received.
Yankey had repeatedly sorted through the documents she had received before she and Reichman decided to write the book. Yankey said she had noticed several discrepancies between the letters from her aunt and the documents from the Army.
"My husband and I went over and over. We spent many nights going over, and I told my husband, 'I'd like to tell her story,'" Yankey said.
The book is written from Yankey's point of view as Margie's twin sister so that she could be more involved in the storytelling. In actuality, all of the stories were handed down from Yancey's mother.
"We would still be writing it if we hadn't decided that we needed to stop," Reichman said.
Yankey said she feels comforted by getting her aunt's story out.
"I told Joan the entire time whether it's published or not, her story is written," Reichman said. "Her aunt is joyful that her story is there, and I love the thought that Joan was so passionate about it that she wrote her story."
The book was published by Newman Springs Publishing in New Jersey and is sold at Barnes and Noble, on Amazon and is in the Coweta Public Library System.
"I couldn't have done it without Beverley, and because of that, we've formed a real good friendship," Yankey said.