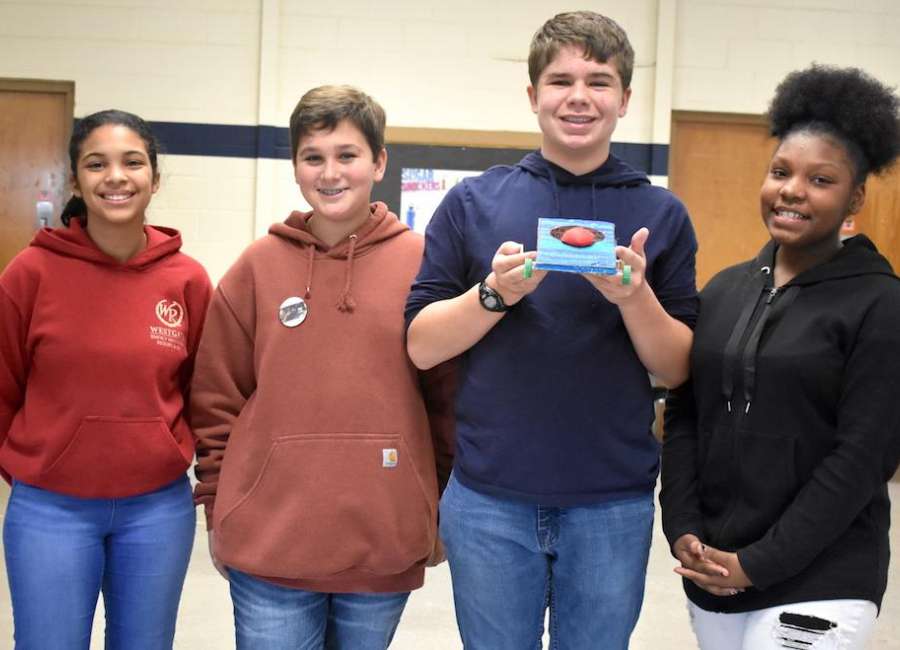 There are times when being full of hot air is a good thing.

Just ask the members of Team Umi Zumis, whose balloon-powered car triumphed over Team Soccer Moms in the final round to claim the championship – and some sweet $10 gift cards – in a pre-Thanksgiving balloon car race at the Central Educational Center.
The championship is an annual event for the CEC's 8th Grade Charter College & Career Academy, and creation of the vehicles is a precise process, according to Director of Science Jennifer Maritz.
"The balloon cars have a set of requirements that they must follow," she said.
Students have to build cars with a mass of less than 100 grams, and the only prefabricated parts they are allowed to use are wheels with no axles. A single balloon – inflated only by "lung power" – can propel the vehicle.
It's a lengthy process, Maritz said.
"The groups in each class worked for four weeks off and on to create their car, and also ran their car on three official trial days," she said.
A week before the race, three groups from each class were chosen to compete by a set of volunteer judges from throughout the community, after the judges watched their presentations. Those teams selected to compete in the bracket-style championship raced each other on a 5-meter course in the CEC cafeteria on Nov. 22.
Despite some popped balloons, false starts and the inability of most cars to reach the finish line, the room full of eighth-graders and teachers cheered on their favorite teams until Team Umi Zumis – made up of Kiana Givens, Owen Smith, Cole Gibson and Te'Miyah Jordan – was declared the winner.
Students in the 8th Grade Charter College & Career Academy come from the six "base" middle schools in the Coweta County School System. At CEC, they have the opportunity to enroll in academic classes that are project-based and include career applications.
Assignments are typically task/project-oriented, with rigorous assignments, deadlines and time windows during which they work toward project completion. Teamwork is emphasized, and the students are referred to as "team members."
Creating and racing balloon cars requires the application of physical science principles and knowledge, and students must work as teams and rely on higher-order thinking skills to explain their work in presentations.
And while the entire unit is a valuable exercise, the balloon car championship is the part students most look forward to, according to Maritz.
"The real fun is the actual race," she said.